Good morning!

It's Friday the 13th! Are you someone who would love to stay in bed all day to avoid potential disasters and bad luck - or are you like me and enjoy Friday the 13th?!

Maybe because my birthday is on the 13th (of July) I love the number 13!

Some countries actually believe it to be a very lucky day...

I believe that what we think we attract - so if you think and believe that Friday 13th is unlucky, and think that bad things will happen to you - they probably will!

Try to keep your thoughts positive and attract good experiences and situations. Always look for the good, even if something seems negative you can usually find something good will come out of any situation... it's all helps with your soul's growth.

Well, those are my own personal thoughts on the matter anyway!

On with the cards and messages...

Mine sounds interesting - Squirrel - Preparation - Get ready for BIG CHANGES!

You can find your animal guide and message below and whatever your star sign - have a wonderful weekend :)

Brightest Blessings,
Kaz
www.blessingz.co.uk
www.cheekywitch.co.uk



This week I am using the
Power Animal Oracle Cards

by Steven D.Farmer, Ph.D.


Quoted from the pack: "Power Animals are spirit guides in animal form who provide protection, guidance and healing. This deck of 44 oracle cards by Steven Farmer will connect you with animal spirit guides who will advise you about any aspect of your life. Whether you're a beginner or an experienced reader, the enclosed easy-to-follow guidebook provides instructions to help you immediately give accurate readings to yourself and others."

My personal card for today

: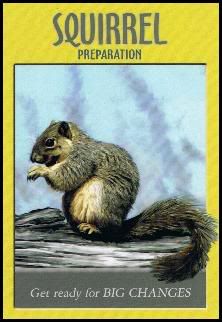 SQUIRREL - PREPARATION
Get ready for BIG CHANGES
Divinatory meaning: Feel the anticipation of what you know is coming. Get everything ready and in place. This can be a new job, a new relationship, or a major move. There will no doubt be challenges, but you can prepare for them in a number of ways.
The most important kind of readiness has to do with your mind. How smoothly you move through these changes is totally dependent on your attitude, thoughts, and beliefs. There's no need to scurry, no need to worry. Rather than rush, make each movement count. If you worry it will just make everything a lot harder. Just do what you have to do to prepare.
Don't get so bogged down in making list after list. This can help, but at this time it's better to stay active, focused, and purposeful in your efforts. Get a sense of where you're going, even if you may change course later. Rely on family and close friends for support before and during this transition. And most important, keep breathing.
Additional Associations: Gathering; Activity; Alertness; Guardian

Today's cards for each of the star signs

:

Due to lack of time, etc. These are the 'quick reading' messages - for the full reading and meaning of the cards you will need to obtain these cards for yourself - or get someone else to buy them for you as a gift!

Here are your messages and insights for today. Try to sit quietly for a few moments, meditate on your card and think about how you can learn from, and act upon, its message...

Aries

: COYOTE - WISE FOOL

ACCEPT YOUR FOLLIES and find the teaching in them

Additional Association: Trickster; Sociability; Adaptability; Wisdom-Keeper

Taurus

: HAWK - FOCUS

CHOOSE YOUR PRIORITIES and eliminate all distractions

Additional Associations: Messenger; Perspective; Detachment; Swiftness

Gemini

: DRAGONFLY - ILLUSION

YOU KNOW who you really are

Additional Associations: Colourfulness; Mirage; Mystery; Deception
Cancer

: OPOSSUM - STRATEGY

Have a BACK-UP PLAN

Additional Associations: Grasping; Agility; Maternal Instinct; Stability

Leo

: BLACK PANTHER - PASSION

Follow your PASSION

Additional Associations: Sensuality; strength; Clarity; Solitude

Virgo

: BEAR - BOUNDARIES

STAND your ground

Additional Association: Protection; Creativity; Solitude; Healing

Libra

: TURTLE - RETREAT

STOP TRYING to make something happen

Additional Associations: Femininity; Slowness; Toughness; Fertility

Scorpio

: LIZARD - DREAMTIME

(2 days in a row!)

Pay attention to your DREAMS AND VISIONS

Additional Association: Primal; Ancient; Reflexive; Spontaneous

Sagittarius

: OWL - OMENS

Pay attention to SIGNS

Additional Association: Wisdom; Shadows; Secrecy; Magician

Capricorn

: EAGLE - SPIRIT

TRUST in your higher self

Additional Association: Vision; Courage; University; Masculinity

Aquarius

: OTTER - SURRENDER

LET GO of control

Additional Associations: Sensuality; Merging; Family; Playfulness

Pisces

: MONKEY - INGENUITY

The situation calls for ADAPTABILITY and INNOVATION

Additional Association: Dexterity; Clevernes; Inquisitiveness; Innovation

Please feel free to leave any comments here on Blogger, or on my Facebook Page
The Daily Divination
, or on
Twitter
Thank you!