Good morning/afternoon!

Busy, busy, busy!

I have received lots of very late and last minute orders for 'back to school' Bagz of Blessingz, so just grabbing a few moments during my lunch break to fly in and do the cards for you!

Whatever your star sign - have a great day :)

Brightest Blessings,
Kaz
www.blessingz.co.uk
www.cheekywitch.co.uk


This week I am using the
Cosmic Ordering Oracle wish Cards
by Stephen Richards and Karen Whitelaw Smith


Quoted from the pack: "This guidance booklet will give you the meaning of the 44 pocket sized Cosmic Ordering Oracle Wish Cards. Use them in many different ways and learn to work with the energy of that card.
Use the cards in your daily life to make a wish and watch it come true."

My personal card for today

:
PEACE OF MIND
Be at peace with yourself
Full meaning: Are you still looking to the external world for peace of mind? Only when we truly accept ourselves for who we are, love others and give back to the Cosmos will we know inner peace.
When troubled, pause. Be still. Ask the Universe to show you the lesson you need to learn. Let go the pain. Hand your problem over to Spirit.
Now look within. Decide your true cosmic needs today. Then place your Cosmic Order, knowing it will be delivered for your greatest good.

Today's cards for each of the star signs

:

Due to lack of time, etc. These are the 'quick reading' messages - for the full reading and meaning of the cards you will need to obtain these cards for yourself - or get someone else to buy them for you as a gift!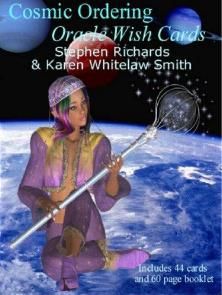 Here are your messages and insights for today. Try to sit quietly for a few moments, meditate on your card and think about how you can learn from, and act upon, its message...

Aries

: NEW DIRECTION Take time to re-assess your life

Invite the Cosmos to help you start anew. Take stock. Consider. Evaluate. Beware self-sabotage. Every time you catch yourself thinking negatively, change direction. Repeat the thought in an affirmative way.

Taurus

: BIRTH The start of new beginnings

This card designates a new beginning. Choosing it signifies that today marks a new stage in your journey.

Gemini

: CAREER Time to look at a new career path

Remember what you are on this earth to achieve. How can you align your work life with that goal? Reconnect with Spirit, asking to be shown the way forward. Through its guidance you will achieve the success you desire.

Cancer

: CHANGE Use change to grow and learn

Change is all around us. Learn to accept and welcome its possibilities. Without change we stay stagnant. Change is healthy. Change is exciting.

Leo

: CONFIDENCE Confidence comes from believing in yourself

Using positive language at all times, we create more confidence - within others and our selves. When we acknowledge our power, we can achieve anything.

Virgo

: STRESS Learn to relax and let go

Our health depends on balance. Relax. Drawing this card means you need to take time out. Open yourself to the energy of the Universe. Practice living in the Now.

Libra: DREAM BIG Live life to the full

You stand at the door of unlimited abundance. The bigger your dream, the further it will take you on your journey. There are no limitations but your imagination.

Scorpio

: SELF-BELIEF Believe in yourself to change your life

Focus only on the positive. Make choices today in line with your highest good. Use your gifts, in gratitude, believing they will lead to the right path.

Sagittarius

: COURAGE It only takes a little bit of courage to change

Be true to yourself and you will be given the courage to overcome your difficulties.

Capricorn

: TRUST When you trust in yourself then others will trust you

Trust that the Cosmic Order you make today will be delivered.

Aquarius

: REFLECTIONS When you decide on what you want then that's what you get

Invoke the help of the Cosmos to change those things about your appearance you don't like.

Pisces

: TRAVEL Take a break

Book a mental vacation. Empower your life with regular meditations on beautiful places. Let their healing energy uplift your spirit
Please feel free to leave any comments here on Blogger, or on my Facebook Page
The Daily Divination
, or on
Twitter
Thank you!