Good morning!

Not a great start to the week... I started writing my blog about three hours ago - then my computer froze.

Then I re-booted it... and it crashed!

Thankfully I am back online now though! Particularly as it's Manic Monday and I have lots of emails and orders to go through...

(A good reminder to back up some of my files however, which I did, as soon as I got the pc up and running again!)

This week I am using the Cosmic Ordering Oracle Wish Cards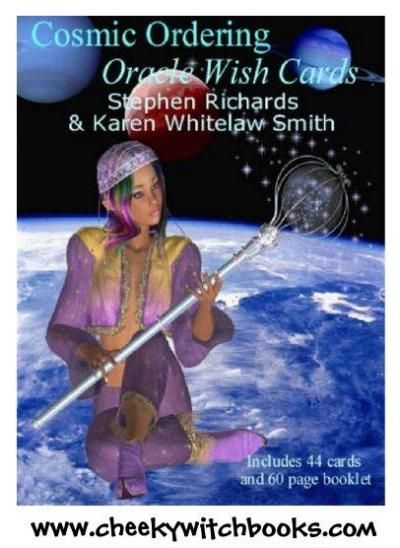 Unbelievably these cards in the USA on
Amazon.com
are only available to purchase for $3,456.00 'used'!!
I don't know if that's a typo, or not, but if not - that is a
ridiculous
price!
In the UK on
Amazon.co.uk
they are only £14.99 new!
I've had mine for quite a few years now :)
You will find your cards and messages below. Whatever your star sign - have a good day!
Brightest Blessings,
Kaz
www.blessingz.co.uk
www.cheekywitch.co.uk

This week I am using the

Cosmic Ordering Oracle wish Cards

by Stephen Richards and Karen Whitelaw Smith


Quoted from the pack: "This guidance booklet will give you the meaning of the 44 pocket sized Cosmic Ordering Oracle Wish Cards. Use them in many different ways and learn to work with the energy of that card.
Use the cards in your daily life to make a wish and watch it come true."

My personal card for today

:
FORGIVENESS
Learn to forgive others
Full meaning: Forgiving someone who has wronged us is the hardest lesson the human spirit can learn. But it is a vital lesson. Without forgiveness, anger rages through our lives like a torrent, destroying everything in its path.
Through harbouring negative emotions we sicken spiritually and physically.
Remember, we are all capable of hurting others. Recognise your own spiritual limitations. Meditate on the Great Love of the Universe. Allow it to open your heart and allow healing. Ask it to banish your fears and negativity.

Today's cards for each of the star signs

:

Due to lack of time, etc. These are the 'quick reading' messages - for the full reading and meaning of the cards you will need to obtain these cards for yourself - or get someone else to buy them for you as a gift!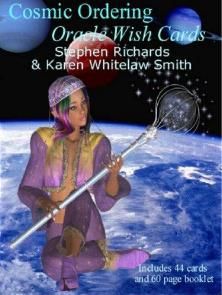 Here are your messages and insights for today. Try to sit quietly for a few moments, meditate on your card and think about how you can learn from, and act upon, its message...

Aries

: DETOX Wash away your worries

Have you been ignoring signs of overload in your body? Balance your physical body and clear your channel to the Cosmos. Drink more water to purify your system.

Taurus

: VISUALISATION What you visualise can become a reality

Be on the alert for signs from Spirit., knowing you have the power to manifest all your dreams.

Gemini

: RELATIONSHIPS The best relationship you will have is with yoursel

f.

Use the law of attraction today to manifest your perfect partner or improve an existing relationship. Visit a friend or family member you haven't seen for a while. Show your appreciation of them.

Cancer

: WISHES Make a wish and watch it come alive

Clear any obstacles to positivity. Keep your order free of ill thinking. Tune your will to the Spirit, and receive all the freedom and personal happiness you ever wanted.

Leo

: PEACE OF MIND Be at peace with yourself

Are you still looking to the external world for peace of mind? Only when we truly accept ourselves for who we are, love others and give back to the Cosmos will we know inner peace.

Virgo

: 'ME' TIME Spend time alone in a quiet place

Take time to allow your body to relax and de-stress. Care for your body today. Pamper it. Your spirit will blossom.

Libra

: DREAMS Dreams can come true

How is Spirit using your dreams to speak to you today? Do certain dreams repeat themselves? Harness their energy. Use them to strengthen and understand your Self.

Scorpio

: COSMIC INDULGENCE Look deeper

Ask the Cosmos for a special indulgence today, something wonderful, just for you. Remember too that the Cosmos will only reward you if you are giving back to the Universe.

Sagittarius

: MESSAGES FROM YOUR LOVED ONES Stop and listen

Our loved ones will always find ways of connecting with us, especially in times of need.
Capricorn

: REFLECTIONS When you decide on what you want then that's what you get

Invoke the help of the Cosmos to change those things about your appearance you don't like.

Aquarius

: GRATITUDE To be wealthy you have to be more grateful

Cultivate gratitude for all the gifts you've been given and those you've yet to receive.

Pisces

: BIRTH The start of new beginnings

This card designates a new beginning. Choosing it signifies that today marks a new stage in your journey.

Please feel free to leave any comments here on Blogger, or on my Facebook Page
The Daily Divination
, or on
Twitter
Thank you!