Good morning!

I hope you all had a good weekend?

Here in the UK we had a long bank holiday weekend and our plans were spoiled as usual, by the weather...

Camping in the garden was cancelled because of the torrential rain, and camping in the living room wasn't quite so much fun, but it was lovely having my daughter and grandaughter here for a few days :)

Yesterday was much better and Richard and I enjoyed a lovely walk on the downs with Maisie in the afternoon.

Maisie was so excited exploring unfamiliar terrain - there were lots of interesting smells to sniff out - and lots of open grassland to run around in...

A very waggy tail showed us her appreciation!

Back down to earth today though, with a backlog of orders to catch up on!

On with the cards and messages!

This week I am using the Saints and Angels Oracle Cards by Doreen Virtue


This is the reverse of the pack:
Click on the photos if you'd like more details!
I really like my card for today :)
I hope you find your cards and messages (below) helpful and interesting too?
Whatever your star sign - have a good day :)
Brightest Blessings,
Kaz
www.blessingz.co.uk
www.cheekywitch.co.uk
This week I am using the

Saints and Angels Oracle Cards

by Doreen Virtue, Ph.D.


Quoted from the pack: "Now you can easily receive messages and guidance from beloved saints such as Mother Teresa, Bernadette, Joan of Arc, Hildegard, Padre Pio, Anthony, Francis, and Cecilia. Doreen Virtue has created a nondenominational deck of oracle cards that people from various spiritual and religious backgrounds are sure to appreciate and enjoy.
Forty-four cards with breathtaking artwork depicting God, the Holy Spirit, Jesus, saints, archangels, and guardian angels give you answers and gentle advice. A guidebook accompanying the cards thoroughly explains how to receive guidance about the present and future, how to give an accurate reading to another person, and the general meaning of the card's message."

My personal card for today

: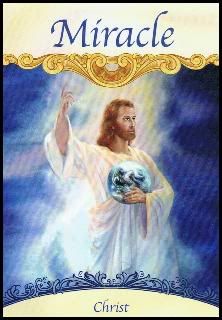 MIRACLE - Christ
Divinatory meaning: Christ is with you and engendering a miracle for you and the situation you're asking about. He shines God's light upon you and your loved ones, keeping you all safe and protected. You've asked for a miracle, and one is with you. Let go of how you think it should appear, as it comes directly from God's infinite wisdom, through Christ, and into your life.
Jesus is lending you his supreme belief in the Almighty's power in order to help you stay filled with trust and hope. He reminds you that with faith, all things are possible, and that you (like everyone else) deserve Heaven's help, love and attention. You don't need to be a perfect person to enlist Christ's support.
Be open to receiving help in a miraculous and ingenious way. Know that you deserve this gift from Heaven. After all, this miracle not only helps you, but it inspires faith in others.
Today's cards for each of the star signs

:

Due to lack of time, etc. These are the 'quick reading' messages - for the full reading and meaning of the cards you will need to obtain these cards for yourself - or get someone else to buy them for you as a gift!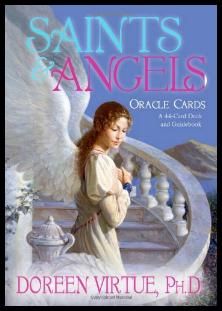 Here are your messages and insights for today. Try to sit quietly for a few moments, meditate on your card and think about how you can learn from, and act upon, its message...

Aries

: MOTHER - Mother Mary

Quick message: The answer to your question involves the topic of 'mother'. Mother Mary is with you, helping you with any emotional upsets with your own mother, such as grief, anger or worry. She can aid your healing from long-standing patterns between the two of you. This is also about you as a mother or caregiver. Mother Mary wants to help you in this life area. She'll alleviate any guilt or stress that may be interfering with the joy of parenting.

Taurus

: CONFIDENCE - St. Michael the Archangel

Quick message: Archangel Michael is with you, shoring up your confidence so that you can fearlessly face (and enjoy) the tasks before you. This archangel is protecting you against negativity, helping you to remain optimistic and filled with faith, ensuring that only people and situations of high integrity come to you. You may worry whether you're prepared and qualified for what's ahead of you. Remember, though, that God won't bring you anything that you're unable to do.

Gemini

: SAFE TRAVEL - St. Christopher

Quick message: This card signals a safe passage and lets you know that St. Christopher is by the side of the one who's traveling. This trip is blessed by angels, who will ensure that all the details are taken care of. This can also be a message that it's time for you to take a trip. Have you been hankering for a relaxing vacation? Is there a place that you're drawn to for research or business purposes? Is there a loved one whom you'd like to visit? If so, this card is a validation that it's time to set this plan in motion.

Cancer

: WISE DECISION - Guardian Angel

Quick message: The decision that you're considering is a wise one. This card is a message from your angels asking you to trust your inner wisdom. Sometimes you worry about your decision-making abilities because in the past, some of your choices seemed unwise. Yet if you truly think about it, you ultimately learned and gained a lot from them. In that way, you can't make a wrong decision, can you? You'll know that you're on the best path when your actions are guided by a peaceful feeling.

Leo

: MOVE - Guardian Angel

Quick message: This is a message about moving - most likely it means that you'll soon be moving to a new home. You've been considering the possibility and this is a validation of that idea. The angels will help you locate a wonderful new home and assist with all the details. It is also a message about moving your body more, dancing, hiking, exercising and so on. All this movement helps you make a fresh start. It ushers in wonderful new people, experiences and opportunities, so give any worries that you may have about making these changes to God and your guardian angels.

Virgo

: HIGHER EDUCATION - Guardian Angel

Quick message: our angel is guiding you to gain further education, either by attending school or through independent study. Higher education refers to instruction with a spiritual basis, so this is a message for you to study topics that capture your true interests. For instance, if there's a spiritually based service career that you yearn for, now is the time to begin looking at furthering your knowledge in that area. Give any worries about having enough time, money, or skill to your angel. You're being pushed to learn more as a result of your prayers for increased fulfilment. Trust that this door is opening for you at the right time, and walk through it with full faith.

Libra

: EMOTIONS - St. Dymphna

Quick message: The answer to your question involves emotions - either yours or those of the person you're enquiring about. This is also a message for you to pay closer attention to your emotions. It's safe for you to admit your true feelings to yourself. This card is also a message for you to trust your feelings, especially as they guide you to make positive changes. Your feelings are the voice of Heaven speaking through you, and you have a right to them, even if others disagree with them. You can also release any upsetting emotions to God, St Dymphna and the angels for healing and guidance.

Scorpio

: BLESSINGS OF ABUNDANCE - Guardian Angel

Quick message: Your prayers have been heard and answered. Your daily bread and other needs are being provided for, now and in the future. Give your fears and worries over to God and the angels, and have faith that they're taking care of you and your loved ones. Let go of worrying about how your needs will be met, because God's infinite creative wisdom will take care of the details. Be open to receiving gifts and help from other people, as this is one way in which the Divine answers your prayers.

Sagittarius

: STRESS MANAGEMENT - Guardian Angel

Quick message: Your angels are working with you to reduce the impact of stress. Pay close attention to your Divine guidance, such as thoughts or feelings about taking a rest, exercising, changing your routine, and avoiding conflict. You need to both reduce stress in your life and manage the way it's affecting you. To lessen this burden, you'll need to be assertive with people an say no to unwanted requests. Don't do anything out of guilt of obligation, and only engage in activities that you can perform out of loving service. Your angels will also help you see the love and light within each situation so that your thoughts are peaceful.

Capricorn

: LEARNING EXPERIENCE - Guardian Angel

Quick message: This situation is an opportunity for you to learn some important life lessons. Instead of looking at this experience as a problem, see it as something that will help you to learn and grow. Your guardian angel will help you see the current situation in a more positive light, as well as identify the lessons involved and heal away unwanted patterns. Simply ask your angel for help with these issues, and then pay attention to any loving thoughts or feelings that guide you to take action.

Aquarius

: MARRIAGE - St. Catherine of Alexandria

Quick message: This is a message about your present or future marriage. You have a spiritual destiny with a spouse who's your soul mate. There's a Heavenly purpose for you and this person to be together, and you are supposed to help one another grow and prosper. You recognize your soul mate by having the feeling that you've known each other forever. Synchronistic events bring you together, and there's a sense of destiny and fate in your relationship. This card means that a soul-mate marital partner is currently in your life or soon will be.

Pisces

: TRIUMPHANT! - Guardian Angel

Quick message: You'll be triumphant, and your desires will manifest. Don't worry about the appearance of challenges, because they're just an illusion that will soon disappear. Worrying about these issues will only fuel them with power and energy. See them instead as wispy clouds that can't really block you. Any obstacles that you've been experiencing are temporary. Your guardian angels are taking care of the details to remove them from your path.

Please feel free to leave any comments here on Blogger, or on my Facebook Page
The Daily Divination
, or on
Twitter
Thank you!