Good morning!

It's 'Manic Monday' EEEK! So much to do, but first the cards...

I have seen a lot of negativity, nastiness and pessism around these past few days, particularly on Facebook, where negative thoughts and comments are being 'fed' more energy by the attention being brought to them, by other negative thoughts and comments... it's been all about anger, hate and fear :(

So - feeling the need to share and inspire some good and positive thoughts and affirmations - I decided to use the Wisdom Cards by Louise L Hay this week!

Please try to read and repeat your affirmation throughout the day.

I good way to do this is to write your affirmation on a piece of paper and stick it on the bathroom mirror!

Every morning write down your new affirmation, think about what it means to you and your personal situation. Take a few moments to read and repeat your affirmation, several times, throughout the day.

Try to keep yourself detached from negative situations and negative thoughts. Picture yourself in a protective bubble - one which reflects negativity back to the source or sender - and allows in only loving, peaceful and positive energies.

Feel your aura expanding with love and be a shining beacon of light - to help others see a way out of their darkness.

By the end of the week, hopefully, we shall all being feeling more positive about ourselves and be spreading joy and positive energy wherever we go!

Whatever your star sign - have a lovely day :)

Brightest Blessings,
Kaz

www.blessingz.co.uk
www.cheekywitch.co.uk



This week I am using the
Wisdom Cards

by Louise L Hay

Illustrated by Eris Klein and Sarajo Frieden


Quoted from the pack: "A deck of 64 Affirmation Cards to help you develop your Inner Wisdom."
These cards are all about the power of positive thought!

My personal card for today

: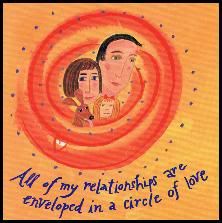 Affirmation: All of my relationships are enveloped in a circle of love.
We are all students and teachers. I often ask myself, "What did I come here to learn, and what did I come to teach?"

Today's cards for each of the star signs

:

These cards are a bit different from some of the others I use, as they are a affirmation cards.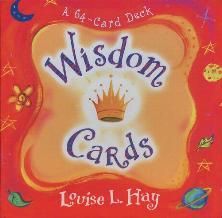 Read your message, think about its meaning and relevance to you and your situation, and use the affirmation throughout the day to remind yourself of its message - and change your thinking!

Aries

: Affirmation: My Love is Limitless.

One of the bonuses about loving myself is that I get to feel good.

Taurus

: Affirmation: I am Willing to Release the Need for this Condition.

I take a nice, deep breath and release all resistance to healing.

Gemini

: Affirmation: I allow others to be themselves.

I do not try to heal my friends. I do my own mental work and heal myself. This is the best thing I can do for others.

Cancer

: Affirmation: I am at the Centre of Peace.

It is safe for me to look within. Each time I look deeper into myself, I will find incredibly beautiful treasures within me.

Leo

: Affirmation: I can Heal Myself on all Levels.

Healing means to make whole and accept all parts of myself - not just the parts I like, but all of me.

Virgo

: Affirmation: There is a Solution to every Problem.

We create habits and problems to fulfil a need. When I can find a positive way to fulfil the need, I can release the problem.
Libra

: Affirmation: I Release all old hurts and Forgive everyone, including Myself.

I can never get even. Revenge does not work, because what I give out comes back to me. The buck has to stop somewhere.

Scorpio

: Affirmation: I am pure Spirit.

I am aware that I am pure consciousness. I am not lonely or lost or abandoned. I am one with all of life.

Sagittarius

: Affirmation: I Trust the Intelligence within me.

Whatever is happening out there is only a mirror of my own limited thinking.

Capricorn

: Affirmation: I Am at Peace.

I relax and enjoy life. I know that whatever I need to know is revealed to me in the perfect time and space sequence.

Aquarius

: Affirmation: Each person is part of the harmonious whole.

I choose to believe that "everyone is always helpful." Therefore, wherever I go in life, people are there to help me.

Pisces

: My Mental Pattern is Positive and Joyful.

Everything in my life - every experience, every relationship - is a mirror of the mental pattern that is going on inside of me.
Please feel free to leave any comments here on Blogger, or on my Facebook Page
The Daily Divination
, or on
Twitter
Thank you!