Good morning!

I hope you've had a good weekend?

I've been poorly all weekend - trust me to get a cough, cold and sore throat in the middle of summer! I lost my voice yesterday - but it's a lot better today, thankfully :)

A quick follow up to Friday's blog. I have not heard one word from the person who accused me a modifying the cards last week, nor have I heard from the admins of the Facebook page which used one of my Cheeky Witch mug photos without attributing it to me in anyway - despite me having left messages on their page...

An apology would have been nice in both instances...

I have to admit that both situations really did upset and annoy me :(

However, it's a brand new week - a brand new month actually - and so I have decided to "Let go and let Karma..." and move on :)

Can you believe that it's July already?!

Apparently this is a majorly exciting month astrology-wise - with lots going on in the heavens! Planetary alignments which will effect all of us...

To see what the stars have in store for you this July please take a look at Michele Knight's Astrology Videos - fascinating and informative stuff!

This month is going to be a very busy one for me!

I have my Dad's (78th) birthday on the 5th, my daughter Lucy's 30th birthday on the 7th (party on the 6th!), it's my birthday on the 13th (53 this year - eeek!) and then it's my favourite weekend of the summer on the 27th and 28th July - because it's the Eastbourne Lammas Festival!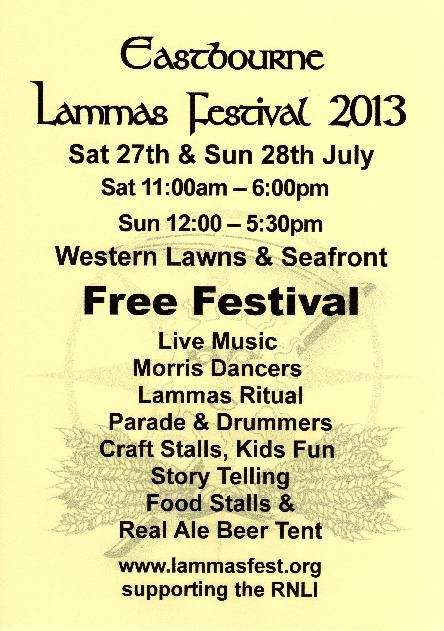 (They are updating the website at the moment - so if the links don't work, please try again later!)
I LOVE Lammas weekend! I have my pitch booked again and have lots to do before the event...
As I said, it's going to be a busy month!
In the meantime - it's Manic Monday and I have lots of gifts to make and post today, so let's get on with the cards and messages...
I am using the
Messages from Your Angels Oracle Cards
this week!
Whatever your star sign - enjoy your day :)
Brightest Blessings,
Kaz
www.blessingz.co.uk
www.cheekywitch.co.uk

This week I am using the
Messages from Your Angels Oracle Cards


by Doreen Virtue, Ph.D.


Quoted from the pack: "This card deck makes it easier than ever to give an amazingly accurate angel reading for yourself or others. Each card features a gorgeous angel painting, along with a one or two sentence message.
These cards will help you and others know what your exact life purpose it, whether ot not someone is your soulmate or not, what to do about your job and living situatuations, and other inportant life questions. Doreen based the cards upon her actual angel readings, using most commonly asked questions and angelic answers to create the ultimate deck for both the beginner and advanced card reader."

My personal card for today

: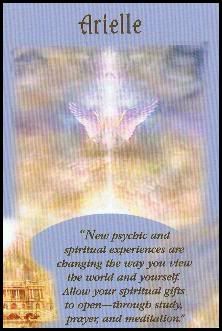 ARIELLE
"New psychic and spiritual experiences are changing the way you view the world and yourself. Allow your spiritual gifts to open - through study, prayer, and meditation."
Additional message: "It's not your imagination. You really
are
psychic, and you
have
connected with the spirit world. These mystical experiences are occurring due to your increased spiritual openness, and because you have asked about your angels and your life's purpose. I am part of a large group of angels assigned to help those of you who have spiritual gifts. We will send you additional Earth helpers in the form of spiritual teachers, books and classes so that you may further open up to your spiritual abilities.
Please don't be afraid of your gifts. Although you may have been teased or punished for being psychic in your childhood or past life, we can help you heal any fears that you may have about being psychic or spiritually gifted. Just ask for our help, and it is given.
The earth needs your help right now. We ask that you regularly send the Divine love and light within you toward those who need it most. Simply hold the intention of sending beams of loving energy toward any place, plant, animal, person, or situation, and it is done. We thank you for your Earth angel assistance."
Today's cards for each of the star signs

:

Due to lack of time, etc. These are the 'quick reading' messages - for the full reading and meaning of the cards you will need to obtain these cards for yourself - or get someone else to buy them for you as a gift!

Here are your messages and insights for today. Try to sit quietly for a few moments, meditate on your card and think about how you can learn from, and act upon, its message...

Aries

: SERENA

"I am the Angel of Abundance. You will receive the money that you need, and God is in charge of how that will happen. Have faith."

Taurus

: LEILA

Quick message: "Spend time alone in nature, meditating about your desires and intentions. Ask the angels to help you gain a positive perspective."

Gemini

: TERESA

Quick message: "Time-out! You've been so busy taking care of everyone else's needs, but now it's time to stop and take care of yourself."

Cancer

: ARCHANGEL RAPHAEL

Quick message: "I am helping you heal physical challenges in yourself and others. You are a healer, like me."

Leo

: YVONNE

Quick message:"You have a special bond with animals. Your pets on Earth and Heaven are watched over by angels."

Virgo

: SHANTI

Quick message:"I am the Angel of Peace. I bring you new tranquility and a smoother road ahead."
Libra

: MYSTIQUE

Quick message: "Keep charging ahead, and don't take no for an answer. Expect miraculous solutions to appear."

Scorpio

: CRYSTAL

Quick message: "Have faith and hope, because there is something positive and new on the horizon that you can't yet see."

Sagittarius

: AKASHA

"You are a spiritual teacher. You have the ability to counsel others and help them awaken their spiritual gifts and Divine life mission."

Capricorn

: ARCHANGEL GABRIELLE

Quick message: "You have an important life purpose involving communication and the arts. Please don't allow insecurities to hold you back. I will help you."

Aquarius

: CELESTE

Quick message: "A happy move to a new home or place of employment is in the works. This movement will usher in positive new energy."

Pisces

: FIONA

Quick message: "Now that you've asked the angels for help, be open to receiving Divine guidance and assistance. You deserve heaven's help!"

Please feel free to leave any comments here on Blogger, or on my Facebook Page
The Daily Divination
, or on
Twitter
Thank you!