Good morning!

Yay! It's Friday, the weekend is almost here!

I hope you have found the cards and messages relevant, helpful and interesting this week?

I do love this deck - don't you?!

I have one left for sale in my ebay shop, if anyone is tempted? £11.99 plus postage. Just click on the picture and it will open in a new page - with all the details.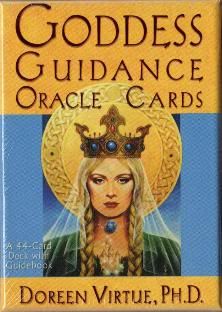 I'm really looking forward to sunday, Father's Day, as my Mum and Dad, and my son and his fiancée, are coming to my place - and Richard is going to cook us all a delicious roast dinner!
So I get to spend time with some of my family and don't have to do the cooking! Result!
In the meantime there's houework to do, but I have to make with my orders first - so let's get on with the cards...
Whatever your plans - and whatever your star sign - have a wonderful weekend :)
Brightest Blessings,
Kaz
www.blessingz.co.uk
www.cheekywitch.co.uk

This week I am using the
Goddess Guidance Oracle Cards


by Doreen Virtue, Ph.D.


Quoted from the pack: "The goddesses are angelic, powerful, loving beings who want to help you with every part of your life. In this set of oracle cards by Doreen Virtue, you'll learn who the different cross-cultural goddesses are and how they can help you. Each card gives a specific message about how you can improve your life, health, relationships, finances, career, and spiritual path. The gorgeous artwork on each card depicts Kuan Yin, Laksmi, Brigit, Isis and Athena; as well as goddesses Celtic, Mayan, Egyptian, Greek, Tibetan, Buddhist and other traditions.
The accompanying guide book helps you to give accurate readings for yourself, your loved ones, and your clients. Whether you're a beginner or seasoned pro, you'll find that working with the goddesses brings Divine magic into your life."
My personal card for today

: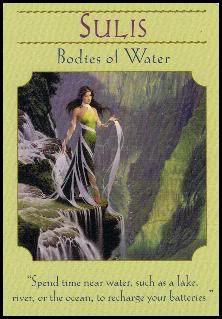 SULIS - Bodies of water
"Spend time near water, such as a lake, river, or the ocean, to recharge your batteries."
Message from Sulis: "Water's curative effects are well known and well documented. Since the human body is composed almost entirely of water, this makes sense. Water can wash away sadness, pain, and the ill effects of suffering. Engage in purification rituals involving water more often, and you'll experience an uplifting of your spirit and outlook. Water's magical properties are amplified when you infuse it with your prayers and intentions. Whether you soak in a sea-salt bath, or bathe in a freshwater spring, you're sure to see the difference water will make."
Various meanings of this card: Go for a meditative walk near water * Take a vacation near the ocean * Move to a home closer to a body of water * Swim * Take a sea salt bath to detox your energetic and physical body * Drink more water.

Today's cards for each of the star signs

:

Due to lack of time, etc. These are the 'quick reading' messages - for the full reading and meaning of the cards you will need to obtain these cards for yourself - or get someone else to buy them for you as a gift!

Here are your messages and insights for today. Try to sit quietly for a few moments, meditate on your card and think about how you can learn from, and act upon, its message...

Aries

: BAST - Independent

"Your independence is a foundation for your strength and success."

Various meanings of this card: Spend time alone * Give yourself permission to play * Ask for your needs to be met * Make your on decision * Work with cats * Pay attention to your pet feline and/or get a new cat.

Taurus

: DAMARA - Guiding Children

"You are good at helping, counselling, and healing children. Use your skills to help children now.

Various meanings of this card: Spend time with, or have a heart-to-heart talk with your own children * Get into a career involved with helping kids * Volunteer with young people * Know that children will be coming into your life soon * You will be a parent * Take care of your own inner child through play and laughter.

Gemini

: MARY MAGDALENE - Unconditional Love

"Love yourself, others and every situation - no matter what the outward appearances may be."

Various meanings of this card: Don't worry what others think or say * Heal this situation with love * Send love to those who have hurt or misjudged you * Forgive yourself for what you think you've done or not done * Release old unforgiveness toward others to help yourself heal and move on.
Cancer

: YEMANYA - Golden Opportunity

"Important doors are opening for you right now. Walk through them."

Message from Yemanya: "Like the ocean, life moves in waves and tides. Timing is everything, so when an opportunity presents itself, you must dive in at that moment. Everything that you've done to prepare yourself will accompany you. Yet, if you hesitate or procrastinate, another opportunity will surely come along, just as the tides wash in and out continuously. Like the ocean, life is rich with variety and beauty. Enjoy experiencing its various rhythms and allow all doubts to be washed away."

Leo

: CORDELIA - Go outside

"You have been indoors too long. Go outside and get some fresh air."

Various meanings of this card: Your manifestation will appear in May and/or when the weather is warmer * Spend time in nature * Change to a job that allows for more connection with nature * Practice environmentalism * Recognize the need for balance in your life.

Virgo

: DIANA - Focused Intention

"Keep your unwavering thoughts, feelings and actions focused on your target, and you will make your mark."

Various meanings of this card: Stay positive * Know what your priorities are and take action on them * Take control of your schedule * Avoid nay-sayers and skeptics.

Libra

: GREEN TARA - Start Delegating

"Ask others (including me) to help you, instead of trying to do everything by yourself."

Various meanings of this card: Don't try to be a superwoman or superman * Give your children chores * Ask your partner for help * Accept assistance as it's offered to you * Release guilt or the belief that it's weak to ask for help * Be a team player.

Scorpio

: ISIS - Past Life

"This situation involves your past-life memories."

Various meanings of this card: Get a past-life regression to gain insights and answers * Ancient fears from the past are surfacing right now * You've known the person you're enquiring about in a past life. * Your current situation relates to a childhood issue.

Sagittarius

: MAAT - Fairness

"This situation will be handled in a fair and just manner."

Various meanings of this card: A lawsuit will be resolved * A dispute will end harmoniously * You'll be treated fairly * Keep everyone's needs in mind during negotiations * Release guilt and shame, as these emotions can attract a punishing attack.

Capricorn

: OSTARA - Fertility

"It is the perfect time for you to start new projects, access new ideas, and give birth to new conditions."

Various meanings of this card: This card signifies pregnancy * You will be involved with a successful child conception, adoption, or custody resolution * Your desire will fully manifest in the springtime * There will be a resurrection of the old * Your new idea or venture will be successful * It's an opportune time to make life changes.

Aquarius

: LAKSHMI - Bright Future

"Stop worrying. Everything is going to be fine."

Various meanings of this card: You and your loved ones will be protected and provided for * Let go of any 'bag-lady' fears about your future * Hold positive thoughts and intentions * Know that you'll always have your needs met, now and in the future * Don't worry about money, but instead visualise abundance.

Pisces

: WHITE TARA - Sensitivity

"You are becoming increasingly sensitive. Avoid harsh relationships, environments, situations, and chemicals."

Various meanings of this card: Acknowledge and honor your sensitivity * Take steps to protect yourself from negativity * Avoid chemicals * Steer clear of situations where there's loud noise, crowds, violent media, and other triggers.

Please feel free to leave any comments here on Blogger, or on my Facebook Page
The Daily Divination
, or on
Twitter
Thank you!