Greetings!

Got off to a nice early start this morning - and got blown along the beach with Maisie, as it's a rather windy day out there!

I took a few photos to show you that my beach isn't just pebbles - we have some beautiful wild flowers growing there too.


Here is Maisie in the daisies!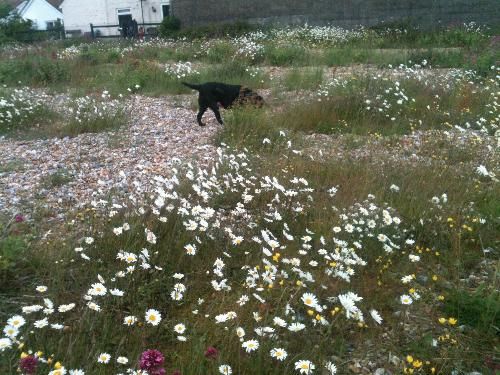 Where's my ball?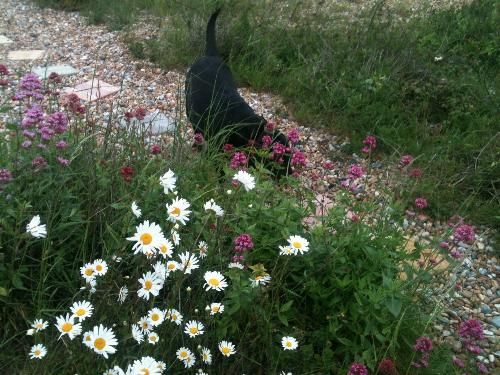 I'm sure it's around here somehwere?
So, we had a lovely walk and I got home a bit windswept but relaxed, ready for the day ahead....
Until I had a problem with my bank - and after being on the phone for an hour with them, I am now all behind and feeling slightly stressed!
Deep calming breaths.... Deep calming breaths....
Let's see what the cards have to say about today shall we?
I was just shuffling the cards and this one flew out!
Eireen - Peace "There is no need to worry, as everything is working out beautifully."
Don't you just love it when that happens?!
Whatever your star sign - have a wonder-filled day :)
Brightest Blessings,
Kaz
www.blessingz.co.uk
www.cheekywitch.co.uk
This week I am using the
Goddess Guidance Oracle Cards


by Doreen Virtue, Ph.D.


Quoted from the pack: "The goddesses are angelic, powerful, loving beings who want to help you with every part of your life. In this set of oracle cards by Doreen Virtue, you'll learn who the different cross-cultural goddesses are and how they can help you. Each card gives a specific message about how you can improve your life, health, relationships, finances, career, and spiritual path. The gorgeous artwork on each card depicts Kuan Yin, Laksmi, Brigit, Isis and Athena; as well as goddesses Celtic, Mayan, Egyptian, Greek, Tibetan, Buddhist and other traditions.
The accompanying guide book helps you to give accurate readings for yourself, your loved ones, and your clients. Whether you're a beginner or seasoned pro, you'll find that working with the goddesses brings Divine magic into your life."

My personal card for today

:
EIREEN - Peace
"There is no need to worry, as everything is working out beautifully."
Message from Eireen: "Even though appearances may seem chaotic. I assure you that a higher plan is in action. This all-loving power is carrying and supporting you completely. Relax into the arms of Divine love; breathe away all cares, concerns, and worries. Put your focus into enjoying and appreciating each blessing. Your gratitude helps you attract even more blessings into your life."
Various meanings of this card: Give your cares and worried to Heaven * Pray * Meditate * Engage in peace-enhancing activities such as yoga, sea-salt baths, massage, naps, music, playfulness, and the like.
Today's cards for each of the star signs

:

Due to lack of time, etc. These are the 'quick reading' messages - for the full reading and meaning of the cards you will need to obtain these cards for yourself - or get someone else to buy them for you as a gift!

Here are your messages and insights for today. Try to sit quietly for a few moments, meditate on your card and think about how you can learn from, and act upon, its message...

Aries

: MOTHER MARY - Expect a Miracle

"Have faith that your prayers have been heard and are being answered."

Various meanings of this card: Let go of worrisome thoughts * Keep your thoughts positive * Notice and follow any Divine guidance you may receive * Pray * Engage in spiritual healing.

Taurus

: SARASVATI - The Arts

"Express yourself through creative activities."

Various meanings of this card: Play music, sing, dance, draw, paint, write, or do something creative * Study, or change to a career that gives you creative freedom * Take a creative class * Invest in an artistic hobby * Keep a journal of your creative ideas * Join a writing club or other creative support system.

Gemini

: DIANA - Focused Intention

"Keep your unwavering thoughts, feelings and actions focused on your target, and you will make your mark."

Various meanings of this card: Stay positive * Know what your priorities are and take action on them * Take control of your schedule * Avoid nay-sayers and skeptics.

Cancer

: BUTTERFLY MAIDEN - Transformation

"You are experiencing enormous change right now, which brings great blessings."

Various meanings of this card: Don't be concerned about endings, as they're bringing in the new for you * Your prayers have been answered with this change * Let go of the old * Don't worry about these changes - they're truly for the best.

Leo

: VESTA - Home

"Your household situation is improving, either through a move or healthy change in the occupants."

Various meanings of this card: You're moving to a new home * You've just moved * A new person is moving in * Someone is moving out * There is increased romance and/or harmony in the home * A problem with neighbours is resolved * Clear the space in your home * Remodel * Know that your home is safe and protected.

Virgo

: AERACURA - Blossoming

"You are just getting started, so have patience with yourself and the process, and do not give up."

Various meanings of this card: Slow down * Have patience * Get involved with gardening * Use aromatherapy and/or flower essences * Keep the faith.

Libra

: MARY MAGDALENE - Unconditional Love

"Love yourself, others and every situation - no matter what the outward appearances may be."

Various meanings of this card: Don't worry what others think or say * Heal this situation with love * Send love to those who have hurt or misjudged you * Forgive yourself for what you think you've done or not done * Release old unforgiveness toward others to help yourself heal and move on.

Scorpio

: CORDELIA - Go outside

"You have been indoors too long. Go outside and get some fresh air."

Various meanings of this card: Your manifestation will appear in May and/or when the weather is warmer * Spend time in nature * Change to a job that allows for more connection with nature * Practice environmentalism * Recognize the need for balance in your life.

Sagittarius

: SEKHMET - Be Strong

"You are stronger than you think you are, and your strength assures a happy outcome."

Various meanings of this card: Don't underestimate yourself * Don't yield to pressure or temptation * Avoid complaining or indulging in negative thinking * Engage in weight training exercises to make your body stronger.

Capricorn

: DANA - High-Priestess

"You have Divine knowledge that can help others through your spiritual teaching."

Various meanings of this card: Lead workshops * Write books or articles * Look for opportunities to teach * Be a role model of peace * Honour your divinity * Know that you are a leader.

Aquarius

: GUINEVERE - True Love

"The romantic stirrings in your heart have propelled the universe to deliver great love to you."

Various meanings of this card: Your soul-mate relationship has arrived or is soon arriving * There is new renewed passion in an existing relationship * You're a very romantic person * Your romantic needs aren't being met, and you must take steps to alleviate this.

Pisces

: MAEVE - Cycles and Rhythms

"Honour the cycles of your body, energy levels and emotions."

Various meanings of this card: Female gynaecological changes (starting of menses or menopause, for example) are an issue for you * Make time to rest * Initiate steps to alleviate depression or lethargy * Take better care of your body * Seek support for dealing with emotional crises * Allow yourself to grieve or take time off * Know that this lull won't last forever * A doorway of opportunity has opened up, and you need to walk through it now.

Please feel free to leave any comments here on Blogger, or on my Facebook Page
The Daily Divination
, or on
Twitter
Thank you!