Good morning!

I have a lot to do this morning - my local post office shuts at midday and I have a lot of orders to make and package before then!

I need to check emails and print postage, etc., however, my computer is conspiring against me. It's already frozen and crashed this morning... A timely reminder that I need to back up my files?!

But first I need more coffee!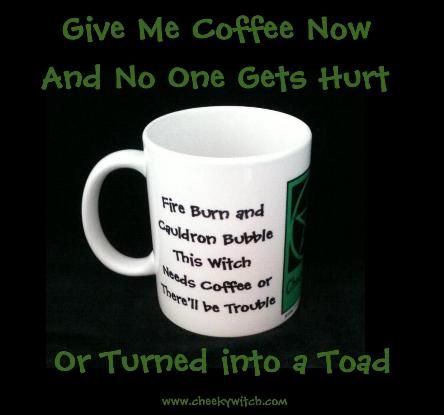 Whatever your star sign - enjoy your day :)
Brightest Blessings,
Kaz
www.blessingz.co.uk
www.cheekywitch.co.uk

This week I am using the 'JUST FOR TODAY' CARDS
by Jamie Sams and David Carson


This deck is the daily, quick message version of the
Medicine Cards
deck by Jamie Sams and David Carson.
I have tried finding a link to The 'Just for Today' cards and can't find any, other than some listed on amazon for an incredibly expensive price! (I don't understand how they can be so expensive, as my set was very reasonable, although I have had them for quite a few years...)
The Medicine Cards are wonderful and come in a boxed set with a book of layouts, instructions and the full meanings for each of the animal guides. I have the Medicine cards too, but it is easier for me to give you the 'Just for Today' messages!

My personal card for today

: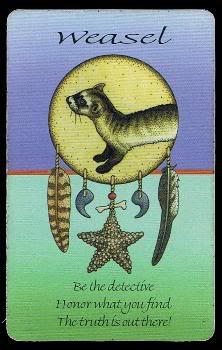 Weasel - Be the detective.
Honor what you find. The truth is out there!

Today's cards for each of the star signs

:

These are your messages from the animal guides for today! Try to sit quietly for a few moments, meditate on your card and think about how you can learn from and/or act upon its message...

Aries

: Otter - Laugh at your antics.

Balance work and play. Reclaim vulnerability.

Taurus

: Badger - Take charge of your life.

Go for it! Trust your abilities.

Gemini

: Dog - Be loyal to yourself.

Be true to others. Bolster your integrity.

Cancer

: Moose - See your potential.

Take pride in yourself. Honor your right to be.

Leo

: Lynx - Be still and silent.

Become the one who watches. Honor the secret wisdom you hold.

Virgo

: Deer - Be gentle with yourself.

Offer kindness to all living things.
Libra

: Crow - Focus on the positive.

Detach from negativity. See opportunity in every challenge.

Scorpio

: Fox - Blend in.

Avoid being the centre of attention. Become protective when needed.

Sagittarius

: Opossum - Have a plan.

Use common sense. Honor the strategy that works best for you.

Capricorn

: Squirrel - Use time and energy properly.

Waste nothing on negativity. Gather the rewards of stewardship.

Aquarius

: Eagle - Connect to spirit.

Feel the freedom found in Oneness. Let your spirit soar.

Pisces

: Turkey - Let go and give away the past.

Share your gifts with generosity. Feel the freedom gained.
Please feel free to leave any comments here on Blogger, or on my Facebook Page
The Daily Divination
, or on
Twitter
Thank you!