Good morning!

Apologies for the lack of cards and messages yesterday - I had one of those days, where things don't quite work out as planned...

However, today is a whole new day :)

I had a very busy weekend - on the whole very enjoyable and we even had some sunshine, although it was very cold and I felt frozen to the bone most of the time!

The music and entertainment was good. We had some wonderful drummers - including the Pentacle Drummers - and I got to see some old (and new) friends too!

It was just a shame that not many people knew about the event, as it wasn't necessarily advertised in the right places...

If you click on the photo below it will open, in a new page, the 'Rock the Redoubt' photo album on my CheekyWitch Facebook Page and you can see some photos taken of my stall over the weekend :)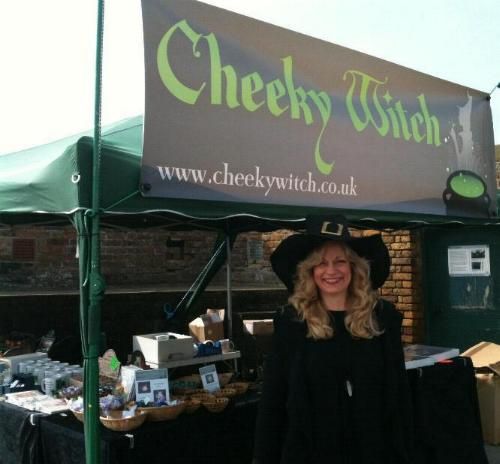 I have a lot of catching up to do today, as I didn't have a very productive day yesterday, so let's get on with the cards and messages for Tuesday!
Whatever your star sign - have a good day :)
Brightest Blessings,
Kaz
www.blessingz.co.uk
www.cheekywitch.co.uk

This week I am using the
'JUST FOR TODAY' CARDS
by Jamie Sams and David Carson
This deck is the daily, quick message version of the
Medicine Cards
deck by Jamie Sams and David Carson.
I have tried finding a link to The 'Just for Today' cards and can't find any, other than some listed on amazon for an incredibly expensive price! (I don't understand how they can be so expensive, as my set was very reasonable, although I have had them for quite a few years...)
The Medicine Cards are wonderful and come in a boxed set with a book of layouts, instructions and the full meanings for each of the animal guides. I have the Medicine cards too, but it is easier for me to give you the 'Just for Today' messages!

My personal card for today

: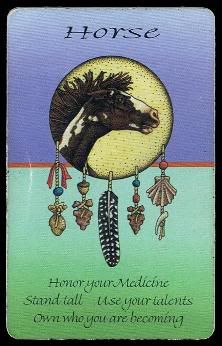 Horse - Honor your Medicine.
Stand tall. Use your talents. Own who you are becoming.

Today's cards for each of the star signs

:

These are your messages from the animal guides for today! Try to sit quietly for a few moments, meditate on your card and think about how you can learn from and/or act upon its message...

Aries

: Rabbit - Banish fear.

Move beyond fears stagnation. Listen to your heart.

Taurus

: Grouse - Find your rhythm.

Honor the synchronicity. Spiral into your potential.

Gemini

: Bat - Be flexible.

Prepare for rebirth. The time is NOW. The power is YOU.
Cancer

: Badger - Take charge of your life.

Go for it! Trust your abilities.

Leo

: Hummingbird - Embrace what makes you happy.

Be joyful. Count your blessings. Open yourself to pleasure.

Virgo

: Dolphin - Breathe. Take in life force.

Accept the gift of usable energy. Touch the invisible.

Libra

: Hawk - Honor all life forms and all humans as messengers.

Trust life's messages and signals.

Scorpio

: Dog - Be loyal to yourself.

Be true to others. Bolster your integrity.

Sagittarius

: Elk - Persistence brings rewards.

Support you health and stamina. Honor your ability to endure.
Capricorn

: Crow - Focus on the positive.

Detach from negativity. See opportunity in every challenge.

Aquarius

: Wolf - Find new paths and options.

Break through. Be a role model. Share your inner knowing.

Pisces

: Deer - Be gentle with yourself.

Offer kindness to all living things.

Please feel free to leave any comments here on Blogger, or on my Facebook Page
The Daily Divination
, or on
Twitter
Thank you!