Good morning!

Sorry I am running late today - I've had a busy and exciting morning :)

While I was out walking Maisie at 8 o'clock, I had a large delivery of mugs!

This is the first batch of my new Cheeky Witch mugs and I am very pleased with them.

I have used a different printing company and the mugs are better quality and dishwasher safe too. The colour is a slightly different green but I like it (and if all goes well I shall think about introducing other colours in the future)!

In this batch I have some new mug designs and a couple of old favourites - with more to be printed as soon as funds allow..

I have been trying to take some photos this morning, but photography is not my strong point - as I dont have the right equipment, lighting etc, so had to use my iphone in the end. Here's an example:


I have a lot of people waiting for this particular mug, so I have to get them listed on ebay as soon as possible and start contacting everyone who wrote to me last weekend, after my original mug picture 'went viral' on Facebook...
Then I have to photograph and list all the other designs - as well as keep up with my
Bagz of Blessingz
orders!
It's going to be a busy few days ahead, but before I do anything else - I must do the cards and messages for the weekend :)
I hope you have found your messages from the Mermaids and Dolphins insightful and relevant this week? I know my own cards have been very interesting...
Whatever your star sign - have a magickal weekend :)
Brightest Blessings,
Kaz
www.blessingz.co.uk
www.cheekywitch.co.uk

This week I am using the beautiful
Magical Mermaids and Dolphins Oracle Cards
by Doreen Virtue, Ph.D.
Quoted from the pack: "The Magical Mermaids and Dolphins Oracle Cards are specifically designed to help you manifest your goals, life purpose, and Divinely inspired dreams. These 44 beautifully illustrated cards can help you swim into the ocean of your unconscious mind, where profound thoughts and feelings can create - or block - your heart's desire. The cards are easy to use, and the enclosed guidebook will help you perform amazingly accurate readings for yourself and others."

My personal card for today

: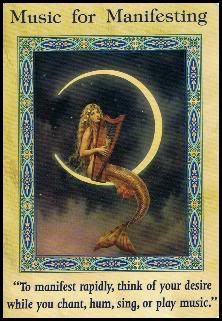 MUSIC FOR MANIFESTING
To manifest rapidly, think of your desire while you chant, hum, sing, or play music.
Divinatory meaning: Music is a powerful ally on your spiritual path, as it serves to boost your manifestation powers. Music is part of the invisible realm, and is of a higher frequency that that of the physical plane. It wraps us in a protective shield to guard us from negative energies. It also lifts out emotions and thoughts to joyful levels.
By drawing this car, you're urged to play any type of music that suits your mood, as often as possible. Move your body to the music, and breathe in deeply as you listen to it, drawing the energy of each note.
Use music as a manifestation tool. First, sit quietly and think of your desire. Imagine that your dream has already come true, and feel that reality in your stomach as warmth, peace, excitement, or security. Feel gratitude in your heart. As you enjoy these feelings, begin to chant, hum, or sing. This self-made music sends your manifestation into the ethers, where it coagulates into tangible reality!

Today's cards for each of the star signs

:

Due to lack of time, etc. These are the 'quick reading' messages - for the whole message and meaning of the cards you will need to obtain these pretty cards for yourself - or get someone else to buy them for you as a gift!

Here are your messages and insights for today. Try to sit quietly for a few moments, meditate on your card and think about how you can learn from, and act upon, its message...

Aries

: HELPFUL PERSON

Someone wants to help you. Think of whom that might be, and initiate contact.

Taurus

: WATCH YOUR THOUGHTS

It's important to only think about what you desire, not what you fear.

Gemini

: A NEW DAWN

The worst is now behind you, and positive new experiences are on the horizon.
Cancer

: LET YOURSELF RECEIVE

Allow others to give you loving care. Receive without guilt or apologies.

Leo

: TRANQUILITY

Make time to relax, be still, and enjoy your solitude, indulging in much-needed self-care.

Virgo

: TREASURE CHEST

An unforeseen windfall of new abundance comes to you now!

Libra

: WAVES OF PROSPERITY

New abundance and exciting opportunities wash over you now.

Scorpio

: TIME TO MOVE ON

It's time to let go of the old and worn out so that the new can come in.

Sagittarius

: EXPLORE YOUR OPTIONS

It's time to look at other possibilities. It's a good time to make changes.
Capricorn

: YOU'RE BEING HELPED

Heaven is working behind the scenes to help you, even if you don't see results yet.

Aquarius

: CONTEMPLATION TIME

Spend time alone, meditating upon what you truly desire.

Pisces

: REST

You've been working hard. Take a nap and get some rest.

Please feel free to leave any comments here on Blogger, or on my Facebook Page
The Daily Divination
, or on
Twitter
Thank you!