Good morning!

As predicted on Friday, I have had a VERY busy weekend, working non-stop, but I am so very grateful!

I spent most of Saturday taking photos of my new mugs and listing them on ebay and most of Sunday packaging mugs - a lot of which I have already posted today!

I took Maisie for her morning walk via the Post Office - with 4 bags full of parcels - and then we walked back along the beach. It is VERY cold out there, but we are so lucky not to have the heavy snow and terrible weather that others have had to endure, in other parts of the UK this weekend.

It's Manic Monday and I have lots of Bags of Blessings to make, and more mugs to package, before my making my second trip to the Post Office later, so let's get straight to the cards and messages for Monday!

I am using the Angels of Light Cards this week - which have a message and an affirmation. I hope you like them?!

Whatever your star sign - have a good day :)

Brightest Blessings,
Kaz
www.blessingz.co.uk
www.cheekywitch.co.uk



This week I am using the
Angels of Light Cards


by Diana Cooper



Quoted from the pack: "Angels are high spiritual beings. They come from the heart of God as guides, protectors, helpers and healers. Angels are willing and able to help us in many ways throughout our lives, all we need to do is call on them and they will respond. Allow these cards to help you bring them into your life.

Diana Cooper, best selling author of 'A Little Light on Angels', 'A Little Light on Ascension' and 'A Little Light on the Spiritual Laws' has created this beautiful new set of cards. This pack contains 52 cards, a 48 page booklet and a velvet bag which will allow you to carry the cards wherever you go."

(These cards do not have different illustrations just the beautiful image below on the back and all text on the front.)

My personal card for today

: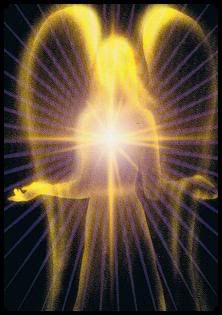 I didn't mean to be greedy - but I managed to pull two cards for myself for today - so assumed they were
both
meant to be for me ;)
The first was:
SYNCHRONICITY
There is no such thing as chance in our incredible Universe.
The coincidences and synchronicities are carefully orchestrated by your guides and angels - so recognize them as the hand of spirit.
Rejoice when you notice them for they are the angels' message to you that you are on the right path.
Start to expect them and look for them.
Be aware that there is a divine reason behind them and consider what the message or lesson is.
Synchronicity is also a reminder to you that all things happen in divine timing.
Affirmation: All things happen in perfect timing.
And the second was:
PURPOSE
Full meaning: The angels remind you that every situation or person is placed on your path with a purpose.
It may be to strengthen you, offer you an opportunity to resolve or forgive the past, release old patterns, or for enjoyment.
Your life purpose is ultimately to do that which brings you joy, satisfaction and fulfilment.
Seeking these soul qualities will place you on the path of your destiny. Once on your life path, allow nothing and no one to deflect you from your mission.
Your guidance is to ask your angel to help you find the purpose of your current situation or, if you are ready, your life mission.
Align your strength and willpower and hold your intention to fulfil your purpose. The angels will support you and you will succeed.
Affirmation: I am strong and determined.

Today's cards for each of the star signs

:

Due to lack of time, etc. These are the 'quick reading' messages - for the full reading and meaning of the cards you will need to obtain these cards for yourself - or get someone else to buy them for you as a gift! (The link below is to the new 'revised' edition of these cards - I am using the older version - I believe it is only the images which are different...)
Here are your messages and insights for today. Try to sit quietly for a few moments, meditate on your card and think about how you can learn from, and act upon, its message and repeat your affirmation throughout the day...

Aries

: CREATIVITY

Quick message: The angels suggest that you explore your creative potential now. Creativity is an energy for adventure and change. It may herald a new idea, inspiration for a book, an artistic vision or a new project. The angel wisdom reminds you that you are a co-creator with the Divine. Use your power with wisdom and joy.

Affirmation: I enjoy my creative powers and use them for the highest good.

Taurus

: COMMITMENT

Angel wisdom reminds you that when you aim for a vision without doubt or deviation, it must succeed. Your guidance is to persevere towards your vision. Let every thought, word and action be directed towards your desired outcome. Remember to ask the angels for their help and know when you dedicate your intention to the highest good, they will support you.

Affirmation: I am committed to my vision.

Gemini

: ARCHANGEL URIEL

Quick message: Archangel Uriel works on the ruby ray which is made up of purple and gold. It is the ray of wisdom and spirituality. You are blessed to attract this angel card, for he will bring you serenity, love, tranquillity and peace. You, in your turn, are invited to spread these beautiful qualities to others. Connecting with Archangel Uriel will enable you to aspire to oneness with all humanity. This is high state of grace which will bring you freedom and joy.

Affirmation: I am one with everyone in peace and serenity.

Cancer

: ARCHANGEL RAPHAEL

Quick message: You are blessed to attract this angel card, for Archangel Raphael brings health, healing and abundance. He will help you to develop your intuition and inner vision. Call on him if you need help in these areas now. If you are a healer or wish to become one, Archangel Raphael will direct pure divine energy through you. He works on the green ray of healing and balance, so visualise yourself surrounded by a clear green light and invoke his guidance.

Affirmation: I am happy, healthy and abundant.

Leo

: MERCY

Quick message: To develop the quality of mercy, forgive yourself and everyone around you. Be magnanimous, see the good in others and give them the benefit of the doubt. Open up to compassion, but most of all access the wisdom within that recognizes the Divine in every creature. When you temper your attitude to others with mercy, you offer them grace. You spread much light, joy and freedom and empower others to find the good in themselves.

Affirmation: I am merciful.

Virgo

: DISCERNMENT

Quick message: Discernment means sensing what feels right or wrong, trusting your judgement and acting on it. Your angel guidance is to look at the people and situations in your life now and respond to your gut feeling. Angel wisdom reminds you that when you can be trusted to use discernment, you can serve the Universe in a great way.

Affirmation: I trust my intuition.
Libra

: POWER

Quick message: You are reminded that your essence is divine, so let no one diminish you. When you feel totally at peace, you are powerful, for no one can upset or influence you. Your angel guidance is to find your still, quiet centre, then heal your anger, purify your emotions, rely own your own judgement and take your own decisions. True power is based on inner strength, self worth and confidence. Claim your power today.

Affirmation: I am serene, powerful and confident.

Scorpio

: GRATITUDE

Quick message: Your guidance is to count your blessings. When you say thank-you to the Universe for its gifts, it responds generously to you. Angel wisdom reminds you to say thank-you for all that you have, the intangible as well as the tangible. Whenever you say thank-you from your heart, more is bestowed on you, for gratitude is the key to opening the doors to universal abundance.

Affirmation: I am grateful for everything in my life.

Sagittarius

: CHOICES

Quick message: When you worry about decisions, it means that your mind is trying to control your life and that results in choices made from your ego. Your angel guidance is to consider and evaluate all the options then let go of your head and choose from your heart that which gives you greatest joy and feels right. Make choices for the highest good. Remember that if something is not for your highest good, it certainly is not for the highest good of those around you. So let go of false feelings of responsibility for others and choose with wisdom. Become still and attune to your soul. Ask your angels for guidance and help.

Affirmation: I choose for my highest good

Capricorn: SERENITY

Quick message: Serenity bestows inner peace, tranquillity and calmness of mind. When you feel serene, you are your own person, for nothing and no one can bother, upset or influence you. You are like a calm, clear lake - beautiful and peaceful to be with. Your radiance brings hope and support to those who come within your aura. You attract respect and love from others, for all are calmed by you. Quietly ask your angel to hold you in serenity.

Affirmation: I am serene and still.

Aquarius

: GENEROSITY

Quick message: Generosity is a quality of spirit. it is rejoicing in the good fortune of others even when you have nothing to celebrate yourself. It is an attitude of mind which means you are happy to give without expecting in return. Angel wisdom suggests that you give of yourself freely, openly and lovingly. The rewards for generosity are great, for all that you give from an open heart is returned to you multiplied.

Affirmation: I am generous hearted.

Pisces

: DISCIPLINE

Quick message: An unruly dog is a hazard to itself and others. The animal which has learned discipline and obedience can be trusted and will loyally and lovingly serve its master. It is then allowed of fits lead. Through discipline comes freedom. The master you are called upon to obey is your Higher Self. You came to earth on a mission and only self-discipline will enable you to fulfil it. Discipline is a key to fulfilling your destiny.

Affirmation: Self-discipline brings me freedom.
Please feel free to leave any comments here on Blogger, or on my Facebook Page
The Daily Divination
, or on
Twitter
Thank you!