Good morning!

I was walking Maisie on the beach yesterday, around 5pm - it was very foggy, eerie and quiet (I love it when it's like that) when all of a sudden this curious little stone caught my eye!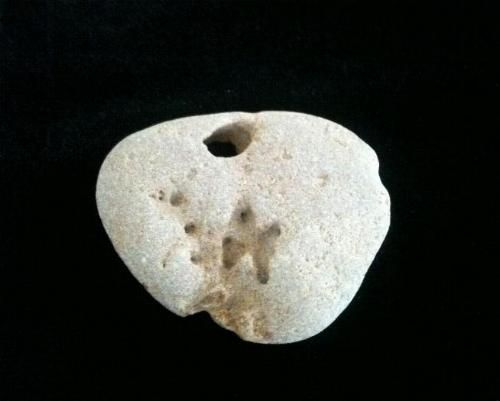 First of all - it is a holey stone (another for my collection) - but then I saw the butterfly image.
The message of the Butterfly (from the
Power Animal Oracle Cards
by Steven D.Farmer, Ph.D. is:
BUTTERFLY - TRANSFORMATION
Get ready for a BIG BREAKTHROUGH
Additional Association: Rebirth; Vibrancy; Reincarnation; Colourfulness
A very nice message :)
'Coincidentally' the butterfly image on the stone also looks very similar to the design on the back of the
Messages from Your Angels Oracle Cards
which I have been using this week.
Another thing, which is very curious, are the 3 little holes in a row - just alongside the 'butterfly' - which immediately reminded me of Orion's belt!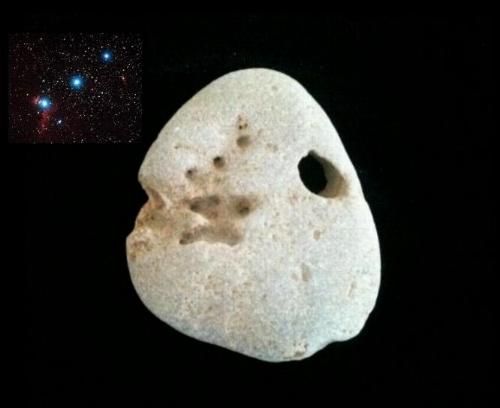 The Orion Constellation has always been important and fascinating to me - since I was very young...
All-in-all and very nice little Gift from the Goddess, gratefully received :)
Today is International Women's Day!
And - this Sunday is Mother's Day in the UK!
So I am celebrating Women and being a Woman - a daughter to a wonderful Mum, and a Mum to three beautiful, gifted daughters (not forgetting my handsome, witty and clever son!) and a Grandmother to a gorgeous little grandaughter!
To all the Women in my life - YOU ARE FABULOUS - and never forget it!
Whatever your star sign - enjoy your weekend :)
Brightest Blessings,
Kaz
www.blessingz.co.uk
www.cheekywitch.co.uk

This week I am using the
Messages from Your Angels Oracle Cards

by Doreen Virtue, Ph.D.
Quoted from the pack: "This card deck makes it easier than ever to give an amazingly accurate angel reading for yourself or others. Each card features a gorgeous angel painting, along with a one or two sentence message.
These cards will help you and others know what your exact life purpose it, whether ot not someone is your soulmate or not, what to do about your job and living situatuations, and other inportant life questions. Doreen based the cards upon her actual angel readings, using most commonly asked questions and angelic answers to create the ultimate deck for both the beginner and advanced card reader."

My personal card for today

:
PATIENCE
"Now is the time to learn, study, and gather information. Enjoy being a student, because in the future, you will synthesize your knowledge into action."
Additional message: "Although you may be aching to begin a new project, now is not the right time. You are in the vital phase of gathering right now. This means that you're acquiring new information through studying, reading, meditating, channeling, taking classes, interviewing experts, and other means. In all of life, there is a time for gathering and a time for planting.
It is too soon for you to decide how you will use the new information that you're absorbing. You may have some ideas, though, so it may be wise to write them down for future use. Soon enough, you will be called into action to apply your knowledge in useful ways. When that happens, you will be very busy and work very hard. So, enjoy the present moments of ambiguity and rest. Allow yourself to be an empty vessel into which Heaven pours the contents of its library of wisdom. Your unique talents will blend with this wisdom, and synthesize it into a new and important way to bring peace to this planet.
Today's cards for each of the star signs

:

Due to lack of time, etc. These are the 'quick reading' messages - for the full reading and meaning of the cards you will need to obtain these cards for yourself - or get someone else to buy them for you as a gift!

Here are your messages and insights for today. Try to sit quietly for a few moments, meditate on your card and think about how you can learn from, and act upon, its message...

Aries

: OMEGA

Quick message: "Victory! Your desire is coming to fruition. Keep up the good work!"

Taurus

: CELESTE

Quick message: "A happy move to a new home or place of employment is in the works. This movement will usher in positive new energy."

Gemini

: OCEANA

Quick message:"Take action. You're in touch with your truth in this situation, and you need to trust your gut and lovingly assert yourself."

Cancer

: INDRIEL

Quick message: "You are a lightworker. God needs you to shine your Divine light and love - like an angel - upon the earth and all of its inhabitants.

Leo

: SEREPHINA

Quick message: "I am the Angel of Families. a happy change or addition is coming to your family."

Virgo

: ASTARA

Quick message: "You deserve the best. Reach for the stars with your dreams and desires, and don't compromise."
Libra

: CARESSA

(Two days on a row!)

Quick message: "You are at the end of a cycle in your life. Call upon your angels to comfort you, and to guide you to your next step. Happiness awaits you now."

Scorpio

: ISAIAH

Quick message: "It's a good time to give birth to new ideas and situations in your life. I am watching over you, guiding you and protecting you during these changes."

Sagittarius

: LEILA

Quick message: "Spend time alone in nature, meditating about your desires and intentions. Ask the angels to help you gain a positive perspective."

Capricorn

: ARIELLE

Quick message: "New psychic and spiritual experiences are changing the way you view the world and yourself. Allow your spiritual gifts to open - through study, prayer, and meditation."

Aquarius

: ISABELLA

Quick message:"Yes, the timing is right for this new venture. a happy outcome follows your positive expectations."

Pisces

: TERESA

Quick message: "Time-out! You've been so busy taking care of everyone else's needs, but now it's time to stop and take care of yourself."

Please feel free to leave any comments here on Blogger, or on my Facebook Page
The Daily Divination
, or on
Twitter
Thank you!