Good morning!

It's another beautiful sunny, but cold day, here in Pevensey Bay. Maisie and I enjoyed a walk along the beach into the village and I popped into the Post Office to send off some orders (which I'd made last night).

They were surprised to see me in there just after 9am - as I don't usually go until late afternoon. The comment was:

"Unusual to see you out in the daylight!"

They seem to think I'm a vampire!

I may not be a Vampire - but I was God!

Please click here to read about about a weird and wonderful experience I had in back 1999 when I was living in France. It caused quite a debate, at the time, when I put it in my ezine...

Another busy day ahead, so let's get on with the cards and messages for Wednesday!

Whatever your star sign - have a good day :)

Brightest Blessings,
Kaz

www.blessingz.co.uk
www.cheekywitch.co.uk



This week I am using the
Cosmic Ordering Oracle Wish Cards


by Stephen Richards and Karen Whitelaw Smith
Quoted from the pack: "This guidance booklet will give you the meaning of the 44 pocket sized Cosmic Ordering Oracle Wish Cards. Use them in many different ways and learn to work with the energy of that card.
Use the cards in your daily life to make a wish and watch it come true."

My personal card for today

: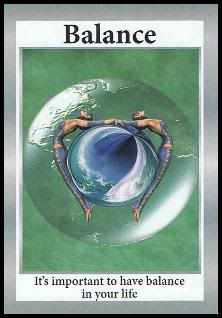 BALANCE
It's important to have balance in your life
Full meaning: Drawing this card indicates an imbalance in your life.
Is it in your physical body? Are you maintaining habits and activities to create a healthier you?
Is your imbalance emotional? What barriers to well-being are you erecting today? The gifts of the Universe need to flow. Where are you on the scale of giving and receiving?
Is your imbalance Spiritual? The solution is Faith. Trust the Cosmos. Use its strength to create your destiny.

Today's cards for each of the star signs

:

Due to lack of time, etc. These are the 'quick reading' messages - for the full reading and meaning of the cards you will need to obtain these cards for yourself - or get someone else to buy them for you as a gift!

Here are your messages and insights for today. Try to sit quietly for a few moments, meditate on your card and think about how you can learn from, and act upon, its message...

Aries

: SELF-BELIEF

Believe in yourself to change your life

Focus only on the positive. Make choices today in line with your highest good. Use your gifts, in gratitude, believing they will lead to the right path.

Taurus

: DESIRE

The desire to achieve success

Visualise yourself achieving your aims. Feel the success, then un-harness your belief. With the power of the cosmos anything is attainable.

Gemini

: DETOX

Wash away your worries

Have you been ignoring signs of overload in your body? Balance your physical body and clear your channel to the Cosmos. Drink more water to purify your system.

Cancer

: FORGIVENESS

Learn to forgive others

Forgiving someone who has wronged us is the hardest lesson the human spirit can learn. But it is a vital lesson. Without forgiveness, anger rages through our lives like a torrent, destroying everything in its path.

Leo

: COSMIC ORDERING

Learn to attract abundance

As we believe so we receive. Believe you are worthy, and place your Order today using positive language.

Virgo

: THOUGHTS

Your thoughts create you future

To be happy, we must think happy thoughts. Fill your mind with love and watch it spill out into every aspect of your existence.
Libra

: PEACE OF MIND

Be at peace with yourself

Are you still looking to the external world for peace of mind? Only when we truly accept ourselves for who we are, love others and give back to the Cosmos will we know inner peace.

Scorpio

: COSMIC INDULGENCE

Look deeper

Ask the Cosmos for a special indulgence today, something wonderful, just for you. Remember too that the Cosmos will only reward you if you are giving back to the Universe.

Sagittarius

: DECISIONS

You have the choice to make your own decisions

We all make decisions every day of our lives. Some move us forward, some trap us in the status quo. Now is the time to make the decision you've been avoiding.

Capricorn

: OCEAN

Spend time beside the water or relax in a warm bath

When we sit by the ocean our body relaxes, our spirit opens. Allow life's flotsam to float away and let yourself flow with the tide.

Aquarius

: FAITH

Hold on to your faith

By having faith in a Infinite Power we in turn become empowered. No matter how bleak your current situation, hold on to that faith.

Pisces

: BIRTH

The start of new beginnings

This card designates a new beginning. Choosing it signifies that today marks a new stage in your journey.
Please feel free to leave any comments here on Blogger, or on my Facebook Page
The Daily Divination
, or on
Twitter
Thank you!