Good morning!

It's freezing! Beautiful sunny day, but there's a biting wind - so glad Richard warned me - I put on 5 layers and still felt cold when I took Maisie out earlier. It's nice being back in the warm with a steaming hot mug of coffee :)

Some friends will know that many years ago (in 1996), when I lived in France, I began to produce a little newsletter, called "In*Sync", and later after I 'got the internet' in 1998, it became a bi-monthly ezine. My readership grew and I had over 1700 subscribers - which was pretty good in those days, long before Facebook and all the social networking websites...

(I was known as 'Crystal Star Woman' back then - but that's another story!)

After a lot of changes in my personal life and many very 'challenging' situations, I gave it up early in 2002.

However, I still have most of the articles that I originally wrote for In*Sync and have re-published some of them on Hubpages.

I have decided to share some of the articles here on my blog, from time to time, for anyone who is interested, starting with this one - The Healing and Magical properties of Amethyst

(Please click on the link, or the photo below, to read the article, it will open in a new window.)

I love crystals, and I used to make gemstone jewellery, some of which appears in the photographs in the article. I really must start making jewellery again, if I can find some more hours in my working week!
Talking of which - I had better make a start on my orders...
Whatever your star sign - have a lovely day!
Brightest Blessings,
Kaz * Crystal Star Woman ;)
www.blessingz.co.uk
www.cheekywitch.co.uk

This week I am using the
Cosmic Ordering Oracle Wish Cards
by Stephen Richards and Karen Whitelaw Smith
Quoted from the pack: "This guidance booklet will give you the meaning of the 44 pocket sized Cosmic Ordering Oracle Wish Cards. Use them in many different ways and learn to work with the energy of that card.
Use the cards in your daily life to make a wish and watch it come true."

My personal card for today

: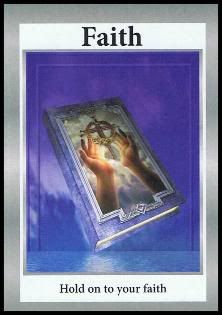 FAITH
Hold on to your faith
This card signifies the need to invoke the power of the Spirit. By having faith in a Infinite Power we in turn become empowered.
No matter how bleak your current situation, hold on to that faith. This act of trust will expel fear. Faith triggers cosmic vibrations, creating a circle of protection around us. Let the Source of all Power sustain you. Through it you will attain peace of mind.

Today's cards for each of the star signs

:

Due to lack of time, etc. These are the 'quick reading' messages - for the full reading and meaning of the cards you will need to obtain these cards for yourself - or get someone else to buy them for you as a gift!

Here are your messages and insights for today. Try to sit quietly for a few moments, meditate on your card and think about how you can learn from, and act upon, its message...

Aries

: SELF-BELIEF

Believe in yourself to change your life

Focus only on the positive. Make choices today in line with your highest good. Use your gifts, in gratitude, believing they will lead to the right path.

Taurus

: CAREER

Time to look at a new career path

Remember what you are on this earth to achieve. How can you align your work life with that goal? Reconnect with Spirit, asking to be shown the way forward. Through its guidance you will achieve the success you desire.

Gemini

: DREAM BIG

Live life to the full

You stand at the door of unlimited abundance. The bigger your dream, the further it will take you on your journey. There are no limitations but your imagination.
Cancer

: BALANCE

It's important to have balance in your life

Drawing this card indicates an imbalance in your life. Is it in your physical body? Is it an emotional imbalance? Is your imbalance Spiritual?

Leo

: COURAGE

It only takes a little bit of courage to change

Be true to yourself and you will be given the courage to overcome your difficulties.

Virgo

: SPIRITUAL POWER

It's time to unleash the power within and set yourself free

Use self-relaxation to discover your Spiritual power, which means connecting to Infinite Energy; with it we can move mountains.

Libra

: VISUALISATION

What you visualise can become a reality

Be on the alert for signs from Spirit., knowing you have the power to manifest all your dreams.

Scorpio

: BEAUTY

Beauty lies within

Connect with your real Self today. Focus on the highest, purest part of you. Show your beauty. Smile.

Sagittarius

: MESSAGES FROM YOUR LOVED ONES

Stop and listen

Our loved ones will always find ways of connecting with us, especially in times of need.
Capricorn

: OCEAN

Spend time beside the water or relax in a warm bath

When we sit by the ocean our body relaxes, our spirit opens. Allow life's flotsam to float away and let yourself flow with the tide.

Aquarius

: COSMIC INDULGENCE

Look deeper

Ask the Cosmos for a special indulgence today, something wonderful, just for you. Remember too that the Cosmos will only reward you if you are giving back to the Universe.

Pisces

: TRUTH

Be truthful with yourself

Are you truthful with your dealings with others? Do you lie to protect your ego? Redefine your relationship with honesty today and watch your life transform.

Please feel free to leave any comments here on Blogger, or on my Facebook Page
The Daily Divination
, or on
Twitter
Thank you!