Good morning!

It's a bit grey and miserable today - which matches my mood, as I have my least favourite task to start to tackle today - I must sort out my accounts, ready for the Tax man...

Time is fast running out and I'm behind with my paperwork, as usual, so it's not going to be a fun day... Actually it's not going to be a fun few days :(

Wish me luck!

Your cards and messages are below - whatever your star sign - I hope you enjoy your day :)

Brightest Blessings,
Kaz
www.blessingz.co.uk
www.cheekywitch.co.uk


This week I am using
The Wicca Pack
by Sally Morningstar
Quoted from the pack: "The Wicca Pack, weaving magic into your life. Contains the Wicca Book and set of Divinatory cards. Wiccan Magic. learn the basics of working with high magic, the importance of sacred spaces, the timing of high days and holy days, and the correct use of magical crafts. Connect with the archetypes of the ancient Pagan deities, and use the beautifully illustrated cards to develop your latent intuitive skills and explore the world of natural magic through inner spiritual work."

My personal card for today

: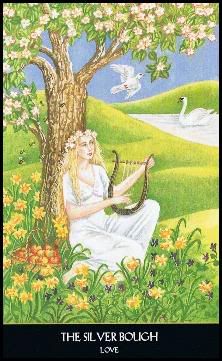 THE SILVER BOUGH - Love
High Note: The heart is open to love and harmony.
Low Note: Hold desires and wants in check.
Vibration: The Heart
Keywords: Love, happiness, health.
Full meaning: The Silver Bough brings the gift of love and happiness to you. Whatever you have experienced recently will now be blessed by the rays of loving kindness, and brought to the heart or centre of your attention. This card would indicate that a marriage, union, partnership or celebration is coming to you or leaving. See other cards nearby.
If you have been thinking about your health, now would be the time to focus on a healthy lifestyle. Responding with love when this card appears will strengthen your own heart and increase loving vibrations in all areas of your life.
Today's cards for each of the star signs

:

Due to lack of time, etc. These are the 'quick reading' messages - for the full reading and meaning of the cards you will need to obtain these cards for yourself - or get someone else to buy them for you as a gift!

Here are your messages and insights for today. Try to sit quietly for a few moments, meditate on your card and think about how you can learn from, and act upon, its message...

Aries

: THE LADY - Embodiment

High Note: All that you need is present.

Low Note: Issues of disempowerment are highlighted.

Vibration: Archetype.

Keywords: Embodiment, character, empowerment.

Taurus

: SHEKINAH - Transcendence

(2 days in a row!)

High Note: Dreams can come true.

Low Note: You are not alone.

Vibration: Heaven on Earth.

Keywords: Transcendence, karmic purpose, faith.

Gemini

: PENTACLE - Evocation

High note: The Ancestors guide you to wisdom.

Low note: Balance your energies. You are drawing what you need in order to progress.

Vibration: The Elements

Keywords: Evocation, manifestation, protection.

Cancer

: RAVEN - Keeper of Secrets

High Note: Occult gifts are being activated.

Low Note: Shadows on the soul require attention.

Vibration: Soul.

Keywords: Occult knowledge, magic, mastery.

Leo

: THE HORNED GOD - Life Force

High Note: Fun and celebration are indicated.

Low Note: Be honorable. Find what makes you truly happy.

Vibration: Base Chakra

Keywords: Enchantment, illusion, fantasy.

Virgo

: ARADIA - Heritage

High Note: Now is the time to claim your birthright - success awaits.

Low Note: Review personal opinions and belief systems. Habits and prejudices will be challenged.

Vibration: Crown Chakra

Keywords: Birthright, heritage, celestial guidance.

Libra

: BROOMSTICK - Cleansing

High Note: Prepare for fun, frolics and high energy.

Low Note: Clear blocked or stale energy at all levels.

Vibration: Sacral Chakra.

Keywords: Cleansing, protection, preparation.

Scorpio

: CRYSTAL BALL - Insight

High Note: Clear vision now creates your future.

Low Note: Follow your own counsel.

Vibration: Third Eye Chakra

Keywords: Insight, divination, vision.

Sagittarius

: HOLEY STONE - Protection

High note: Psychic powers are being developed. Expect a blessing.

Low note: Psychically protect any new projects.

Vibration: Astral

Keywords: Protection, boundaries, blessings

Capricorn

: ATHAME - Commander of Power

High Note: Powerful energies protect and guide you.

Low Note: Boundary issues are highlighted.

Vibration: Solar Plexus Chakra

Keywords: Empowerment, direction, boundaries.

Aquarius

: BAT - Rebirth in Consciouness

High Note: Consciousness awakens your flight to freedom.

Low Note: This too will pass.

Vibration: Third Eye Chakra

Keywords: Rebirth, change, spiritual awakening,

Pisces

: BOOK OF SHADOWS

High Note: Wisdom from experience is being integrated into your soul.

Low Note: Have no fear - you are returning to your true self.

Vibration: Crown Chakra

Keywords: Experience, discovery. Acceptance

Please feel free to leave any comments here on Blogger, or on my Facebook Page
The Daily Divination
, or on
Twitter
Thank you!