Good morning!

I hope you had a good weekend?

It's a beautiful sunny day here on the south coast of England today. Maisie and I enjoyed our walk on the beach and I found a couple of interesting stones!

As you can see from this photo of Maisie below, our beach is a 'shingle beach' with millions of pebbles...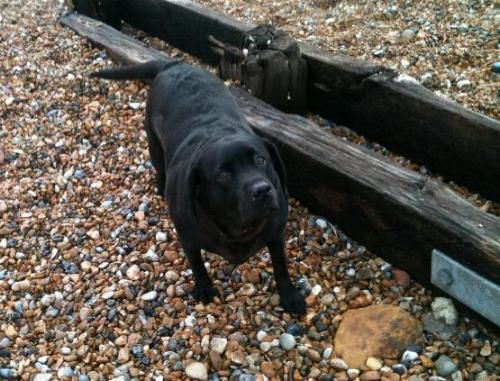 So I think it is always amazing when something like this little stone catches my eye: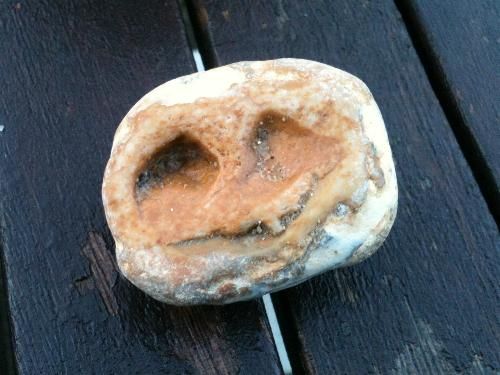 I'm calling it my Jack Stone! Can you see why? It looks like a Jack 'O' Lantern!
A few moments after finding that one, I found this one below!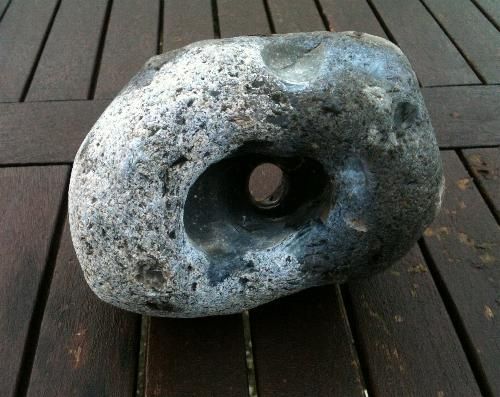 The biggest Holey Stone I have ever seen!
I have photographed it next to Maisie's ball, to give you an idea of how big it is... It's very heavy too!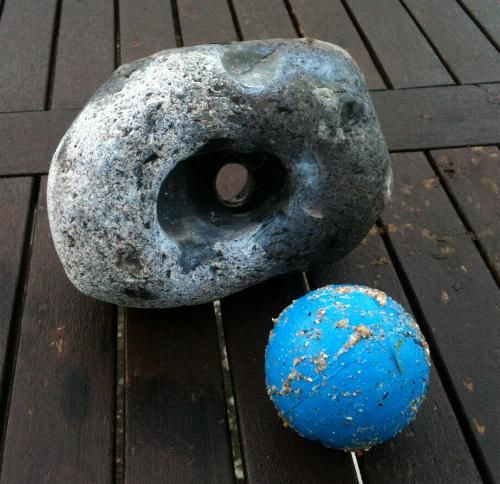 I think it is going to bring me some good luck :)
I already feel very optimistic, as my sales have really picked up again over the weekend, after a very worrying few weeks - so much so that I have my first 'Manic Monday' ahead of me since mid-December.
Before getting on with the cards, I must just share this with you...
I think the Gods are laughing at me this morning!
Yesterday, I went on a trip.
Quite literally!
I tripped and went flying, when taking Maisie out for a walk. I fell heavily on a concrete path, came down particularly hard on my right elbow and right knee (so hard that I ripped a hole in my jeans and got a bloody knee) and my arm and elbow are
really
hurting today - it even hurt to shuffle the cards :(
'They' seem to have a sense of humour with my personal card today... don't you agree?!
Whatever your star sign - have a wonderful day :)
Brightest Blessings,
Kaz
www.blessingz.co.uk
www.cheekywitch.co.uk

This week I am using the
Saints and Angels Oracle Cards

by Doreen Virtue, Ph.D.


Quoted from the pack: "Now you can easily receive messages and guidance from beloved saints such as Mother Teresa, Bernadette, Joan of Arc, Hildegard, Padre Pio, Anthony, Francis, and Cecilia. Doreen Virtue has created a nondenominational deck of oracle cards that people from various spiritual and religious backgrounds are sure to appreciate and enjoy.
Forty-four cards with breathtaking artwork depicting God, the Holy Spirit, Jesus, saints, archangels, and guardian angels give you answers and gentle advice. A guidebook accompanying the cards thoroughly explains how to receive guidance about the present and future, how to give an accurate reading to another person, and the general meaning of the card's message."

My personal card for today

: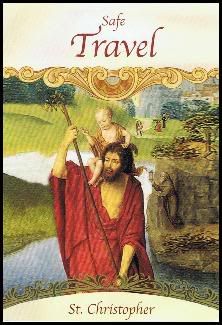 SAFE TRAVEL - St. Christopher
Divinatory meaning: This card signals a safe passage and lets you know that St. Christopher is by the side of the one who's traveling. This trip is blessed by angels, who will ensure that all the details are taken care of. The transportation, luggage, meals and accommodations are being overseen by Heaven, so the way is clear for an enjoyable trip.
This can also be a message that it's time for you to take a trip. Have you been hankering for a relaxing vacation? Is there a place that you're drawn to for research or business purposes? Is there a loved one whom you'd like to visit? If so, this card is a validation that it's time to set this plan in motion.
People have long carried St. Christopher medals to ensure safe journeys. He became the patron saint of travelers because of his occupation, which involved carrying people across a river. Legend says that he was a large man who could easily transport anyone, no matter what their size. One day, a small boy asked to be taken across the water. Despite his small frame, the child's weight nearly made Christopher collapse. Upon reaching the riverbank, the boy revealed his true identity: He was Christ. This saint's name means "Christ Bearer."

Today's cards for each of the star signs

:

Due to lack of time, etc. These are the 'quick reading' messages - for the full reading and meaning of the cards you will need to obtain these cards for yourself - or get someone else to buy them for you as a gift!

Here are your messages and insights for today. Try to sit quietly for a few moments, meditate on your card and think about how you can learn from, and act upon, its message...

Aries

: STRESS MANAGEMENT - Guardian Angel

Quick message: Your angels are working with you to reduce the impact of stress. Pay close attention to your Divine guidance, such as thoughts or feelings about taking a rest, exercising, changing your routine, and avoiding conflict. You need to both reduce stress in your life and manage the way it's affecting you. To lessen this burden, you'll need to be assertive with people an say no to unwanted requests. Don't do anything out of guilt of obligation, and only engage in activities that you can perform out of loving service. Your angels will also help you see the love and light within each situation so that your thoughts are peaceful.

Taurus

: WISE DECISION - Guardian Angel

Quick message: The decision that you're considering is a wise one. This card is a message from your angels asking you to trust your inner wisdom. Sometimes you worry about your decision-making abilities because in the past, some of your choices seemed unwise. Yet if you truly think about it, you ultimately learned and gained a lot from them. In that way, you can't make a wrong decision, can you?

Gemini

: SIGN from above - Guardian Angel

Quick message: Heaven is sending you blessings and answers in the form of signs in the physical world. These are messages that you see or hear repetitively. This card asks you to pay extra attention to signs, as they're part of the answer to your question.

Cancer

: BLESSINGS OF ABUNDANCE - Guardian Angel

Quick message: Your prayers have been heard and answered. Your daily bread and other needs are being provided for, now and in the future. Give your fears and worries over to God and the angels, and have faith that they're taking care of you and your loved ones. Let go of worrying about how your needs will be met, because God's infinite creative wisdom will take care of the details. Be open to receiving gifts and help from other people, as this is one way in which the Divine answers your prayers.

Leo

: EMOTIONS - St. Dymphna

Quick message: The answer to your question involves emotions - either yours or those of the person you're enquiring about. This is also a message for you to pay closer attention to your emotions. It's safe for you to admit your true feelings to yourself. This card is also a message for you to trust your feelings, especially as they guide you to make positive changes. Your feelings are the voice of Heaven speaking through you, and you have a right to them, even if others disagree with them. You can also release any upsetting emotions to God, St Dymphna and the angels for healing and guidance.

Virgo

: HEAVEN IS WATCHING OVER YOU - Guardian Angel

Quick message: Rest assured that God and your guardian angels are watching over you and your loved ones. You're very loved, and you're not alone in this situation… or ever. You have powerful helpers surrounding you at all times. This is a message for you to release any worries to Heaven. Worry never helped improve anyone one or anything. A better approach is to pray and ask for help and the allow Heaven to help you.

Libra

: BE BRAVE - Guardian Angel

Quick message: Although it may feel as if you're unsafe or in the dark, your guardian angel assures you that you are completely safe, protected and guided. Don't be fooled by illusions of fear - instead, be courageous and shore up your personal strength. There's a blessing in this situation, and by focusing on finding that benefit, you're sure to discover it. Your role is to stay positive, speak your truth and be brave.

Scorpio

: MARRIAGE - St. Catherine of Alexandria

Quick message: This is a message about your present or future marriage. You have a spiritual destiny with a spouse who's your soul mate. There's a Heavenly purpose for you and this person to be together, and you are supposed to help one another grow and prosper. You recognize your soul mate by having the feeling that you've known each other forever. Synchronistic events bring you together, and there's a sense of destiny and fate in your relationship. This card means that a soul-mate marital partner is currently in your life or soon will be.

Sagittarius: SWEETNESS - Guardian Angel

Quick message: Your guardian angel is asking you to notice and enjoy the nectar of life. "You are sweet," your guardian angel says of you, "and I can help you feel that happiness and joy." If you've felt toughened by life's experiences, your angel can help you lower your defences… and still be safe, protected and respected.
Capricorn

: OPTIMISM - Guardian Angel

Quick message: You're right to feel optimistic in this situation, as there is much to be hopeful about! Your guardian angel has witnessed all of your hopes, dreams and aspirations and knows that this new situation is a true answer to your prayers.

Aquarius

: VISION - Guardian Angel

Quick message: This is a message about honouring your vision. It asks you to trust the mental images that you've been receiving, as they're the answers to your prayers. Your prophetic visions with bring blessings to you and your loved ones. You know that they're Heaven-inspired because of their loving nature. Only follow the messages that ask you to act on behalf of God's love. Your angels surround your physical and spiritual vision with light. Look through their eyes and you'll see the best within yourself and life itself.

Pisces

: SLEEP - Guardian Angel

Quick message: Take a look at the topic of sleep in answer to your question. Most likely, this is a message for you to get more rest. Cut unnecessary activities from your schedule and get a good night's sleep. If emotional upsets are keeping you awake, give them to God and your angels. You can easily do this by mentally picturing your angel holding a bucket. Put any troubles into the bucket and watch the angel take them away to heaven, where everything is resolved.

Please feel free to leave any comments here on Blogger, or on my Facebook Page
The Daily Divination
, or on
Twitter
Thank you!