Good morning!

Well, actually, no - it is not a good morning :(

The weather is absolutely dreadful with gale force winds and driving rain... It's really nasty out there!

I have had two power cuts this morning and 'no service' on my mobile phone. I hope there are no more power cuts and I can get on with my work...

I am waiting for a break in the weather to walk to the post office. I was up until 1:45am making orders, and I already have 3 big bags of packages to post. I think it might be a long wait.

Maisie is sulking because I haven't taken her out yet. (I keep showing her how horrid it is outside, but I know she still can't understand why we haven't been for a walk - she doesn't mind getting wet!)

Lots of Christmas orders still to make and a busy weekend ahead, including a meal out with friends tonight and an much-needed evening out with Richard tomorrow night, so let's get on with the cards for the weekend!

I hope you have found your cards and messages insightful and relevant this week?

I shall be back on Monday, as usual, with a different deck :)

Whatever your star sign - have a great weekend!

Brightest Blessings,
Kaz
www.blessingz.co.uk
www.cheekywitch.co.uk




This week I am using the
The Answer Is Simple Oracle Cards


by Sonia Choquette


Quoted from the pack: "These Oracle cards provide immediate access to your divine Spirit, where you receive specific guidance for any and all challenges facing you in life. Each card not only offers direction for particular proplems, it also reinforces the path to your Higher Self, freeing you from the turbulence and fear of the ego plane.
You can use this deck (and the accompanying guide book) for specific direction, meditation, and life and purpose readings and to offer guidnace to others; as well as to connect to your Divine Self, where drama and stress give way to joy and inner peace.
My personal card for today

: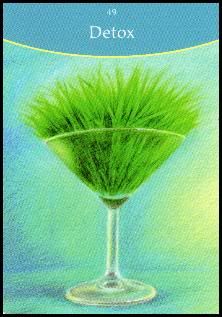 Detox
Full meaning:
The answer is simple: DETOX
- The ego accumulates negativity and holds on to it for a long time. It settles into the mind and body as destructive patterns, attitudes, behaviours, habits, and feelings. The more negativity you amass and absorb, the more difficult it is to sense or see the light of your Spirit.
It's time to detox from all of this negativity, to clear the inner light and let it shine once again. Start by cleansing your body. Stop eating heavy foods, sugar, and white flour or using alcohol, tobacco, and other know toxins for the next few days. These foods and substances tax your system and place a burden on you, dimming the light of your Spirit.
It's also time to eliminate other toxic elements in your life as well. Are your conversations toxic? Are your habits? Is your thinking? How about your associations? If you aren't sure, ask your Spirit and then feel the vibration of your answer.
Harmful substances, behaviours, and associations drain your energy and leave you feeling stressed and sick. They suck the light and joy out of you, making you fatigued, depressed and unmotivated. Just as you wouldn't stay in a room filled with nuclear waste, don't wallow in the psychic toxic energy of your life any further. Your Spirit deserves better, and your inner light can no longer be felt in such negative circumstances.
Detox from those elements that harm your Spirit before you get sick, become demoralized, or lose your energy. Yes, it takes discipline. Find the resolve to do this and quit postponing it. Seek help if you must - it's there for the asking. You're at a saturation point of negativity and can't experience peace until you clear away the pollution.

Today's cards for each of the star signs

:

Due to lack of time, etc. These are the 'quick reading' messages - for the full reading and meaning of the cards you will need to obtain these cards for yourself - or get someone else to buy them for you as a gift!
Here are your messages and insights for today. Try to sit quietly for a few moments, meditate on your card and think about how you can learn from, and act upon, its message...

Aries

: Stick With It

Quick message:

The answer is simple: STICK WITH IT

- As you wake up your Spirit and begin to live in the higher frequency of love, the ego becomes confused and wants to resist. This new energy displaces the ego's power and renders it impotent so it tries to reverse or arrest the changes. Be aware of your ego's resistance and stay true to your Spirit anyway. Ignore inner ego dialogue that suggests you're wasting your time, and thus tries to discourage your efforts. Although you may not see instant results, you can feel the change within your cells as you bring more light and love to your being. Stick with your higher intentions and soon you'll witness the effects in your world.

Taurus

: Stop

Quick message:

The answer is simple: STOP

- The ego is running wild with confusion, causing unnecessary stress and leading you in the wrong direction. Presently you're at risk of overreacting to things and are making poor decisions. You may feel threatened, defensive, or angry or feel the need to try too hard to please others. No matter how this runaway fear is manifesting, it's time to stop. In spite of appearances

you

are causing your greatest troubles, and no one else. Doing nothing doesn't mean nothing is being done. The Universe will right any imbalance as soon as you stop making waves.

Gemini

: Lend a Hand

Quick message:

The answer is simple: LEND A HAND

- The greatest expression of Spirit is to love and serve others, and your Spirit is now called upon to do so. Don't mistake service with rescue: To serve is an act of great spiritual power, born of love and focused on empowering others; rescue, on the other hand, is born of a fearful ego and keeps both you and others enslaved to weakness. Simply do your part to help those around you become stronger in their Spirit, without judgement or criticism. To serve is to rule, and your service is needed now.

Cancer

: Say "Thank You"

Quick message:

The answer is simple: SAY "THANK YOU"

- have you observed how many people are collaborating for your success at this time? Suspend your fears long enough to notice. Look up and see those who work tirelessly on your behalf. Recognize their quiet love and service that you so depend on to keep you safe, secure and grounded. Especially acknowledge those who attract no special attention to themselves, content to simply be of help. These quiet support people are your bedrocks, yet your ego has been too preoccupied with its own concerns for you to say "Thank you" to all who serve to make your life better. Smile and acknowledge the gifts they bring. It's time to recognize those whom you rely on. Don't take for granted the gifts of others - their Spirit is gracing yours, so say "Thank you" without hesitation.

Leo

: Start Anew

Quick message:

The answer is simple: START ANEW

- Okay. So things aren't as great as you'd like, and in fact, life feels like a big mess right now. Not to worry - simply bless your mess and start over. Whatever is going on at the moment, appreciate the fact that you created it… and because you did so, you can "un-create" it as well. Start by accepting that the situation at hand is your creation. Maybe it's not your intentional one, but it's yours, nevertheless. Until you acknowledge your power, you can't use it correctly. Ask yourself =: "How did I get here? What about the present moment isn't working for me? What about this is familiar and might be a pattern that I keep repeating and now would like to stop?" and the most important question of all: "What does my Spirit want to experience instead?" Simply study your situation and request that your Spirit free you from whatever creation you don't enjoy - if you ask, it will oblige.

Virgo

: Share Your Gifts

Quick message:

The answer is simple: SHARE YOUR GIFTS

- We all have gifts of Spirit that we're here to share. The ego often discounts them as not good enough, not significant enough, not important enough to make a difference. Don't fall into this trap and hide them. Know that the simple endowments of Spirit, which are grounded in love and kindness, come from your heart and are needed now, more than anything. Don't be shy. Share your gifts, as others need your love and kindness now.

Libra

: Say "No!"

Quick message:

The answer is simple: SAY "NO!"

- The ego is exposing you to behaviours and circumstances that aren't in your best interest. It's keeping you from being self-loving and honoring your Spirit. Be aware of these toxic conditions, and say no to them. Examine the circumstances you face now and recognize which choices brought you where you are. Then say no to the negative and toxic ones. Love and value your Spirit enough to reject what doesn't serve you. Divine forces will help you once you decide to love yourself enough to firmly say "No!"

Scorpio

: Invest in Your Spirit

Quick message:

The answer is simple: INVEST IN YOUR SPIRIT

- The ego discourages time and energy spent on developing and strengthening your Spirit, calling it wasteful and impractical. Your Spirit, however, knows that anytime you invest in self-care, it will return to you a thousand fold or more in terms of happiness, peace of mind, and abundance in the outer world. Supply your Spirit with the time, energy, and support it needs in order to be strengthened and grow. There's no more worthwhile investment right now.

Sagittarius

: You are Not Afraid

Quick message:

The answer is simple: YOU ARE NOT AFRAID

- The ego is always in fear, so it becomes a habit to b afraid in life even when you're not. As you face present conditions, ask yourself,

Am I really scared? And if so, then of what?

Listen to your Spirit for the answer. Don't be surprised to discover that you're not really afraid at all - you're just in the habit of believing that you should be. Get past the habit of fear and dive into your new adventure with confidence. Stop fearing and start enjoying the fact that you're not really afraid after all.

Capricorn

: Give It to God

Quick message:

The answer is simple: GIVE IT TO GOD

- Our greatest challenge is to rise above our fears and trust in God, our loving Creator, to guide and protect our lives. Your ego would have you believe that it alone is the source of power that guards you, and only it can be trusted. This isn't accurate and keeps you hostage to it. The Universe has a better plan for you. Although you may not know the plan or see how the Universe will protect you, trust that it will. Your worry is doing you no good, so stop it. Reconnect with your Spirit and trust in God. You can.

Aquarius

: Be Courageous

Quick message:

The answer is simple: BE COURAGEOUS

- Your ego is intimidated and wants to run away from the challenge at hand. It will offer any number of arguments to justify its fear and to tell you why you should quit now, none of which are valid. It's okay to be afraid just as long as you don't allow your fear to stop you from living the truth of your Spirit. Overcoming it is easier that you think: Simply admit that you're scared. This emotion is normal. The human condition is always fearful. It's the Divine part of you, your Spirit, that's

fearless

. It's courageous because it knows that the Universe supports you all the way. Breath is Spirit. When you inhale deeply, it gives way to courage. Summon yours by drawing in your Spirit. You're protected, so breathe and stay the course.

Pisces

: Give More

Quick message:

The answer is simple: GIVE MORE

- Your heart's desire isn't elusive, nor is it out of your reach. However, it does require more from you to make it a reality. Don't give up and walk away so easily from your desire, frustrated and discouraged by the present results. Instead, make an honest evaluation of your efforts toward realising your dream, and admit where you've fallen short. It may take more time, energy, patience, honesty, education, or assistance from others. It might take all of these things and more. Don't be afraid of the hard work required to realise a dream. Nor should you be afraid of disappointment. Your ego deters you so easily, but your Spirit never gives up on a dream. Your Spirit is able to achieve everything you dream of, if only you're willing to give your all. So do.