Good morning!

It's a beautiful bright day here today and Maisie and I had a nice walk along the beach, down to the village, but then a long wait in the queue at the Post Office!

I've had a busy weekend which didn't quite go to plan, as Richard and I were both poorly soI didn't get as much done as I'd hoped - and we didn't get to go out dancing on Saturday night :(

Richard seems a lot better today and I feel a bit better, but have a bad headache, I'm coughing, sneezing and my throat is sore...

However, there is no time to be ill, as these next 4 days will be absolutely manic leading up to the last posting day before Christmas in the UK (which is Thursday) EEEK!

I will do my best to pop up here each morning with the cards, but if I don't have time, you'll know why ;)

I'm using the 'Just for Today' cards this week, as the messages are short and to the point - and quick and easy for me to do!

(As usual, my card for today is spot on!)

Whatever your star sign - have a good Monday :)

Brightest Blessings,
Kaz
www.blessingz.co.uk
www.cheekywitch.co.uk



This week I am using the
'JUST FOR TODAY' CARDS
by Jamie Sams and David Carson


This deck is the daily, quick message version of the
Medicine Cards
deck by Jamie Sams and David Carson.
I have tried finding a link to The 'Just for Today' cards and can't find any, other than some listed on amazon for an incredibly expensive price! (I don't understand how they can be so expensive, as my set was very reasonable, although I have had them for quite a few years...)
The Medicine Cards are wonderful and come in a boxed set with a book of layouts, instructions and the full meanings for each of the animal guides. I have the Medicine cards too, but it is easier for me to give you the 'Just for Today' messages!

My personal card for today

: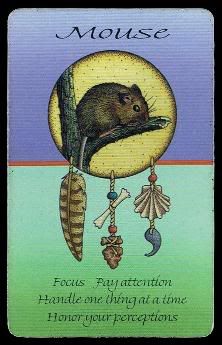 Mouse - Focus. Pay attention.
Handle one thing at a time. Honor your perceptions.
Today's cards for each of the star signs

:

These are your messages from the animal guides for today! Try to sit quietly for a few moments, meditate on your card and think about how you can learn from and/or act upon its message...

Aries

: Opossum - Have a plan.

Use common sense. Honor the strategy that works best for you.

Taurus

: Lizard - Rekindle lost goals or desires.

Expand your vision. Honor messages in your dreams.

Gemini

: Bat - Be flexible.

Prepare for rebirth. The time is NOW. The power is YOU.

Cancer

: Porcupine - Trust your process and yourself.

Honor your connection to Great Mystery and have faith.

Leo

: Grouse - Find your rhythm.

Honor the synchronicity. Spiral into your potential.

Virgo

: Crow - Focus on the positive.

Detach from negativity. See opportunity in every challenge.
Libra

: Squirrel - Use time and energy properly.

Waste nothing on negativity. Gather the rewards of stewardship.

Scorpio

: Horse - Honor your Medicine.

Stand tall. Use your talents. Own who you are becoming.

Sagittarius

: Deer - Be gentle with yourself.

Offer kindness to all living things.

Capricorn

: Bear - Go within.

Personal strength comes from inner knowing.

Aquarius

: Unlimited Potential - Open your eyes! Pay attention!

Trust yourself to recognize the gift being offered at this time.

Pisces

: Skunk - Attract what you need in order to grow.

Walk your talk. Know yourself.