Hi!

Whoosh! Another week has just flown by!

I hope you have found the cards and messages interesting and relevant this week?

Here is a slideshow of some of the pretty cards in this unusual Atlantis Cards deck.


There is no rest for the wicked, so just time to say - whatever your star sign - have a great weekend and I'll be back on Monday!
I wonder what cards I should use next week ;)
Brightest Blessings,
Kaz
www.blessingz.co.uk
www.cheekywitch.co.uk
This week I am using the
Atlantis Cards

by Diana Cooper


Quoted from the pack: "The myth of the magical world of Atlantis has fascinated people for centuries: the spiritually highly evolved inhabitants of the Golden Atlantis revered and honoured every aspect of the natural world, recognising that everyone and everything is a part of the Source. From this respectful position they lead lives full of grace, compassion and love for each other.
Diana Cooper has magnificently captured and put to use the positive vibrations of the Atlantean time in this new card set richly illustrated by Damian Keenan. They can provide insights and inspiration for our life path, highlighting our strengths and helping us to work with our weaknesses in the best possible way."
My personal card for today

: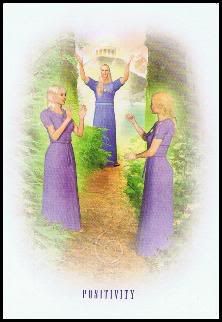 POSITIVITY
Full meaning: In Golden Atlantis, negative words simply did not exist. Nor were there words of resistance like 'but', 'never' or cannot', so nothing impeded the flow of people's lives. Their vocabulary contained only positive words and concepts and the people were immersed in wholesome ideas and thoughts. They constantly affirmed the happiness and contentment of the moment. Because of this, under spiritual law, they could only attract good things into their lives, which inevitably moved forward smoothly.
Watch your thoughts.
Watch your thoughts, words and beliefs today. Eliminate everything negative - including words of gossip doubt or fear. Decide on your personal goal and your vision for your community and the world. Then focus wholeheartedly on it. Your life must inevitably accelerate, so expect to move forward now.
Success awaits you.

Today's cards for each of the star signs

:

Due to lack of time, etc. These are the 'quick reading' messages - for the full reading and meaning of the cards you will need to obtain these cards for yourself - or get someone else to buy them for you as a gift!

Here are your messages and insights for today. Try to sit quietly for a few moments, meditate on your card and think about how you can learn from, and act upon, its message...

Aries

: BIRTH CRYSTALS

Quick message: Roots. If you draw this card you are guided to strengthen your connection with 'home', which may mean meditating on your stellar origins. Alternatively, it may suggest that you explore your background and ancestral heritage. You may even need to put down more roots to enhance your feeling of belonging.

Deepen your roots to create a solid foundation.

Taurus

: ENLIGHTENMENT

Quick message: Being. Your guidance is to stop doing and striving. Forget about tomorrow. Just still your mind, and be in the now. In this quiet time, contemplate the wonders of life and appreciate all that you do have, including the opportunity for life on earth.

Enlightenment is being in Oneness.

Gemini

: THE TEMPLE OF POSEIDON

Quick message: New Beginnings. This card indicates that it is time for new beginnings. maybe a new concept, idea or pathway will be presented to you at a much higher level than anything you have previously considered. You are call upon to act and speak selflessly and with the utmost integrity.

Be a guiding light to others.
Cancer

: MATERIALISATION

Quick message: Manifest your vision. If you choose this card, your guidance is to become totally clear about what you want in your life. Be sure that you really want it! When you have clarity, focus on your vision without doubt or deviation and it must manifest.

Focus on your vision and make it happen.

Leo

: EXCELLENCE

Quick message: If you chose this card you may be presented with a challenge or responsibility. Accept it and do it graciously to the very best of your ability. It doesn't matter if you fail or succeed. participate with all your heart and soul in whatever life presents you.

Aim to do your best.

Virgo

: TWELVE CHAKRAS

Quick message: Potential. You are reminded that you have enormous, untapped, spiritual and psychic powers. By relaxing deeply you can start to activate your cellular knowledge and bring back the wisdom you held in Atlantis. Your guidance is to access this potential. Find time and space to become quiet and still so that you can remember who you truly are.

Relax and tune into your potential.
Libra

: NATURE

Quick message: Uniqueness. This card reminds you to recognise and honour your uniqueness and that of everyone else. Consciously contribute to the well-being of the natural world and notice how people, animals and plants respond to you. Check your thoughts, words and deeds are harmless and well-intentioned.

It is time to harvest your abundance.

Scorpio

: THE SPHINX

Quick message: Keep secrets. Your guidance is to maintain silence until it is appropriate for you to divulge information. The sphinx may indicate that you must keep your own, other people's secrets, to prove that others can trust you.

Keep your own counsel and the secrets of others.

Sagittarius

: DOLPHIN

Quick message: Wisdom and joy. This card suggests that you live lightly and wisely, bringing joy, fun and laughter into your life. You are also guided to develop your healing abilities, serving your fellow humans and the planet.

Serve with wisdom and joy.
Capricorn

: HIGH PRIEST

Quick message: Leadership. If you pick this card, it suggests that you take command of your life and demonstrate who you really are. You are called upon to exercise your leadership qualities, to act with integrity, to take clear, wise decisions and to empower others for the highest good of all.

Lead with strength and wisdom.

Aquarius

: CREATIVE EXPRESSION

Quick message: Be individual. Your guidance is to do or make something creative. However you express this, you are called on to channel your divine energy into the unique, beautiful, harmonious and original.

Create something unique and satisfying.

Pisces

: CO-OPERATION

Quick message: Togetherness. What can you share today? It may be your friendship, your time or something more tangible. Receiving this card guides you to give away anything you no longer need. It also suggests that you co-operate with others for the greater good. Be generous-hearted and your rewards from the Universe will be great.

Co-operate in a vision greater than yourself.