Good morning!

Apologies for not being able to do the cards yesterday, I had to go to the doctor because I kept feeling dizzy and losing my balance :(

The doctor says it's an inner ear 'problem' and has given me Stemetil to take - which certainly helps - although I had a funny 'turn' in bed last night!

I was reading a book on my iphone Kindle app - as I do most nights before falling asleep - and suddenly I had the horrible sensation of feeling as though the bed had dipped sharply and then it started spinning and dipping (like a gyroscope). It was very unpleasant. I was hanging on to the bed for dear life, because I felt like I might fall off! It probably only lasted a few seconds, but it felt longer. It was a weird sensation and not nice :(

I took my Stemetil quite early this morning, so there'll be no more funny turns or Vertigo for the moment, hopefully, as I have a lot of Christmas orders to make today!

Time to get on with the cards and messages... then another coffee... before tackling this mornings emails, orders and enquiries :)

Whatever your star sign - have a lovely day!

Brightest Blessings,
Kaz
www.blessingz.co.uk
www.cheekywitch.co.uk



This week I am using the beautiful
Magical Mermaids and Dolphins Oracle Cards
by Doreen Virtue, Ph.D.


Quoted from the pack: "The Magical Mermaids and Dolphins Oracle Cards are specifically designed to help you manifest your goals, life purpose, and Divinely inspired dreams. These 44 beautifully illustrated cards can help you swim into the ocean of your unconscious mind, where profound thoughts and feelings can create - or block - your heart's desire. The cards are easy to use, and the enclosed guidebook will help you perform amazingly accurate readings for yourself and others."

My personal card for today

: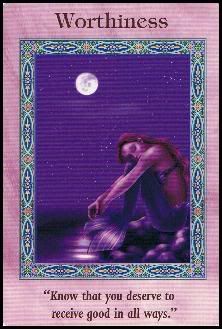 WORTHINESS
Know that you deserve to receive in good ways.
Divinatory meaning: You've been blocking your manifestations due to deep-seated beliefs that you don't deserve them. Manifestations aren't rewards for good behaviour - they're effects of your thoughts, beliefs, feelings, and actions. when you allow yourself to receive, you help with God's plan to demonstrate love everywhere.
Accepting Heaven's help isn't just about you personally; it's about allowing yourself to be helped so that you can help others. Accept good graciously, and affirm: "Thank you for the gifts that have come to me now. I gratefully accept them for the good of all.

Today's cards for each of the star signs

:

Due to lack of time, etc. These are the 'quick reading' messages - for the whole message and meaning of the cards you will need to obtain these pretty cards for yourself - or get someone else to buy them for you as a gift!

Here are your messages and insights for today. Try to sit quietly for a few moments, meditate on your card and think about how you can learn from, and act upon, its message...

Aries

: MAKE A WISH

This is a magical moment. Make a wish, and enjoy its manifestation.

Taurus

: WAIT

Don't rush into action right now. Bide your time for better results.

Gemini

: WAVES OF PROSPERITY

New abundance and exciting opportunities wash over you now.
Cancer

: CONSULT AN EXPERT

More information is needed. Contact someone with expertise in this area.

Leo

: SELF-FORGIVENESS

Let go of old guilt, and remember that you're God's perfect child!

Virgo

: BREAK FREE

Try different ventures and experiences as a way to grow and learn.

Libra

: WATCH YOUR THOUGHTS

It's important to only think about what you desire, not what you fear.

Scorpio

: STAY OPTIMISTIC

Your dreams are coming true. Don't quit right before the miracle occurs.

Sagittarius

: READY, SET, GO!

Now is the perfect moment to dive in and embrace your heart's desire.
Capricorn

: BLESSED CHANGE

A major life change brings great blessings.

Aquarius

: SET YOUR SIGHTS HIGHER

Increase your standards, and expect more for yourself. Don't settle!

Pisces

: HAVE FAITH

Your prayers are manifesting. Remain positive, and follow your guidance!