Good morning!

Woke up feeling very giddy this morning... not sure what that's about? Keep losing my balance - feel drunk! Hope I'm not getting an inner ear infection :/

(Yes, I know I can be a bit of a dizzy blonde at times, but this is different!)

I hope you had a good weekend? Mine was good, but over too quickly!

My daughter, Katie, arrived from France on Saturday, spent the morning with her sister, Lucy, in Lewes, then met me at Haywards Heath, at the hospital, to see her Grandad. My Dad was so excited to see Katie!

We hadn't seen Katie since August and were not due to see her again until February next year. She's only here for a few days, so she could visit her Grandad, but it's lovely having her here.

On Saturday, when we returned home, after a tiring journey from the hospital, Richard had cooked a wonderful roast dinner for me, my Mum, Katie and himself - and he had also made me an amazing chocolate cake!

All covered in icing and various chocolates, including white chocolate stars and buttons, chocolate munchies, slices of chocolate fudge bars, crushed cadburys flake and chocolate teddies too!


My boyfriend baked me a cake!!
Am I a lucky girl or what?
Yesterday Katie and I had a good catch up (it's always like we've never been apart), and we went shopping to get a couple of christmas items... then we got up into Mum's loft - to get out Mum and Dad's tree and decorations - as Katie is going to put up their Christmas tree today :)
(I really wanted to make a start on putting my Christmas decorations up this weekend but just didnt get the time - I've been trying to keep up with my Christmas orders - which have really started to come in now, thank Goddess.)
Well, it's manic Monday and much as I would like to spend it with Katie, I have to get on with my work, while she spends the day with my Mum and they go and visit Dad this afternoon.
By the way, Dad seems to be doing very well, even told Lucy yesterday that he'd had the best day yet, since this all began on November 1st. Which is good news indeed!
On with the cards and messages for Monday... I'm using the
Magical Mermaids and Dolphins Oracle Cards
this week!
Whatever your star sign - I hope you enjoy your day :)
Brightest Blessings,
Kaz
www.blessingz.co.uk
www.cheekywitch.co.uk
This week I am using the beautiful
Magical Mermaids and Dolphins Oracle Cards
by Doreen Virtue, Ph.D.


Quoted from the pack: "The Magical Mermaids and Dolphins Oracle Cards are specifically designed to help you manifest your goals, life purpose, and Divinely inspired dreams. These 44 beautifully illustrated cards can help you swim into the ocean of your unconscious mind, where profound thoughts and feelings can create - or block - your heart's desire. The cards are easy to use, and the enclosed guidebook will help you perform amazingly accurate readings for yourself and others."

My personal card for today: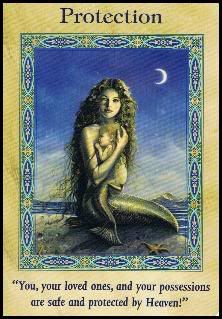 PROTECTION
You, your loved ones, and your possessions are safe and protected by Heaven!
Divinatory meaning: Your prayers, which ask for safety and protection, have been heard and answered. Any attacks or threats are now a thing of the past, washed away with the tide of Heavenly love. This love is clearing away your insecurities so that you can feel totally secure.
When you ask Heaven to watch over you, your loved ones, your home, and your possessions, your prayers are instantly answered. There's no hesitation or delay on Heaven's part - it's done as soon as you ask!
Your energies can now be directed in meaningful and creative ways, with your mind clear of worries. Enjoy your day!
Today's cards for each of the star signs

:

Due to lack of time, etc. These are the 'quick reading' messages - for the whole message and meaning of the cards you will need to obtain these pretty cards for yourself - or get someone else to buy them for you as a gift!

Here are your messages and insights for today. Try to sit quietly for a few moments, meditate on your card and think about how you can learn from, and act upon, its message...

Aries

: FRIENDSHIP

Make a date for a play day with one or more friends.

Taurus

: TREASURE CHEST

An unforeseen windfall of new abundance comes to you now!

Gemini

: HEALING HEART

You are a powerful healer. Keep up the great work!
Cancer

: LET YOURSELF RECEIVE

Allow others to give you loving care. Receive without guilt or apologies.

Leo

: HELPFUL PERSON

Someone wants to help you. Think of whom that might be, and initiate contact.

Virgo

: EMPOWERMENT

You're more powerful than you realise. It's safe for you t be powerful.
Libra

: SET YOUR SIGHTS HIGHER

Increase your standards, and expect more for yourself. Don't settle!

Scorpio

: SELF-EMPLOYMENT

You're a born entrepreneur, and your business is surrounded by magical opportunities.

Sagittarius

: A NEW DAWN

The worst is now behind you, and positive new experiences are on the horizon.
Capricorn

: MORNING AFFIRMATIONS

Say positive affirmations each morning to open the gates of manifestation.

Aquarius

: PAY ATTENTION

Notice repetitious signs and your inner guidance, as this can yield valuable information.

Pisces

: HAVE FAITH

Your prayers are manifesting. Remain positive, and follow your guidance!