Good morning!

Just popping in quickly to do the cards - don't know if I'm coming or going at the moment!

I didn't see my Dad yesterday (we're going again this evening) but Mum said he seemed a bit 'brighter' and he'd actually had a little something to eat. He also got to see his great grandaughter for a short while too - which lifted his spirits :)

Lots of orders to catch up with, so on with the messages!

Whatever your star sign - enjoy your day :)

Brightest Blessings,
Kaz

www.blessingz.co.uk
www.cheekywitch.co.uk



This week I am using the
Messages from Your Angels Oracle Cards

by Doreen Virtue, Ph.D.


Quoted from the pack: "This card deck makes it easier than ever to give an amazingly accurate angel reading for yourself or others. Each card features a gorgeous angel painting, along with a one or two sentence message.
These cards will help you and others know what your exact life purpose it, whether ot not someone is your soulmate or not, what to do about your job and living situatuations, and other inportant life questions. Doreen based the cards upon her actual angel readings, using most commonly asked questions and angelic answers to create the ultimate deck for both the beginner and advanced card reader."
My personal card for today

: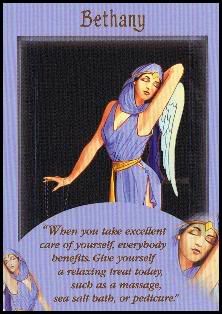 BETHANY
"When you take excellent care of yourself, everybody benefits. Give yourself a relaxing treat today, such as a massage, sea salt bath, or pedicure."
Additional message: "You are a giver, and God loves you for that. Now it is time to give to yourself. I am helping you to spiritually open your body through the process of relaxation. So, you see that relaxing has it's own productive side to it!
The more that you allow me and other angels to give to you, the more you will be able to give to others. Your soul has called out to heaven, begging for some rest and relaxation. You have been working ceaselessly, and you have also been juggling many other people's interests. Now it is time for your reward. This is a directive from Heaven: Take care of yourself, and don't allow yourself to be swayed from this important mission. Take steps right now to create time for relaxation. You will fel happier and have more peace of mind as a result, which will benefit everyone in your life!"
Today's cards for each of the star signs

:

Due to lack of time, etc. These are the 'quick reading' messages - for the full reading and meaning of the cards you will need to obtain these cards for yourself - or get someone else to buy them for you as a gift!

Here are your messages and insights for today. Try to sit quietly for a few moments, meditate on your card and think about how you can learn from, and act upon, its message...

Aries

: FIONA

Quick message: "Now that you've asked the angels for help, be open to receiving Divine guidance and assistance. You deserve heaven's help!"

Taurus

: SERENA

Quick message:"I am the Angel of Abundance. You will receive the money that you need, and God is in charge of how that will happen. Have faith."

Gemini

: YVONNE

Quick message:"You have a special bond with animals. Your pets on Earth and Heaven are watched over by angels."
Cancer

: TERESA

Quick message: "Time-out! You've been so busy taking care of everyone else's needs, but now it's time to stop and take care of yourself."

Leo

: ROCHELLE

Quick message: "As you honor and follow the guidance of your heart, prosperity is coming to you now."

Virgo

: RAYE

Quick message: "Yoga and exercise are essential to your well-being, peace of mind, and spiritual growth right now."
Libra

: ZANNA

Quick message: "You are protected from all types of harm. The worst is now behind you. I ask you to relax and feel safe."

Scorpio

: ISAIAH

Quick message: "It's a good time to give birth to new ideas and situations in your life. I am watching over you, guiding you and protecting you during these changes."

Sagittarius

: AKASHA

"You are a spiritual teacher. You have the ability to counsel others and help them awaken their spiritual gifts and Divine life mission."
Capricorn

: ARCHANGEL GABRIELLE

Quick message: "You have an important life purpose involving communication and the arts. Please don't allow insecurities to hold you back. I will help you."

Aquarius

: MERLINA

"You are confused and indecisive because you do not have enough information. Do research or seek expert advice before making a decision."

Pisces

: ARIELLE

Quick message: "New psychic and spiritual experiences are changing the way you view the world and yourself. Allow your spiritual gifts to open - through study, prayer, and meditation."