Good morning.

Waking up here in the UK to the news and pictures of Superstorm Sandy overnight...

I know there have been deaths and devastation in its wake, but the full extent won't be known until daylight in the US.

My heart goes out to all effected by this huge storm - I don't know what else to say, other than my thoughts are with you and I hope my American friends and their loved ones are all safe this morning.

Whatever your star sign - take care and I hope you have a good day.

Brightest Blessings,
Kaz
www.blessingz.co.uk
www.cheekywitch.co.uk


This week I am using the
Atlantis Cards

by Diana Cooper


Quoted from the pack: "The myth of the magical world of Atlantis has fascinated people for centuries: the spiritually highly evolved inhabitants of the Golden Atlantis revered and honoured every aspect of the natural world, recognising that everyone and everything is a part of the Source. From this respectful position they lead lives full of grace, compassion and love for each other.
Diana Cooper has magnificently captured and put to use the positive vibrations of the Atlantean time in this new card set richly illustrated by Damian Keenan. They can provide insights and inspiration for our life path, highlighting our strengths and helping us to work with our weaknesses in the best possible way."
My personal card for today

: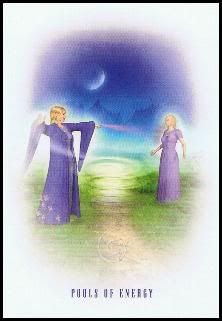 POOLS OF ENERGY
Full meaning: When the final experiment of Atlantis was established, the senior priesthood created a pool of high-frequency energy, which the people could access to enhance their own energy or help them manifest their visions. Later, the Violet Flame was offered to the citizens. This could be visualised or invoked to enable them to transmute any negativity that arose, especially in relationships.
Cosmic help. Your guidance is to call on the Great Cosmic Pool of energy for it is now time to manifest your dreams. Before you invoke the cosmic assistance, be still and focus on your vision. Only negative thoughts can hold you back, so call in or visualise the Violet Flame to dissolve them. Move forward now.
The Cosmos is ready to help you.
Today's cards for each of the star signs

:

Due to lack of time, etc. These are the 'quick reading' messages - for the full reading and meaning of the cards you will need to obtain these cards for yourself - or get someone else to buy them for you as a gift!

Here are your messages and insights for today. Try to sit quietly for a few moments, meditate on your card and think about how you can learn from, and act upon, its message...

Aries

: THE SPHINX

Quick message: Keep secrets. Your guidance is to maintain silence until it is appropriate for you to divulge information. The sphinx may indicate that you must keep your own, other people's secrets, to prove that others can trust you.

Keep your own counsel and the secrets of others.

Taurus

: CONTENTMENT

Quick message: Satisfaction. This card suggests that it is time to experience a well-deserved feeling of satisfaction. Accept yourself as you are and acknowledge all your good qualities and gifts. Then breathe in quiet contentment.

Be content as you are.

Gemini

: DIVINE ESSENCE

Quick message: Innocence. In golden Atlantis, the people lived in their essence - in other words, with the joyful innocence of a child. Drawing this card suggests that you return to your basics and examine who you truly are. Allow your divine essence to guide you. Your guidance is to be yourself.

Be true to yourself.
Cancer

: RELAXATION

Quick message: The breath of life. If you chose this card, your guidance is to let go and relax, for busy-ness and stress block your divine essence. Breathe deeply so that the cells of your body can release your full, divine potential.

Find time to rest and relax.

Leo

: BIRTH CRYSTALS

Quick message: Roots. If you draw this card you are guided to strengthen your connection with 'home', which may mean meditating on your stellar origins. Alternatively, it may suggest that you explore your background and ancestral heritage. You may even need to put down more roots to enhance your feeling of belonging.

Deepen your roots to create a solid foundation.

Virgo

: POSITIVITY

Quick message: Watch your thoughts. Watch your thoughts, words and beliefs today. Eliminate everything negative - including words of gossip doubt or fear. Decide on your personal goal and your vision for your community and the world.

Success awaits you.
Libra

: MATERIALISATION

Quick message: Manifest your vision. If you choose this card, your guidance is to become totally clear about what you want in your life. Be sure that you really want it! When you have clarity, focus on your vision without doubt or deviation and it must manifest.

Focus on your vision and make it happen.

Scorpio

: EXCELLENCE

Quick message: If you chose this card you may be presented with a challenge or responsibility. Accept it and do it graciously to the very best of your ability. It doesn't matter if you fail or succeed. participate with all your heart and soul in whatever life presents you.

Aim to do your best.

Sagittarius

: BALANCE

Quick message: Keep your life in balance. Your guidance is to find equilibrium in every area of your life. Make sure you give and receive equally and keep your work and play in balance.

Balance every area of your life.
Capricorn

: HIGH PRIESTESS

Quick message: Intuition. This is the card of feminine power and wisdom. Do not rely on logic or rational thought at this time. If you chose the High Priestess, you are called on to use your intuition and psychic gifts. You are reminded to work with total integrity and compassion.

Access your wisdom and listen to your intuition.

Aquarius

: RECORDING CRYSTALS

Quick messages: Check the records. If you draw this card you are expected to open your mind to the new. Unexpected information may be revealed which will help you to comprehend the jigsaw of your life. If a recording crystal comes to you, relax and put it to your third eye, so that you can absorb the scared wisdom it holds.

Open your mind to new information.

Pisces

: SOUND AND MUSIC

(Two days in a row!)

Quick message: Harmony. This is the card of harmony. Your guidance is to make sure that everything in your life is in balance and accord. It is a reminder that beautiful music and chanting can change your mood and lift your spirits.

Keep everything in harmony.