Good morning!

It is another beautiful, sunny day - however, it is really quite cold this morning!

Time to start wearing more layers and getting out some warmer clothes...

Mind you, a lot of my old 'winter' clothes are too big for me now! I am a couple of sizes smaller than this time last year, so I'm going to have to treat myself to some new warm winter woolies soon...

However, I am determined to get back on track with my weight loss (after a summer of food naughtiness and a lack of willpower) so maybe I should wait a little while longer, before buying a new coat - or that will soon be too big too!

I did manage to lose another pound this week, despite not being fully 'on plan'... but my goddess that pizza and those giant chocolate buttons were absolutely delicious :D

I've had a sudden rush of last minute, urgently needed "Good Luck at Uni" gift orders and I'd better get a move on, so here are your cards and messages for Thursday!

Whatever your star sign - enjoy your day :)

Brightest Blessings,
Kaz
www.blessingz.co.uk
www.cheekywitch.co.uk


This week I am using
by Sally Morningstar
Quoted from the pack: "The Wicca Pack, weaving magic into your life. Contains the Wicca Book and set of Divinatory cards. Wiccan Magic. learn the basics of working with high magic, the importance of sacred spaces, the timing of high days and holy days, and the correct use of magical crafts. Connect with the archetypes of the ancient Pagan deities, and use the beautifully illustrated cards to develop your latent intuitive skills and explore the world of natural magic through inner spiritual work."
My personal card for today

: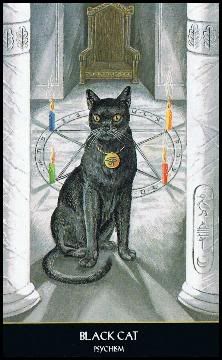 BLACK CAT - Psychism
High Note: Visionary skills guide your way
Low Note: Psychic awareness is required.
Vibration: Third Eye Chakra
Keywords: Psychism, clairvoyance, psychic protection
Meaning: Black cat says, keep your psychic feelers open in order to maintain clarity in your psychic space. However, it is not so much a case of "beware" more to "be aware."
The energetic realm is as real as the physical one, and energies around you at this time can guide you to great clarity. Patience may well be required. Tread with awareness, using your psychic skills.
Black cat also says, watch those in your circle of acquaintances, as someone may not have your best interests at heart. Increase your psychic protection, withdraw your energy for a while, and do what cats do best - curl up and rest!
Today's cards for each of the star signs

:

Due to lack of time, etc. These are the 'quick reading' messages - for the full reading and meaning of the cards you will need to obtain these cards for yourself - or get someone else to buy them for you as a gift!

Here are your messages and insights for today. Try to sit quietly for a few moments, meditate on your card and think about how you can learn from, and act upon, its message...

Aries

: CANDLE - Illumination

High Note: Your inner light guides your way.

Low Note: Energy management is required.

Vibration: Throat Chakra.

Keywords: Illumination, sacrifice, inner radiance.

Taurus

: THE LADY - Embodiment

High Note: All that you need is present.

Low Note: Issues of disempowerment are highlighted.

Vibration: Archetype.

Keywords: Embodiment, character, empowerment.

Gemini

: SPIRAL - Attraction

High Note: Change is coming.

Low Note: Release, let go, prepare.

Vibration: Formative ethers

Keywords: Attraction, release, movement.
Cancer

: CRYSTAL BALL - Insight

High Note: Clear vision now creates your future.

Low Note: Follow your own counsel.

Vibration: Third Eye Chakra

Keywords: Insight, divination, vision.

Leo

: HOLEY STONE - Protection

High note: Psychic powers are being developed. Expect a blessing.

Low note: Psychically protect any new projects.

Vibration: Astral

Keywords: Protection, boundaries, blessings

Virgo

: CAULDRON - The Womb

High Note: Seeds of creation are being sown.

Low Note: What you put in is what you get out. Challenge hidden fears.

Vibration: Sacral Chakra.

Keywords: The void, potential, wise intention.
Libra

: NEOPHYTYE - Study

High Note: Openness shows that all experience is food for the soul.

Low Note: Challenge ignorance. Life is held in patterns of your own making.

Vibration: Universal mind.

Keywords: Growth, study, understanding

Scorpio

: CONE OF POWER - Energy

High Note: Energy is focused and activated.

Low Note: Be appropriate with your energy.

Vibration: Solar plexus Chakra.

Keywords: Energy, focus, concentration.

Sagittarius

: BOOK OF SHADOWS

High Note: Wisdom from experience is being integrated into your soul.

Low Note: Have no fear - you are returning to your true self.

Vibration: Crown Chakra

Keywords: Experience, discovery. Acceptance
Capricorn

: BAT - Rebirth in Consciouness

High Note: Consciousness awakens your flight to freedom.

Low Note: This too will pass.

Vibration: Third Eye Chakra

Keywords: Rebirth, change, spiritual awakening,

Aquarius

: SHEKINAH - Transcendence

High Note: Dreams can come true.

Low Note: You are not alone.

Vibration: Heaven on Earth.

Keywords: Transcendence, karmic purpose, faith.

Pisces

: WIZARD - Spiritual Impeccability

High Note: Actions taken now wield powerful results.

Low Note: More ego, less spirit.

Vibration: Spirit.

Keywords: Impeccability, egotism, self-importance.