Good morning!

Thank Goddess it's Friday!

A bit achy today - after a great dance class last night and lots of energetic jiving with Richard! Really good exercise for both of us on our diets and so much fun! We love it :)

It's been a short (but very busy) week for me, as I had Monday 'off' - although I spent most of the day trying to sort out my web-hosting problems...

After lots of research, I decided to change to FatCow and I must say that I am very pleased with them so far! So much so that I have joined their affiliate program :)

I needed to use their live support (chat online) as I was having trouble changing the DNS settings with my previous web-hosting company and they helped me sort the problem in a couple of minutes.

It was very late at night and I went off to bed straight after, expecting to have to wait 24-48 hours before my site would be working properly again, but they got my CheekyWitch site up and running within 12 hours! (It may have been sooner but I was asleep at the time, so I don't know.)

I still have lots of work to do on my CheekyWitch.co.uk site (and later will link it to my newly acquired CheekyWitch.com!) but there is never enough time in my day!

Talking of which, I had better get on with the cards, messages and affirmations for the weekend, so I can then get on an make as many orders today, as possible. It's a bank holiday weekend, here in the UK, so after today I wont be able to post anything until Tuesday...

I wont be back here until Tuesday either - but I will be back with a change of deck :)

I shall be using The Answer Is Simple Oracle Cards next week!

I hope you have found the messages and affirmations useful and interesting this week?

I like my cards for the weekend ahead - 'Opportunity' and 'Abundance' - sounds good to me!

Whatever your star sign - have a wonderful weekend - and I'll be back on Tuesday :)

Brightest Blessings,
Kaz
www.blessingz.co.uk
www.cheekywitch.co.uk



This week I am using the
Angels of Light Cards


by Diana Cooper



Quoted from the pack: "Angels are high spiritual beings. They come from the heart of God as guides, protectors, helpers and healers. Angels are willing and able to help us in many ways throughout our lives, all we need to do is call on them and they will respond. Allow these cards to help you bring them into your life.

Diana Cooper, best selling author of 'A Little Light on Angels', 'A Little Light on Ascension' and 'A Little Light on the Spiritual Laws' has created this beautiful new set of cards. This pack contains 52 cards, a 48 page booklet and a velvet bag which will allow you to carry the cards wherever you go."

(These cards do not have different illustrations just the beautiful image below on the back and all text on the front.)

My personal card for today

: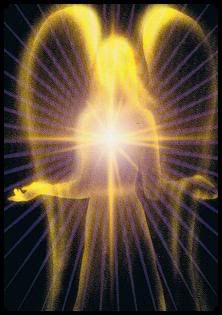 OPPORTUNITY
We are all presented with opportunities and are expected to flow with the currents that come our way.
Drawing this angel card suggests that something is now being made available to you and it is up to you to use it to your greatest advantage.
Be alert, be aware and be prepared.
You can of course make your own opportunities. If you knock on enough doors, one will inevitably be opened to you.
So you are also reminded to persevere, for it may be that a door which was previously locked has now been opened a crack.
Quieten your mind and ask the angels to help you.
Affirmation: I am ready for all opportunities.
Today's cards for each of the star signs

:

Due to lack of time, etc. These are the 'quick reading' messages - for the full reading and meaning of the cards you will need to obtain these cards for yourself - or get someone else to buy them for you as a gift!

(The link below is to the new 'revised' edition of these cards - I am using the older version - I believe it is only the images which are different...)
Here are your messages and insights for today. Try to sit quietly for a few moments, meditate on your card and think about how you can learn from, and act upon, its message and affirmation...
Aries

: SERENITY

Quick message: Serenity bestows inner peace, tranquillity and calmness of mind. When you feel serene, you are your own person, for nothing and no one can bother, upset or influence you. You are like a calm, clear lake - beautiful and peaceful to be with. Your radiance brings hope and support to those who come within your aura. You attract respect and love from others, for all are calmed by you. Quietly ask your angel to hold you in serenity.

Affirmation: I am serene and still.

Taurus

: PATIENCE

Quick message: Trust the higher forces of life to know what is best for you and remember that when you are asked to wait, you are being prepared for something even better than you expected. So change your attitude to one of acceptance. relax and take stock. Ask you angel to enfold you during this waiting period so that you can listen to the promptings of the Divine.

Affirmation: All things happen at the perfect time.

Gemini

: DETACHMENT

Quick message: According to Spiritual Law you can have anything your heart desires. However, if your happiness, sense of security or feeling of power depends on someone or something in your life, then you are attached to that person or thing and it is a chain which binds you to a lower frequency and keeps you stuck. Your guidance is to ask the angels to help you cut the cords that tie you to people, things and emotions. This enables you to reclaim your power and be genuine.

Affirmation: I release everyone and everything. My spirit is free.
Cancer

: ABUNDANCE

Quick message: It is time for your life to flow with prosperity, love and success. You draw from the limitless universal pool according to your belief in how much you deserve. Angel wisdom is reminding you now to believe in yourself and trust that you deserve more. Then you will attract abundance and the true riches of life. Enhance your prosperity by receiving graciously, giving out willingly and saying thank-you for everything. Enjoy all you have and more will come to you.

Affirmation: I deserve love, prosperity and abundance.

Leo

: HONESTY

Quick message: Angel wisdom reminds you that your every thought, word, emotion and action is reflected in your aura. When you are honest, your aura is crystal clear. Everyone knows where they are with you and feels totally safe. When you are totally honest with yourself, you behave with integrity and dare to be open, for there is nothing to hide. people respect and trust you. As you radiate a resonance of honesty, people respond to you with openness and honesty in their turn.

Affirmation: I am honest in thought, word and deed.

Virgo

: ARCHANGEL MICHAEL

Quick message: When you are blessed with this angel card, you are guided to invoke Archangel Michael to help protect and strengthen you. He will increase your ability to deal with problems, so ask him to cut with his sword any emotional cords which bind you to people, stuck situations or past memories. Then ask him to fill you with strength and love. He will shield you from the destructive thoughts, emotions and actions of others.

Affirmation: I am strong and protected by Archangel Michael.
Libra

: FORGIVENESS

Quick message: Angel wisdom reminds you that challenging people and situations are sent to you as your most important teachers. Without them your soul would not grow. Your guidance is to let go of the hurt, resentment and anger of the past. When you forgive others and yourself, your karma is rubbed out of your soul records. You will enjoy love in your heart and lightness of spirit. Ask the angels to help you to dissolve your hurt, anger and guilt. They will take your burdens from you.

Affirmation: I forgive myself and others - I am free.

Scorpio

: PURPOSE

Quick message: The angels remind you that every situation or person is placed on your path with a purpose. It may be to strengthen you, offer you an opportunity to resolve or forgive the past, release old patterns, or for enjoyment. Your life purpose is ultimately to do that which brings you joy, satisfaction and fulfilment. Your guidance is to ask your angel to help you find the purpose of your current situation or, if you are ready, your life mission.

Affirmation: I am strong and determined.

Sagittarius

: CELEBRATION

Quick message: It is time for you to look for the joy, the delight and the wonder of every day and rejoice in it. When we celebrate the passing events and transitions of life it is our way of giving thanks and the angels delight with us. Whenever possible celebrate with others, for then great energy is raised which attracts many angels drawn by the laughter and lightness, to add their blessings. It will bond you happily with others. Find something to celebrate now.

Affirmation: My life is a celebration.
Capricorn

: FUN

Quick message: Your guidance is to take time to enjoy yourself. Relax and find your sense of humour. Treat things lightly. Fun brings lightness of spirit, and the most difficult situation can be eased if you see the funny side of things. When you have fun the angels rejoice for there is nothing they love more than joy, play, humour and laughter.

Affirmation - I lighten up and make everything fun.

Aquarius

: FLEXIBILITY

Quick message: Life is full of changes and surprises. Your guidance is to move with the current, for it is resisting the flow which creates problems. Ask your angel to help you open your mind and heart to new ideas and fresh options. When you accept the possibility that there are other ways, previously unseen doorways will be opened to you and you will move easily through change. There is a solution to every problem, so look at all things with eyes of love and expectation. Then life force will flow freely through you.

Affirmation: I am free and flexible.

Pisces

: SURRENDER

Quick message: Whatever you resist in life persists. Ask your angels to help you dissolve all the resistances of your ego (the inner conflict and struggle, the rigid mind sets and habits) so that they can flood your life with higher truth and joy. When you surrender to the guidance of your Higher Self, all the energy you have been using in resistance becomes available to you. Vitality, inner peace, harmony and, most of all, love, are you spiritual rewards.

Affirmation: I surrender to the flow of life.