Good morning!

I have a confession to make...

These past few... no... let's make that these past several weeks, I have not been sticking to my diet.

I have had lots of social occasions, family get-togethers, meals out, barbecues, etc., which, combined with a loving boyfriend who likes to treat me with delicious chocolates and other goodies - and a total lack of willpower, has resulted in a weight gain :(

I am not pleased with myself.

So I am confessing to you, that since the end of June, the scales have gone up and down, but mostly up and I have gradually put back on 9lbs!

(It's so scary how quickly the weight can go back on!)

I am trying very hard to get back on plan, but it's so difficult this time of the year...

Now we have a bank holiday weekend coming up and then, on the 1st and 2nd of September I have a stall at 2 day festival - Rock the Redoubt -and there will be a lot of tempting goodies - or rather 'naughties' around (fast food, chips and alcohol)!

After that, there should be a little less temptation for me to go off the rails, and more incentive to lose weight before Christmas - as I would love to reach my goal weight by then.

So wish me luck? Thanks :)

Confessions over, it's now time to get on with the cards and messages!

Whatever your star sign - have a great day :)

Brightest Blessings,
Kaz
www.blessingz.co.uk
www.cheekywitch.co.uk


This week I am using the
Angels of Light Cards


by Diana Cooper



Quoted from the pack: "Angels are high spiritual beings. They come from the heart of God as guides, protectors, helpers and healers. Angels are willing and able to help us in many ways throughout our lives, all we need to do is call on them and they will respond. Allow these cards to help you bring them into your life.

Diana Cooper, best selling author of 'A Little Light on Angels', 'A Little Light on Ascension' and 'A Little Light on the Spiritual Laws' has created this beautiful new set of cards. This pack contains 52 cards, a 48 page booklet and a velvet bag which will allow you to carry the cards wherever you go."

(These cards do not have different illustrations just the beautiful image below on the back and all text on the front.)

My personal card for today

: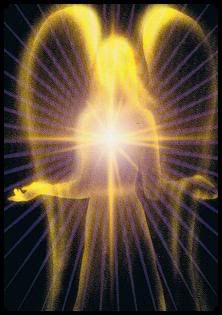 FLEXIBILITY
Life is full of changes and surprises. Your guidance is to move with the current, for it is resisting the flow which creates problems.
Ask your angel to help you open your mind and heart to new ideas and fresh options.
When you accept the possibility that there are other ways, previously unseen doorways will be opened to you and you will move easily through change.
There is a solution to every problem, so look at all things with eyes of love and expectation. Then life force will flow freely through you.
You will feel healthy and alive and can access the necessary resources and wisdom within yourself to help you through change.
Affirmation: I am free and flexible.
Today's cards for each of the star signs

:

Due to lack of time, etc. These are the 'quick reading' messages - for the full reading and meaning of the cards you will need to obtain these cards for yourself - or get someone else to buy them for you as a gift! (The link below is to the new 'revised' edition of these cards - I am using the older version - I believe it is only the images which are different...)
Here are your messages and insights for today. Try to sit quietly for a few moments, meditate on your card and think about how you can learn from, and act upon, its message and affirmation...
Aries

: SURRENDER

Quick message: Whatever you resist in life persists. Ask your angels to help you dissolve all the resistances of your ego (the inner conflict and struggle, the rigid mind sets and habits) so that they can flood your life with higher truth and joy. When you surrender to the guidance of your Higher Self, all the energy you have been using in resistance becomes available to you. Vitality, inner peace, harmony and, most of all, love, are you spiritual rewards.

Affirmation: I surrender to the flow of life.

Taurus

: HONESTY

Quick message: Angel wisdom reminds you that your every thought, word, emotion and action is reflected in your aura. When you are honest, your aura is crystal clear. Everyone knows where they are with you and feels totally safe. When you are totally honest with yourself, you behave with integrity and dare to be open, for there is nothing to hide. people respect and trust you. As you radiate a resonance of honesty, people respond to you with openness and honesty in their turn.

Affirmation: I am honest in thought, word and deed.

Gemini

: IMAGINATION

Quick message: Thoughts are the building bricks of life, for everything begins with a thought. Add creativity to thoughts and you have imagination. Every castle starts as a castle in the air. This image is then grounded by architects and builders. The angels are inviting you to use the power of your creative imagination to expand your horizons and picture the life you want. When you hold a vision, the angels see the clarity of your intention and open doors to help you. Be certain that you have the purest intentions. Then image your dreams and start the process of creation.

Affirmation: I picture positive outcomes for the highest good.
Cancer

: POSITIVITY

Quick message: When you are positive, you keep directing a stream of high-vibration energy with your thoughts, words and actions. This affects others and they help you towards your purpose. The angels are aware of the power of your positivity and they too will support your intentions. Your positivity will make you feel happy, healthy and fulfilled.

Affirmation: I am positive and strong.

Leo

: BEGINNINGS

Quick message: Life is a series of cycles and a tie or rebirth is indicated for you. This may mean a new phase in a relationship, the germination of a fresh idea or the development of qualities in you like laughter, light or hope. It may herald a total change. Do not be afraid to let go of the familiar, for the new cannot enter until the old and outworn has departed. Your angel guidance is to accept the new for it will be welcome when it arrives.

Affirmation: I welcome and nurture the new in my life.

Virgo

: CURIOSITY

Quick message: See life through the curious eyes of a child and you will discover a never-ending source of happiness and excitement. Curiosity keeps you alive, interested and interesting. The angels are inviting you to be curious about yourself. Start exploring who you are and you will grow personally and spiritually. Be interested in people. Be curious about the wonderful Universe in which you live, about the angels and their role in the divine plan.

Affirmation: I explore the wonder of life.
Libra

: GRATITUDE

Quick message: Your guidance is to count your blessings. When you say thank-you to the Universe for its gifts, it responds generously to you. Angel wisdom reminds you to say thank-you for all that you have, the intangible as well as the tangible. Whenever you say thank-you from your heart, more is bestowed on you, for gratitude is the key to opening the doors to universal abundance.

Affirmation: I am grateful for everything in my life.

Scorpio

: ARCHANGEL RAPHAEL

Quick message: You are blessed to attract this angel card, for Archangel Raphael brings health, healing and abundance. He will help you to develop your intuition and inner vision. Call on him if you need help in these areas now. If you are a healer or wish to become one, Archangel Raphael will direct pure divine energy through you. He works on the green ray of healing and balance, so visualise yourself surrounded by a clear green light and invoke his guidance.

Affirmation: I am happy, healthy and abundant.

Sagittarius

: UNDERSTANDING

Quick message: Your angel guidance is to examine yourself and your current situation on depth so that you have a clear awareness of the underlying reasons for your challenges and situations. Acquaint yourself with facts about situations and attitudes before you take decisions. Ask your angel to help you.

Affirmation: I seek an understanding of myself and my life.
Capricorn

: CELEBRATION

Quick message: It is time for you to look for the joy, the delight and the wonder of every day and rejoice in it. When we celebrate the passing events and transitions of life it is our way of giving thanks and the angels delight with us. Whenever possible celebrate with others, for then great energy is raised which attracts many angels drawn by the laughter and lightness, to add their blessings. It will bond you happily with others. Find something to celebrate now.

Affirmation: My life is a celebration.

Aquarius

: ACCEPTANCE

Quick message: Acceptance means unconditional love. The angels remind you to accept everyone exactly as they are, without judging, blaming or wanting to change them. When you are totally accepting you bear no malice or enmity towards anyone or anything. You are also asked to accept yourself. When you truly do so, you feel centred and confident and your divine self is revealed.

Affirmation: I accept myself and others.

Pisces

: PURPOSE

Quick message: The angels remind you that every situation or person is placed on your path with a purpose. It may be to strengthen you, offer you an opportunity to resolve or forgive the past, release old patterns, or for enjoyment. Your life purpose is ultimately to do that which brings you joy, satisfaction and fulfilment. Your guidance is to ask your angel to help you find the purpose of your current situation or, if you are ready, your life mission.

Affirmation: I am strong and determined.