Good morning!

Just a 'tad' stressed out today! So much to do!

Plus, I have been working very hard all week, on top of my usual Ebay and Amazon work, trying to get my Cheeky Witch website up, running and 'seen' - doing lots of promoting - only to find that the site has been down for well over 24 hours :(

I can't seem to contact my web-hosting service (the phone rings and then goes dead) and the only info I can find on their site about the server is "An error occured. We have already been informed and are currently trying to resolve the problem."

Very worrying... Let's hope it is sorted out VERY soon!

I have also been working extra hard, to try to get ahead with my orders to free up time to spend with Katie and Jeff - who are in the UK now and arriving here this afternoon!

However, I was so exhausted last night, that I cancelled going to my dance class with Richard (which I love) and was in bed by 8:30pm, which is not at all like me.

I slept for almost 10hours!

The trouble is - I still have lots of orders to make... the ones I should have made last night :(

I am so looking forward to spending the next few days with Katie and Jeff!

We're off to the Happy Dragon this evening - the whole family - for a chinese banquet!

Then we're spending the day with Katie and Jeff in London tomorrow... and we're having a big family barbecue on Sunday... and the weather forecast is really good for a change, too.

So, there should be lots of photos to share with you next week ;)

However, I may not be able to blog again until Tuesday...

In the meantime - here are the cards and messages for the weekend ahead!

Whatever your star sign - have a great weekend - I'll be back soon :)

Brightest Blessings,
Kaz
www.blessingz.co.uk
www.cheekywitch.co.uk


This week I am using the beautiful

Magical Mermaids and Dolphins Oracle Cards

by Doreen Virtue, Ph.D.


Quoted from the pack: "The Magical Mermaids and Dolphins Oracle Cards are specifically designed to help you manifest your goals, life purpose, and Divinely inspired dreams. These 44 beautifully illustrated cards can help you swim into the ocean of your unconscious mind, where profound thoughts and feelings can create - or block - your heart's desire. The cards are easy to use, and the enclosed guidebook will help you perform amazingly accurate readings for yourself and others."
My personal card for today

: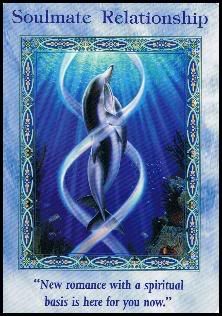 SOULMATE RELATIONSHIP
New romance with a spiritual basis is here for you now.
Divinatory meaning: Your desire to be in a great love relationship has manifested, and you're being guided to create or maintain that situation right now. This relationship has a deep spiritual basis, with both partners having true faith and profound beliefs. You and your partner share similar spiritual concepts and are open-minded when it comes to learning about and implementing new practices.
This partnership flows to you naturally right now. However, if you worry about or try to force the situation to happen, you could slow the results. It's important for you to enjoy the process leading up to your desired outcome. Dance with the movement that your manifestation has created for you. Attract your partner through your warm and relaxed demeanour, and know that Heaven is taking care of all the details for both of you.

Today's cards for each of the star signs

:

Due to lack of time, etc. These are the 'quick reading' messages - for the whole message and meaning of the cards you will need to obtain these pretty cards for yourself - or get someone else to buy them for you as a gift!

Here are your messages and insights for today. Try to sit quietly for a few moments, meditate on your card and think about how you can learn from, and act upon, its message...

Aries

: SELF-EMPLOYMENT

You're a born entrepreneur, and your business is surrounded by magical opportunities.

Taurus

: TRANQUILITY

Make time to relax, be still, and enjoy your solitude, indulging in much-needed self-care.

Gemini

: TIME TO MOVE ON

It's time to let go of the old and worn out so that the new can come in.
Cancer

: ACCEPT HEAVEN'S HELP

You've prayed for help, so get out of the way and let Heaven help you.

Leo

: SIMPLIFY YOUR LIFE

Eliminate clutter from your home and work life to balance the flow of activities.

Virgo

: WORTHINESS

(2 days in a row!)

Know that you deserve to receive in good ways.
Libra

: BREAK FREE

Try different ventures and experiences as a way to grow and learn.

Scorpio

: WAVES OF PROSPERITY

New abundance and exciting opportunities wash over you now.

Sagittarius

: WAIT

Don't rush into action right now. Bide your time for better results.
Capricorn

: HEALING HEART

You are a powerful healer. Keep up the great work!

Aquarius

: EMPOWERMENT

You're more powerful than you realise. It's safe for you t be powerful.

Pisces

: YOU'RE BEING HELPED

Heaven is working behind the scenes to help you, even if you don't see results yet.