Good morning!

Eeek! It's Friday already!

Lammas Weekend is here - still not completely ready... but there are only 24 hours in a day, what is a girl supposed to do?!

I am very excited - stressed - but excited :D

The weather has changed today - much cooler - for which I am personally very grateful. However, the forecast for tomorrow is still good, with a chance of rain on Sunday....

Whatever the weather, I am sure we shall all have a great time this weekend :)

I have been so caught up with getting ready for the Lammas Festival, I keep forgetting there's another little event starting this weekend. The 2012 Olympics!

I am looking forward to watching the opening ceremony on TV this evening, curled up on the sofa with a glass of wine. A chance to relax after a long, busy week. I'm exhausted.

I think I can safely say that the new deck of cards I have been using this week have been a success!

I have had lots of comments about them and how 'spot on' the messages have been for a lot of people every day.

I have had such a busy week that I haven't had time to scan many of the cards or make a slide-show - plus my scanner hasn't done a brilliant job so far - but I will make sure to sort that out ready for the next time I use this deck :)

Must get on with today's orders, before attempting to find some time to make a few more earrings and pendants - then finishing packing my stock ready for tomorrow... It's going to be another long day!

Whatever your star sign - I'll be back on Monday and hopefully with a few photos of the Festival - have a wonderful weekend :)

Brightest Blessings,
Kaz
www.blessingz.co.uk
www.cheekywitch.co.uk



This week I am using the
The Enchanted Map Oracle Cards


by Colette Baron-Reid

Quoted from the pack: "Imagine... between the invisible and the unseen is a guiding force that some call Spirit, the Holy Will, the Divine, the Field, or Consciousness. Using this card deck by Collette Baron-Reid will connect you to that larger Consciousness and guide you as you travel along the journey of your life.. The themes of these 54 cards represent some of the places you'll visit, the conditions you may encounter, and the allies and challenges you'll meet as you navigate a metaphoric map of your life's journey. The enclosed guidebook will help you ask the right questions and interpret the messages in your readings.
The Enchanted Map Oracle cards were created in order to empower you to understand the story of your of your fate, destiny, and free will; and allow you to chart a course to live a life of deep purpose, true prosperity, and vibrant love."
My personal card for today

: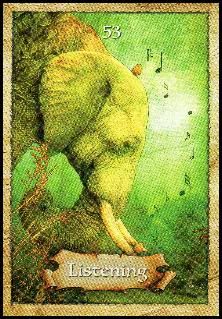 LISTENING
"An open heart will hear the message."
When this card appears, you're being reminded that there is a time to speak and a time to be silent. Now is an occasion for listening. Pay attention not only to what is being spoken, but also to what is not being said at the moment, for the deeper message is not always obvious. Listen with your heart, not just your ears, and you'll find clarity. Receiving the
Listening
card is a fortunate sign and ensures a greater understanding of your circumstances.

Today's cards for each of the star signs

:

Due to lack of time, etc. These are the 'quick reading' messages - for the full reading and meaning of the cards you will need to obtain these cards for yourself - or get someone else to buy them for you as a gift!

Here are your messages and insights for today. Try to sit quietly for a few moments, meditate on your card and think about how it relates to you - and how you can learn from, and act upon, its message...

Aries

: MOVEMENT

"You are in a time of positive forward motion."

This is a time for positive momentum as you come out of a period of restriction. You're in a stage of new adventure and discovery. This isn't a time for fear. Let it go and move forward.

Taurus

: GOBLINS

"Fear is an illusion. Choose love today. Forgive yourself and others."

If Goblins pay you a visit, know that they represent the shadow of your own self, or someone else's, and that they're leading you into a potentially reactive situation. The Goblin's message is that you must release resentments and negative self-talk. Within in you is the spark of the Divine. Ask Spirit to help heal you. Miracles can and do happen. Let go of negativity.

Gemini

: PEAKS OF JOY

"Your life is filled with happiness, so share it with others"!

Joy is yours today! No matter what your inquiry, you will be happy with the results. You're coming closer to a sense of achievement, and you've worked hard for it. Life is exhilarating and hopeful. Let gratitude fill your heart and remember to share your happiness. Joy is contagious!
Cancer

: MAGIC STREAM

"Everything is connected through the universal flow of consciousness."

Like an ever-flowing Magic Stream, your experiences filter through the whole world, one leading into another, informing and influencing still more. When you remember you're part of the fluid continuity of life, you become a channel for great inspiration. Allow the magic to flow through you and carry your dreams into reality. Your success will benefit many.

Leo

: HOME

"You are comfortable in your own skin. You belong."

Peace, security, safety, belonging, and all the features one would want from "home" are indicated now. Home is love, and love is all around you. Whatever your inquiry, you are where you're meant to be and will reap great benefits by staying on this path regardless of where it leads. Home will always be with you - it is where the heart is.

Virgo

: TALISMAN

"A lesson truly learned is crystallized as earned wisdom. You have all you need for the success you seek."

Wisdom allows you to recognize traps on the road and familiar patterns that you want to avoid. It also enables you to quickly gather information about where you are on your journey. Now you're at a place where you know the right things to do and the best choices to make. You've learned your lessons and earned the right to your success.
Libra

: STUCK IN THE MUD

"You're being invited to stop and savour the wonder of your life."

Becoming stuck is sometimes the only way to trick yourself into slowing down and looking around you. Struggling will only get you to even muddier places. Stop and find the joy in what you've been overlooking. Soon you'll be out of the mud, but for now, be still and know that Spirit has a plan for you.

Scorpio

: BONE COLLECTOR

"You are whole and have everything you need within."

Look closely at your circumstances to see if you're fully present or reacting out of past conditioning and unconscious expectations. You have everything you believe you lack. Act

as if

you have what you need and you'll find you have it after all. Anything is possible. With awareness, the wounds of the past need not define you.

Sagittarius

: FOLLOW THE LEADER

"Every life is a teaching tool for others. Your authenticity and honesty are an example to those around you."

You're being called to lead others by example. Your wisdom has been earned as a result of your bravery in the adventure of your life. Your suffering has been crystallized into a talisman of wisdom. Now you must share it. By being fully authentic, you'll lead others into the light. Lead with love.
Capricorn

: FLYING

"You have the power to see things from a higher perspective."

If you were a bird flying high in the air, what would you see? When you soar above life's challenges and opportunities, a new perspective becomes available. Today you have invisible wings that allow you to swiftly bring your circumstances ito alignment with your highest purpose. Spread your wings and soar.

Aquarius

: MAGIC PRAYER

"Speak your prayers, listen for the answers, act in faith."

When you see the

Magic Prayer

card, it is a reminder that your prayers

will

be answered. Spirit is always waiting to help you - and heal you - when you're in need. That said, the best prayer is "They will be done thorough me; they will and not mine be done." Surrender your wishes and desires to Spirit. You may not get what you want, but you will surely get what you need.

Pisces

: ROCK BOTTOM

"Surrender and acceptance are the keys to freedom."

As difficult as it may be to accept, it seems that you've reached a point where you can go no further in the same manner in which you have been doing things. A new direction and new strategy are called for. The only way out is through surrender. The Rock Bottom card is a sign that a miracle is about to occur, but only if you let go completely.