Good morning!

It's a wet and miserable day here :(

Can't believe it's July - it doesn't feel at all like summer...

Just hoping that the good weather is saving itself up for:

1. My birthday barbecue on the 14th

2. Lammas weekend on the 28th and 29th

3. Rock the Redoubt on the 1st and 2nd of September!

Oh yes and...

4. It would be nice if we have good weather for that little sporting event which starts in London on the 27th of July ;)

In the meantime I had better get on with today's orders!

Whatever your star sign - and whatever the weather where you are - I hope you enjoy your day :)

Brightest Blessings,
Kaz
www.blessingz.co.uk
www.cheekywitch.co.uk



This week I am using the
Atlantis Cards


by Diana Cooper

Quoted from the pack: "The myth of the magical world of Atlantis has fascinated people for centuries: the spiritually highly evolved inhabitants of the Golden Atlantis revered and honoured every aspect of the natural world, recognising that everyone and everything is a part of the Source. From this respectful position they lead lives full of grace, compassion and love for each other.
Diana Cooper has magnificently captured and put to use the positive vibrations of the Atlantean time in this new card set richly illustrated by Damian Keenan. They can provide insights and inspiration for our life path, highlighting our strengths and helping us to work with our weaknesses in the best possible way."

My personal card for today: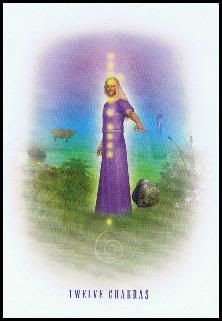 TWELVE CHAKRAS
Full meaning: In Golden Atlantis every person had twelve chakras and twelve strands of DNA. When the frequency of Atlantis declined, five chakras closed down. Following this, ten of the strands of DNA, which contained people's evolved psychic and spiritual powers, became dormant and are currently known as junk DNA. We are now called upon to re-activate the chakras and out full DNA potential.
Potential. You are reminded that you have enormous, untapped, spiritual and psychic powers. By relaxing deeply you can start to activate your cellular knowledge and bring back the wisdom you held in Atlantis. Your guidance is to access this potential. Find time and space to become quiet and still so that you can remember who you truly are.
Relax and tune into your potential.
Today's cards for each of the star signs

:

Due to lack of time, etc. These are the 'quick reading' messages - for the full reading and meaning of the cards you will need to obtain these cards for yourself - or get someone else to buy them for you as a gift!

Here are your messages and insights for today. Try to sit quietly for a few moments, meditate on your card and think about how you can learn from, and act upon, its message...

Aries

: THE ICE AGE

Quick message: Preparation time. If you chose this card, it indicates that a time of rest and relaxation is needed. Use this space to look within and purify your beliefs and thoughts. This is a time to contemplate or meditate on your life-purpose.

The seeds of new beginnings are germinating.

Taurus

: BLESSING

Quick message: Give Blessings. Your guidance is to bless everyone you meet today. Blessings, silent or aloud, allow a divine light to flow from you to others, whether friends or enemies or strangers. This touches them with love and helps to open their hearts. Remember all you give out returns to you multiplied.

Use your power to light up the world.

Gemini

: DOLPHIN

Quick message: Wisdom and joy. This card suggests that you live lightly and wisely, bringing joy, fun and laughter into your life. You are also guided to develop your healing abilities, serving your fellow humans and the planet.

Serve with wisdom and joy.
Cancer

: CO-OPERATION

Quick message: Togetherness. What can you share today? It may be your friendship, your time or something more tangible. Receiving this card guides you to give away anything you no longer need. It also suggests that you co-operate with others for the greater good. Be generous-hearted and your rewards from the Universe will be great.

Co-operate in a vision greater than yourself.

Leo

: BIRTH CRYSTALS

Quick message: Roots. If you draw this card you are guided to strengthen your connection with 'home', which may mean meditating on your stellar origins. Alternatively, it may suggest that you explore your background and ancestral heritage. You may even need to put down more roots to enhance your feeling of belonging.

Deepen your roots to create a solid foundation.

Virgo

: RECORDING CRYSTALS

Quick messages: Check the records. If you draw this card you are expected to open your mind to the new. Unexpected information may be revealed which will help you to comprehend the jigsaw of your life. If a recording crystal comes to you, relax and put it to your third eye, so that you can absorb the scared wisdom it holds.

Open your mind to new information.
Libra

: CLAIRVOYANCE

Quick message: There are many ways of seeing with your inner vision. You may physically see pictures on your inner screen, you may sense you 'know'. It is time to develop your third eye and trust your intuition.

Trust your inner vision and knowing.

Scorpio

: THE TEMPLE OF POSEIDON

(2 days in a row!)

Quick message: New Beginnings. This card indicates that it is time for new beginnings. maybe a new concept, idea or pathway will be presented to you at a much higher level than anything you have previously considered. You are call upon to act and speak selflessly and with the utmost integrity.

Be a guiding light to others.

Sagittarius

: WATER

Quick message: Purification. Your guidance is to spend time today near water, preferably by a river, lake, or the sea, or in a bath or shower. As you immerse yourself in the cosmic energy, sense it purifying each cell of your body.

Use water for deep inner and outer cleansing.

Capricorn

: POOLS OF ENERGY

Quick message: Cosmic help. Your guidance is to call on the Great Cosmic Pool of energy for it is now time to manifest your dreams. Only negative thoughts can hold you back, so call in the Violet Flame to dissolve them. Move forward now.

The Cosmos is ready to help you.

Aquarius

: THE SILENCE

Quick message: Quiet contemplation. Receiving this card indicates that you are called on to spend some time in contemplation or meditation. Remember that you can more readily access your inner wisdom where it is silent.

Be still and access your inner wisdom.

Pisces

: FUN

Quick message: Leisure. This card suggests that you build leisure time into your life. Plan to have fun and do things that enable you to relax and laugh. Socialise with people who are happy and interesting. At the same time, look at your challenges from a higher perspective and take delight in all the good in the world.

Lighten up and laugh today.