Greetings!

Just flying in quickly with your cards and messages!

Please find your message below and whatever your star sign - have a relaxing weekend :)

Brightest Blessings,
Kaz
www.blessingz.co.uk
www.cheekywitch.co.uk



This week I am using the "Just for Today" version of the

Medicine Cards

by Jamie Sams and David Carson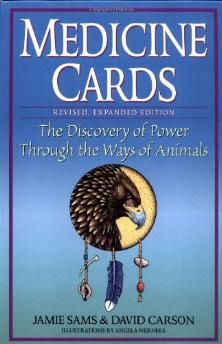 I have tried finding a link to The 'Just for Today' cards and can't find any, other than some listed on Amazon for an incredibly expensive price! (I don't understand how they can be so expensive, as my set was very reasonable, although I have had them for quite a few years...)
The Medicine Cards are wonderful and come in a boxed set with a book of layouts, instructions and the full meanings for each of the animal guides. I have the Medicine cards too, but it is easier for me to give you the 'Just for Today' messages!

My personal card for today

:
Antelope - Time to respond.
Take Action. No procrastinating. Decide and do it NOW.

Today's cards for each of the star signs

:

These are your messages from the animal guides for today! Try to sit quietly for a few moments, meditate on your card and think about how you can learn from and/or act upon its message...

Aries

: Mountain Lion - Take courage and be brave.

Risk being a living example. Become a leader without followers.

Taurus

: Hawk - Honor all life forms and all humans as messengers.

Trust life's messages and signals.

Gemini

: Ant - Be patient.

Honor the present moment. Find joy in the NOW.

Cancer

: Dragonfly - Confront denials.

Break through illusions. Honor inner truths.

Leo

: Horse - Honor your Medicine.

Stand tall. Use your talents. Own who you are becoming.

Virgo

: Fox - Blend in.

Avoid being the centre of attention. Become protective when needed.

Libra

: Deer - Be gentle with yourself.

Offer kindness to all living things.

Scorpio

: Moose - See your potential.

Take pride in yourself. Honor your right to be.

Sagittarius

: Wolf - Find new paths and options.

Break through. Be a role model. Share your inner knowing.

Capricorn

: Porcupine - Trust your process and yourself.

Honor your connection to Great Mystery and have faith.

Aquarius

: Eagle - Connect to spirit.

Feel the freedom found in Oneness. Let your spirit soar.

Pisces

: Opossum - Have a plan.

Use common sense. Honor the strategy that works best for you.

* * * * * * *

Please feel free to leave any comments here on Blogger, or on my Facebook Page

The Daily Divination

, or on

Twitter

Thank you!