Good morning and Happy Hump Day!

Half way through the week already... I don't like the way the weeks fly by so quickly - but looking forward to seeing my little grandson this weekend, so don't mind so much this week.


* * * * * * * * SHAMELESS ADVERTISING * * * * * * * *
I hate to mention it but Christmas and Yule are fast approaching and if you've started looking for gifts for your loved ones you might want to take a look at
Zazzle
?
They often have special promotions on and have a one running at the moment with
50% off
Mugs
and
20% off
most other items!
The coupon code is
WARMWISHES4U
This promo ends tomorrow (November 06, 2014 at 11:59PM PT) but I always notify people of Zazzle's latest and current Special offers on my
Cheeky Witch Facebook Page
and my
Cheeky Witch Tsu page
!
For Witchy gift ideas please visit
www.cheekywitch.com
For all sorts of cute and unusual gift ideas please visit
www.Piscesmoon.co.uk
For Christmassy stuff please visit
www.Krimbles.com
If you are in the UK please visit my ebay Store
www.bagzofblessingz.com
for
Bagz of Christmas Blessingz
and
In Loving Memory at Christmas Gifts
.
Thank you!
* * * * * * * * END OF SHAMELESS ADVERTISING * * * * * * * *
Time to do the cards - please find your message for Wednesday below!
Happy Bonfire Day to those in the UK! Stay safe out there tonight!
Whatever your star sign - have a great day :)
Brightest Blessings,
Kaz
www.blessingz.co.uk
www.cheekywitch.co.uk

This week I am using the

Saints and Angels Oracle Cards

by Doreen Virtue, Ph.D.



Quoted from the pack: "Now you can easily receive messages and guidance from beloved saints such as Mother Teresa, Bernadette, Joan of Arc, Hildegard, Padre Pio, Anthony, Francis, and Cecilia. Doreen Virtue has created a nondenominational deck of oracle cards that people from various spiritual and religious backgrounds are sure to appreciate and enjoy.

Forty-four cards with breathtaking artwork depicting God, the Holy Spirit, Jesus, saints, archangels, and guardian angels give you answers and gentle advice. A guidebook accompanying the cards thoroughly explains how to receive guidance about the present and future, how to give an accurate reading to another person, and the general meaning of the card's message."

My personal card for today

:
BELIEVE - St.Hildegard of Bingen
Divinatory meaning: To heal and improve this situation, it's important for you to believe. Have faith in miracles, the power of God's healing love, and the essential goodness within people. This is an important factor in determining the outcome of this situation.
St. Hildegard of Bingen demonstrated that to bring god's message to the world, you must believe in yourself. You are qualified. You are ready and prepared. You can do it.
This saint overcome tremendous self-doubt and became a multitalented author, musician, and healer. This was especially remarkable, considering that women in her era (1098-1179) weren't expected to accomplish worldly deeds. Born the tenth child in her family, she was sent to live in a convent in order to reduce her parents' financial burdens.
Hildegard began having spiritual visions as a young child, and she was eventually called upon to write books about them. She overcame tremendous self-doubt about her literary skills and later wrote:
"But although I heard and saw these things, because of doubt and low opinion of myself and because of diverse sayings of men, I refused for a long time a call to write."
St. Hildegard is also known for orchestrating rich musical chants and for her two books on bringing about physical health by using items found in nature.

Today's cards for each of the star signs
:
Due to lack of time, etc. These are the 'quick reading' messages - for the full reading and meaning of the cards you will need to obtain these cards for yourself - or get someone else to buy them for you as a gift!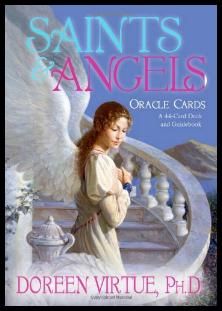 Here are your messages and insights for today. Try to sit quietly for a few moments, meditate on your card and think about how you can learn from, and act upon, its message...

Aries

: SLEEP - Guardian Angel

Quick message: Take a look at the topic of sleep in answer to your question. Most likely, this is a message for you to get more rest. Cut unnecessary activities from your schedule and get a good night's sleep. If emotional upsets are keeping you awake, give them to God and your angels. You can easily do this by mentally picturing your angel holding a bucket. Put any troubles into the bucket and watch the angel take them away to heaven, where everything is resolved.

Taurus

: LEARNING EXPERIENCE - Guardian Angel

Two days in a row!)

Quick message: This situation is an opportunity for you to learn some important life lessons. Instead of looking at this experience as a problem, see it as something that will help you to learn and grow. Your guardian angel will help you see the current situation in a more positive light, as well as identify the lessons involved and heal away unwanted patterns. Simply ask your angel for help with these issues, and then pay attention to any loving thoughts or feelings that guide you to take action.

Gemini

: ANIMALS - St. Francis of Assisi

Quick message: You have a strong love bond with animals. As with St. Francis, they instinctively trust you. They can sense your compassion and understanding and come to you for help and companionship. You have an innate ability to communicate with animals, and you know what they're thinking and feeling. Your pets who have passed on also send you their love. They want you to know that they're happy and doing well in heaven.

Cancer

: GENEROSITY - St. Nicholas of Myra

Quick message: You're asked to start or continue giving time, money, assistance or goods. This act helps you know how much you have, and leads to a feeling of abundance that automatically attracts greater prosperity into your life. The more you give, the more you'll receive. Contribute with joy and be totally detached from the outcome of your offering. St. Nicholas reminds you of the happiness that you receive when you give to others from the spirit of love. Allow yourself to be surprised at how the universe gives back to you.

Leo

: SWEETNESS - Guardian Angel

Quick message: Your guardian angel is asking you to notice and enjoy the nectar of life. "You are sweet," your guardian angel says of you, "and I can help you feel that happiness and joy." If you've felt toughened by life's experiences, your angel can help you lower your defences… and still be safe, protected and respected.

Virgo

: PEACEFUL - Holy Spirit

Quick message: The Holy Spirit has descended upon you and the situation that you are enquiring about. Get in touch with this Divine energy by focusing upon the peace that's deep within your heart… This might require that you spend some quiet time alone in stillness. Rest assured that the Holy Spirit's peace is pervading this situation and opening the hearts of everyone involved. It brings about compassion so that everyone can see each other's point of view. This engenders forgiveness, which then opens and smoothes the path to peacefulness.

Libra

: ACTIVIST - St. Mother Teresa

Quick message: You're guided to champion a cause, such as a social issue, a charitable group or a person in distress. Notice which issues arouse your passion or anger, and make a commitment to serve in some capacity to heal those situations. Like Mother Teresa, you can single-handedly make a positive difference in the world. She'll act as your guide in this matter if you'll ask for her help.

Scorpio: DON'T COMPROMISE - St. Agnes of Rome

Quick message: You're asked to take a stand in favour of your truth and self-esteem. You don't need to compromise to get what you want, and you can live by the truth of your beliefs. St. Agnes is your guide and role model in this aspect. She shows that in love relationships - as well as career, home, health and other life areas - you mustn't compromise your values. As God's holy child, you deserve to be treated with love, respect and dignity. Accept nothing less.

Sagittarius

: MARRIAGE - St. Catherine of Alexandria

Quick message: This is a message about your present or future marriage. You have a spiritual destiny with a spouse who's your soul mate. There's a Heavenly purpose for you and this person to be together, and you are supposed to help one another grow and prosper. You recognize your soul mate by having the feeling that you've known each other forever. Synchronistic events bring you together, and there's a sense of destiny and fate in your relationship. This card means that a soul-mate marital partner is currently in your life or soon will be.

Capricorn

: YOU FOUND IT! St. Anthony of Padua

Quick message: This message is about finding something of great value, such as your life path or a lost item. St. Anthony asks you to have faith that you have found (or will soon find) what you're looking for. Both St. Anthony and the Archangel Chamuel can help you locate lost items. Call upon them both (either silently or aloud) and ask then to help you. Then pay attention to your inner guidance, such as gut feelings, visions or thoughts. Follow this wisdom, and you'll find the item. And if for some reason it doesn't immediately return, hold the faith that it will come back to you in Divine timing.

Aquarius

: LOVE - God

Quick message: God is love and God is everywhere. Therefore, Divine care is surrounding, healing and supporting this situation. By focusing upon God and this caring, you'll find the answers, solutions and results you're seeking. The answer to your question is quite simply 'love'. That's because it's all that exists, in truth. By focusing upon God and this caring, you'll find the answers, solutions and results you're seeking.

Pisces

: FAITH - Guardian Angel

Quick message: Think of all the miracles you've experienced in your life so far. This card asks you to have faith that Heaven will continue to help and support you along the way. Your faith is a key factor right now, and it's important that you keep it strong. Like the angel in this card's painting, you're about to take a leap of faith. The message is that it's safe for you to make this leap - you're finally following your heart's wisdom, and it will pay you unseen dividends.

Please feel free to leave any comments here on Blogger, or on my Facebook Page
The Daily Divination
, or on
Twitter
Thank you!