Good morning!

I hope you had a magickal Halloween and wonderful weekend?

I had great fun giving out sweets and magick crystals to the trick-or-treaters on Friday.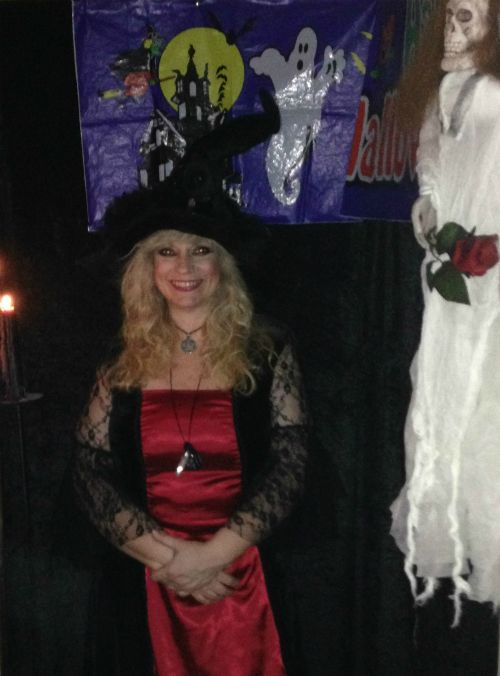 Forget the candy - the children love dipping into the bag of crystals and hearing about the magickal properties of the one they get - which is usually just the one they need!
* * * * * * *
Back down to earth with a bump today!
November is here and today it is grey, wet and windy. It was very stormy on the beach this morning, but I do love seeing the waves crashing on the beach - a dramatic and exhilarating start to the day!
* * * * * * *
Time to get on with some work, but first the cards.
I a using the
Saints and Angels Oracle Cards
this week.
Please find your message for Monday below and whatever your star sign - have a good day :)
Brightest Blessings,
Kaz
www.blessingz.co.uk
www.cheekywitch.co.uk

This week I am using the

Saints and Angels Oracle Cards


by Doreen Virtue, Ph.D.




Quoted from the pack: "Now you can easily receive messages and guidance from beloved saints such as Mother Teresa, Bernadette, Joan of Arc, Hildegard, Padre Pio, Anthony, Francis, and Cecilia. Doreen Virtue has created a nondenominational deck of oracle cards that people from various spiritual and religious backgrounds are sure to appreciate and enjoy.

Forty-four cards with breathtaking artwork depicting God, the Holy Spirit, Jesus, saints, archangels, and guardian angels give you answers and gentle advice. A guidebook accompanying the cards thoroughly explains how to receive guidance about the present and future, how to give an accurate reading to another person, and the general meaning of the card's message."

My personal card for today

: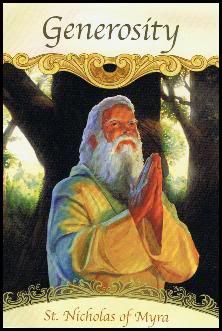 GENEROSITY - St. Nicholas of Myra
Divinatory meaning: You're asked to start or continue giving time, money, assistance or goods. This act helps you know how much you have, and leads to a feeling of abundance that automatically attracts greater prosperity into your life.
The more you give, the more you'll receive. Contribute with joy and be totally detached from the outcome of your offering. St. Nicholas reminds you of the happiness that you receive when you give to others from the spirit of love. Allow yourself to be surprised at how the universe gives back to you.
St. Nicholas's legendary generosity led him to be called "Santa Claus" and become a patron saint of children and the needy. One of the most famous stories about him describes his rescue of three young girls whose father was about to send them into prostitution to save the impoverished family. The saint threw three bags of gold through the girls' bedroom window so that their future was secure. St Nicholas also helped reform thieves and assisted those wrongfully imprisoned. You can call upon him to inspire and guide your volunteer work and show you the best avenues to give donations.

Today's cards for each of the star signs

:

Due to lack of time, etc. These are the 'quick reading' messages - for the full reading and meaning of the cards you will need to obtain these cards for yourself - or get someone else to buy them for you as a gift!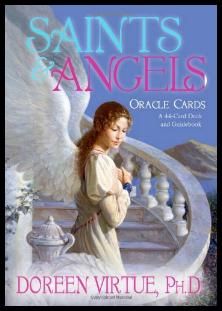 Here are your messages and insights for today. Try to sit quietly for a few moments, meditate on your card and think about how you can learn from, and act upon, its message...

Aries

: MOTHER - Mother Mary

Quick message: The answer to your question involves the topic of 'mother'. Mother Mary is with you, helping you with any emotional upsets with your own mother, such as grief, anger or worry. She can aid your healing from long-standing patterns between the two of you. This is also about you as a mother or caregiver. Mother Mary wants to help you in this life area. She'll alleviate any guilt or stress that may be interfering with the joy of parenting.

Taurus

: EMOTIONS - St. Dymphna

Quick message: The answer to your question involves emotions - either yours or those of the person you're enquiring about. This is also a message for you to pay closer attention to your emotions. It's safe for you to admit your true feelings to yourself. This card is also a message for you to trust your feelings, especially as they guide you to make positive changes. Your feelings are the voice of Heaven speaking through you, and you have a right to them, even if others disagree with them. You can also release any upsetting emotions to God, St Dymphna and the angels for healing and guidance.

Gemini

: SPEAK YOUR TRUTH - St. Bernadette

Quick message: This is a strong message for you to speak up and tell the truth. Give any fears or worries about other's possible reactions to God, St. Bernadette and your angels. You can speak honestly in a loving way and still stay in integrity. No matter how others react you must give voice to the truth as you see it. Heaven will protect you and will guide your words as you say them.

Cancer

: ACTIVIST - St. Mother Teresa

Quick message: You're guided to champion a cause, such as a social issue, a charitable group or a person in distress. Notice which issues arouse your passion or anger, and make a commitment to serve in some capacity to heal those situations. Like Mother Teresa, you can single-handedly make a positive difference in the world. She'll act as your guide in this matter if you'll ask for her help.

Leo

: YOU FOUND IT! St. Anthony of Padua

Quick message: This message is about finding something of great value, such as your life path or a lost item. St. Anthony asks you to have faith that you have found (or will soon find) what you're looking for. Both St. Anthony and the Archangel Chamuel can help you locate lost items. Call upon them both (either silently or aloud) and ask then to help you. Then pay attention to your inner guidance, such as gut feelings, visions or thoughts. Follow this wisdom, and you'll find the item. And if for some reason it doesn't immediately return, hold the faith that it will come back to you in Divine timing.

Virgo

: LEARNING EXPERIENCE - Guardian Angel

Quick message: This situation is an opportunity for you to learn some important life lessons. Instead of looking at this experience as a problem, see it as something that will help you to learn and grow. Your guardian angel will help you see the current situation in a more positive light, as well as identify the lessons involved and heal away unwanted patterns. Simply ask your angel for help with these issues, and then pay attention to any loving thoughts or feelings that guide you to take action.

Libra

: HIGHER EDUCATION - Guardian Angel

Quick message: our angel is guiding you to gain further education, either by attending school or through independent study. Higher education refers to instruction with a spiritual basis, so this is a message for you to study topics that capture your true interests. For instance, if there's a spiritually based service career that you yearn for, now is the time to begin looking at furthering your knowledge in that area. Give any worries about having enough time, money, or skill to your angel. You're being pushed to learn more as a result of your prayers for increased fulfilment. Trust that this door is opening for you at the right time, and walk through it with full faith.

Scorpio

: RETREAT - Guardian Angel

Quick message: This is a strong and clear message for you to go on a retreat as soon as possible. Your guardian angels want you to have some peace and quiet time, because you need to rest, rejuvenate and regroup. You'll gain new insights and the answers you seek, as well as develop a better understanding of the direction you need to go in and which step to take next.

Sagittarius

: HEALING - St. Padre Pio

Quick message: This is a powerful card, as it signifies the power of prayer. Your requests regarding health have been heard and answered. The situation is surrounded by God's rejuvenating love and is resolving itself in a miraculous way. This is also a message about your healing abilities and a call from Heaven for you to use those talents to help others in a more powerful way. If you elect to follow this calling, God will open the doors for your career. St Padre Pio, who both heals and helps those who follow this path, will inspire and protect you as you make any necessary life changes.

Capricorn

: HEALTHFUL EATING - St. Raphael the Archangel

Quick message: The Archangel Raphael is the supreme healer within the angelic realm. In this capacity, he sees a need for you to alter your diet and eat more healthily. You've probably already heard this guidance through your repetitive thoughts or feelings.

Aquarius

: STRESS MANAGEMENT - Guardian Angel

Quick message: Your angels are working with you to reduce the impact of stress. Pay close attention to your Divine guidance, such as thoughts or feelings about taking a rest, exercising, changing your routine, and avoiding conflict. You need to both reduce stress in your life and manage the way it's affecting you. To lessen this burden, you'll need to be assertive with people an say no to unwanted requests. Don't do anything out of guilt of obligation, and only engage in activities that you can perform out of loving service. Your angels will also help you see the love and light within each situation so that your thoughts are peaceful.

Pisces

: MARRIAGE - St. Catherine of Alexandria

Quick message: This is a message about your present or future marriage. You have a spiritual destiny with a spouse who's your soul mate. There's a Heavenly purpose for you and this person to be together, and you are supposed to help one another grow and prosper. You recognize your soul mate by having the feeling that you've known each other forever. Synchronistic events bring you together, and there's a sense of destiny and fate in your relationship. This card means that a soul-mate marital partner is currently in your life or soon will be.

Please feel free to leave any comments here on Blogger, or on my Facebook Page
The Daily Divination
, or on
Twitter
Thank you!