Greetings!

It's Manic Monday and I'm rushed off my feet - so just flying in quickly to do the cards for you :)

I am using the Wisdom of Avalon Oracle Cards this week.

I love these cards and I hope you do too!

Whatever your star sign - have a good day :)

Brightest Blessings,
Kaz
www.blessingz.co.uk
www.cheekywitch.co.uk



This week I am using the
Wisdom of Avalon Oracle Cards
by Collette Baron-Reid


Quoted from the pack: "The Wisdom of Avalon Oracle Cards by Colette Baron-Reid is a 52 card divination system - an inspirational tool to bridge the unseen world of Spirit and the physical world of our day-to-day lives. Based on the rich mythology of ancient Britain's Isle of Avalon and the wisdom teachings of its priestesses, these cards (and the accompanying guidebook) will help you find valuable and powerful insights in all aspects of life as you chart your path and manifest your destiny with clarity and purpose."

My personal card for today

:
THE GOBLIN - the wounded human ego
Divinatory meaning: When the Goblin appears on your path, your plans are, or are about to go, awry.
The Goblin wants to lead you astray and whispers the negative spell of fear, anger, resentment, self-righteousness, arrogance, selfishness, greed, gluttony, procrastination, and addiction.
When Goblin appears, it's time to stop what you're doing and check your motives. Are you coming from an ego-centered place? Are the circumstances in your life triggering unresolved past issues that still need healing? Now is the time for self-evaluation and taking inventory, before you take another step.
The Goblin represents the wounded ego and its influence. Dark, repressed areas of the psyche are triggered... either in you, or warning you of a dynamic between you and someone else.
Do nothing. stay still, send loving energies to yourself and others, and remember the Divine connection in all things. The Goblin will disappear and lose power when you focus on love and fairness.

Today's cards for each of the star signs

:

Due to lack of time, etc. These are the 'quick reading' messages - for the full reading and meaning of the cards you will need to obtain these cards for yourself - or get someone else to buy them for you as a gift!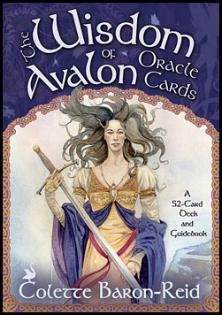 Here are your messages and insights for today. Try to sit quietly for a few moments, meditate on your card and think about how you can learn from, and act upon, its message...

Aries

: COMMUNICATION

Quick reading: Are you clear and straightforward when communicating with others? Do you have difficulty asking for what you need? This marker reminds you of many things related to how you speak to the world and how it speaks to you. It asks you to be clear and to seek clarity in all communications between yourself and others in your life. This card notes that communication is not just between human beings. Your spirit guides, angels and other helpers on your path are always trying to get your attention. Are you open to their messages?

Taurus

: THE HAWK - omens, messages

Quick reading: When Hawk appears, expect a message to be delivered to you to aid you in your quest. Perhaps a telephone call from a friend, or a chance meeting with someone, or an overheard conversation will reveal an answer to your question. You will know it when it comes. Be open to messages from others, and be aware of omens and signs in nature. The world is constantly attempting to communicate with us, but we human beings have forgotten how to listen.

Gemini

: THE DEER - gentleness, diplomacy

Quick reading: When the Deer appears, it's a reminder for you to step gently on the path, for you're walking into a time when gentle movements and diplomacy are required. It's important that you be gentle with yourself as well. Blend your personal energy with Deer's energy of gentleness and diplomacy. Walk softly and the way forward will be smooth. And remember... never mistake gentleness for weakness in yourself or in others.

Cancer

: THE WATER FAERY - feelings and emotions

Quick reading: If you're happy right now, enjoy, for the Water Faery swirls her love around you. If things are making you sad, she comes to wash away your tears. The Water Faery knows the power of emotions, so when she appears, be mindful of them and how they affect you. Remember, feelings are the fuel for manifesting. Be certain that you want to create what you're feeling. Allow your feelings to pass through and focus on the positive.

Leo

: THE GRAIL KNIGHT - romance, illusion, seeking the sacred

Quick reading: Romance, and the seeking of that which is sacred - such are the missions of the Grail Knight. He represents the coming together of all elements to form perfect life through a union of heaven and earth; or he signifies a romantic union of lover with lover. Love is in the air. Perhaps it is time to fall in love with yourself. Love attracts love. Be love and you shall find love.

Virgo

: JOY

Quick reading: This marks a time for celebration, for this portends the joyous completion of a project, the attainment of a goal, or the end of a long and arduous journey. Like the spring sun breaking through after a long and gloomy winter, joy reminds us to be grateful for all the gifts of life. Joy bestows the blessings of happiness. You truly have reason to smile when this marker appears on your path.

Libra

: THE NOVICE - innocence, beginner, ignorance, new skill without practice, unstable curiosity

Quick reading: Innocence, naiveté, foolishness, early knowledge, not yet integrated, the ability to see the world untainted, and learning ability - these are the aspects of the Novice as she appears in your life. The Novice is reminding you to be teachable and humble. If you don't know something, don't pretend that you do. Chances are that you will make and error that may cost you more than you wish to pay. New information is coming, and this is the time to be open to learning and expanding.

Scorpio

: THE BARD - music, poetry, myth, history, the enchantment of storytelling

Quick reading: When the Bard appears, you're asked to seek answers in your personal history. Go back into your own story and find the threads of the patterns in your reality, and trace their length to the present. Perhaps you'll be surprised by how much of your past, or that of your ancestors, still weaves its influence on you today.

Sagittarius

: THE STAG - pride, leadership

Quick reading: Take pride in all you do. Be the leader and hold your head high and others will follow by your example. Always ask yourself "what is the highest good for all?" The Stag leads you into the kind of pride that reminds you that you're always in service to the God/Goddess in every step you take. You may already be there, in which case you should be proud and happy. Look how far you've come! Rejoice, for the Stag always leads you to a higher place with a sure and steady footing.

Capricorn

: THE FROG - cleaning house, releasing emotional baggage.

Quick reading: It's time to clean house and get rid of the clutter in your environment, your head, and your heart. Move out any objects, thoughts, or relationships that hold you back. It's time to get rid of anything that clutters your life or space with unwanted burdensome energy, or anything that weighs heavily on your heart. It's time to release all things no longer appropriate to bring on your journey. Allow new and fresh energy to enter your world.

Aquarius

: THE EAGLE - spirit, integrity, connection to the angelic realm

Quick reading: When the Eagle appears, it is a true signal of your connection to the angelic realm. With your angel's help and guidance, you can soar above life to see the larger vista. The Eagle helps you to make your choices accordingly, with integrity. When the Eagle appears, it's also a signal for prayer. It's time for a moment of conscious contact with the Divine. Remember that you're always protected and Divinely directed if you follow the guidance of spirit as it appears in the form of the Eagle.

Pisces

: PARTNERSHIP

Quick reading: You're put on notice to seek connection in all things. When you receive the blessings of Partnership on this part of your journey, it's a sign that the object of your inquiry may indeed give you what you need. It's a portent of opportunity, where the partnership exceeds the potential of the individual. It's a very auspicious omen.

Please feel free to leave any comments here on Blogger, or on my Facebook Page
The Daily Divination
, or on
Twitter
Thank you!