Greetings!

This is the second time I have attempted to write this blog, because my computer froze and crashed before I had a chance to save the first version - and then took ages to reboot :(

As it's now after lunch, and I am really behind, I shall have to do the quick version and go straight to the cards!

Please find your message below and whatever your star sign - have a lovely day :)

Brightest Blessings,
Kaz
www.blessingz.co.uk
www.cheekywitch.co.uk



This week I am using the
Goddess Guidance Oracle Cards

by Doreen Virtue, Ph.D.


Quoted from the pack: "The goddesses are angelic, powerful, loving beings who want to help you with every part of your life. In this set of oracle cards by Doreen Virtue, you'll learn who the different cross-cultural goddesses are and how they can help you. Each card gives a specific message about how you can improve your life, health, relationships, finances, career, and spiritual path. The gorgeous artwork on each card depicts Kuan Yin, Laksmi, Brigit, Isis and Athena; as well as goddesses Celtic, Mayan, Egyptian, Greek, Tibetan, Buddhist and other traditions.
The accompanying guide book helps you to give accurate readings for yourself, your loved ones, and your clients. Whether you're a beginner or seasoned pro, you'll find that working with the goddesses brings Divine magic into your life."

My personal card for today

: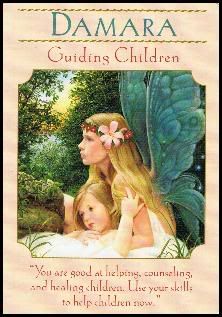 DAMARA - Guiding Children
"You are good at helping, counselling, and healing children. Use your skills to help children now.
Message from Damara: "One can be gentle and a fierce protector simultaneously. My vigilant focus on keeping harmony within households stems from my desire for children to maintain their youthful awe and sense of wonder. How else will we ensure that they'll see and speak with fairies? How else will we foster the continuation of children's healing laughter? Join me in guiding the children, and you'll see you own imagination sparked by these amazing young beings. Your own enthusiasm and youthful spirit attracts the children's respect and attention. I'll lead you toward young people who can benefit from your help."
Various meanings of this card: Spend time with, or have a heart-to-heart talk with your own children * Get into a career involved with helping kids * Volunteer with young people * Know that children will be coming into your life soon * You will be a parent * Take care of your own inner child through play and laughter.

Today's cards for each of the star signs

:

Due to lack of time, etc. These are the 'quick reading' messages - for the full reading and meaning of the cards you will need to obtain these cards for yourself - or get someone else to buy them for you as a gift!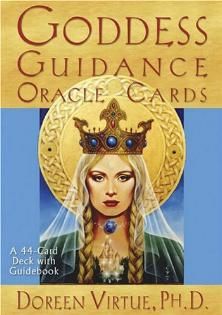 Here are your messages and insights for today. Try to sit quietly for a few moments, meditate on your card and think about how you can learn from, and act upon, its message...

Aries

: MAEVE - Cycles and Rhythms

"Honour the cycles of your body, energy levels and emotions."

Various meanings of this card: Female gynaecological changes (starting of menses or menopause, for example) are an issue for you * Make time to rest * Initiate steps to alleviate depression or lethargy * Take better care of your body * Seek support for dealing with emotional crises * Allow yourself to grieve or take time off * Know that this lull won't last forever * A doorway of opportunity has opened up, and you need to walk through it now.

Taurus

: OSTARA - Fertility

"It is the perfect time for you to start new projects, access new ideas, and give birth to new conditions."

Various meanings of this card: This card signifies pregnancy * You will be involved with a successful child conception, adoption, or custody resolution * Your desire will fully manifest in the springtime * There will be a resurrection of the old * Your new idea or venture will be successful * It's an opportune time to make life changes.

Gemini

: COVENTINA - Purification

"It is time for a cleansing detoxification of your body and mind."

Various meanings of this card: Follow your intuition's guidance about making lifestyle changes * Stop abusing alcohol or drugs * Avoid processed foods such as sugar, white flour, and so on * Eat more organic foods * Keep your thoughts and speech positive * Adopt a vegetarian or vegan diet * (This card can also be a validation that your current healthful path is working.)

Cancer

: CORDELIA - Go outside

"You have been indoors too long. Go outside and get some fresh air."

Various meanings of this card: Your manifestation will appear in May and/or when the weather is warmer * Spend time in nature * Change to a job that allows for more connection with nature * Practice environmentalism * Recognize the need for balance in your life.

Leo

: ATHENA - Inner Wisdom

"You know what to do. Trust your inner wisdom, an take appropriate action without delay."

Various meanings of this card: Stop procrastinating * Stop giving away your power to others * Trust your gut * Don't second-guess yourself * You are correct * Notice recurring ideas and take action on them.

Virgo

: BUTTERFLY MAIDEN - Transformation

"You are experiencing enormous change right now, which brings great blessings."

Various meanings of this card: Don't be concerned about endings, as they're bringing in the new for you * Your prayers have been answered with this change * Let go of the old * Don't worry about these changes - they're truly for the best.

Libra

: IXCHEL - Medicine Woman

"You are a channel for Divine healing power."

Various meanings of this card: You're a healer * You're being healed * This situation and/or your loved one is being healed * Honor your healing knowledge and abilities * Learn about healing * Teach the healing arts * Start or continue your healing practice.

Scorpio

: VESTA - Home

"Your household situation is improving, either through a move or healthy change in the occupants."

Various meanings of this card: You're moving to a new home * You've just moved * A new person is moving in * Someone is moving out * There is increased romance and/or harmony in the home * A problem with neighbours is resolved * Clear the space in your home * Remodel * Know that your home is safe and protected.

Sagittarius

: EIREEN - Peace

"There is no need to worry, as everything is working out beautifully."

Various meanings of this card: Give your cares and worried to Heaven * Pray * Meditate * Engage in peace-enhancing activities such as yoga, sea-salt baths, massage, naps, music, playfulness, and the like.

Capricorn

: DANA - High-Priestess

"You have Divine knowledge that can help others through your spiritual teaching."

Various meanings of this card: Lead workshops * Write books or articles * Look for opportunities to teach * Be a role model of peace * Honour your divinity * Know that you are a leader.

Aquarius

: LAKSHMI - Bright Future

"Stop worrying. Everything is going to be fine."

Various meanings of this card: You and your loved ones will be protected and provided for * Let go of any 'bag-lady' fears about your future * Hold positive thoughts and intentions * Know that you'll always have your needs met, now and in the future * Don't worry about money, but instead visualise abundance.

Pisces

: MAAT - Fairness

"This situation will be handled in a fair and just manner."

Various meanings of this card: A lawsuit will be resolved * A dispute will end harmoniously * You'll be treated fairly * Keep everyone's needs in mind during negotiations * Release guilt and shame, as these emotions can attract a punishing attack.

Please feel free to leave any comments here on Blogger, or on my Facebook Page
The Daily Divination
, or on
Twitter
Thank you!