Greetings!

Flying in quickly to do the cards - as I am inundated with Bagz of Blessingz orders at the moment!

I'm a bit stressed, but very grateful for all these much-needed orders...

Please find your message below and whatever your star sign - have a great day :)

Brightest Blessings, Kaz

www.blessingz.co.uk
www.cheekywitch.co.uk



This week I am using the


Saints and Angels Oracle Cards



by Doreen Virtue, Ph.D.



Quoted from the pack: "Now you can easily receive messages and guidance from beloved saints such as Mother Teresa, Bernadette, Joan of Arc, Hildegard, Padre Pio, Anthony, Francis, and Cecilia. Doreen Virtue has created a nondenominational deck of oracle cards that people from various spiritual and religious backgrounds are sure to appreciate and enjoy.

Forty-four cards with breathtaking artwork depicting God, the Holy Spirit, Jesus, saints, archangels, and guardian angels give you answers and gentle advice. A guidebook accompanying the cards thoroughly explains how to receive guidance about the present and future, how to give an accurate reading to another person, and the general meaning of the card's message."

My personal card for today

: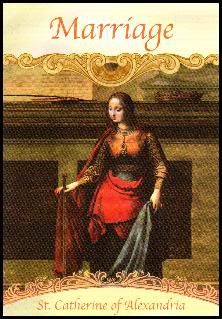 MARRIAGE - St. Catherine of Alexandria
Divinatory meaning: This is a message about your present or future marriage. You have a spiritual destiny with a spouse who's your soul mate. There's a Heavenly purpose for you and this person to be together, and you are supposed to help one another grow and prosper. You recognize your soul mate by having the feeling that you've known each other forever. Synchronistic events bring you together, and there's a sense of destiny and fate in your relationship.
This card means that a soul-mate marital partner is currently in your life or soon will be. If you want to manifest such a marriage, ask St Catherine to help you attract and discern an appropriate partner. She can also help you with self-honesty, which will allow you to determine whether a relationship is truly healthy and if you're compatible with this person.
St. Catherine is a powerful being who helped St. Joan of Arc during her visions. Born of Roman nobility in Alexandria, Egypt, Catherine was beautiful and intelligent and came from a wealthy family. Many suitors were attracted to her, but she announced that she had a mystical marriage to Christ. Catherine had a vision that caused her to publicly denounce the emperor. She was arrested, but her religious arguments converted 50 persecutors and 200 soldiers. Women have long invoked St. Catherine for help in finding a good husband.

Today's cards for each of the star signs

:

Due to lack of time, etc. These are the 'quick reading' messages - for the full reading and meaning of the cards you will need to obtain these cards for yourself - or get someone else to buy them for you as a gift!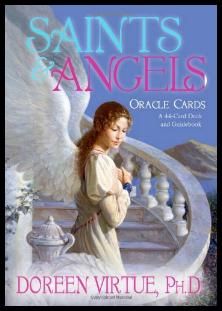 Here are your messages and insights for today. Try to sit quietly for a few moments, meditate on your card and think about how you can learn from, and act upon, its message...

Aries

: MOTHER - Mother Mary

Quick message: The answer to your question involves the topic of 'mother'. Mother Mary is with you, helping you with any emotional upsets with your own mother, such as grief, anger or worry. She can aid your healing from long-standing patterns between the two of you. This is also about you as a mother or caregiver. Mother Mary wants to help you in this life area. She'll alleviate any guilt or stress that may be interfering with the joy of parenting.

Taurus

: HEAVEN IS WATCHING OVER YOU - Guardian Angel

Quick message: Rest assured that God and your guardian angels are watching over you and your loved ones. You're very loved, and you're not alone in this situation… or ever. You have powerful helpers surrounding you at all times. This is a message for you to release any worries to Heaven. Worry never helped improve anyone one or anything. A better approach is to pray and ask for help and the allow Heaven to help you.

Gemini

: ACTIVIST - St. Mother Teresa

Quick message: You're guided to champion a cause, such as a social issue, a charitable group or a person in distress. Notice which issues arouse your passion or anger, and make a commitment to serve in some capacity to heal those situations. Like Mother Teresa, you can single-handedly make a positive difference in the world. She'll act as your guide in this matter if you'll ask for her help.

Cancer

: ANIMALS - St. Francis of Assisi

Quick message: You have a strong love bond with animals. As with St. Francis, they instinctively trust you. They can sense your compassion and understanding and come to you for help and companionship. You have an innate ability to communicate with animals, and you know what they're thinking and feeling. Your pets who have passed on also send you their love. They want you to know that they're happy and doing well in heaven.

Leo

: CHILD - Guardian Angel

Quick message: Your prayers for the little ones are given high priority and are always answered. This card is a message that you are being used as an Earth angel on behalf of children. The angels will help you in this endeavor if you'll ask for their assistance and guidance.

Virgo

: TRIUMPHANT! - Guardian Angel

Quick message: You'll be triumphant, and your desires will manifest. Don't worry about the appearance of challenges, because they're just an illusion that will soon disappear. Worrying about these issues will only fuel them with power and energy. See them instead as wispy clouds that can't really block you. Any obstacles that you've been experiencing are temporary. Your guardian angels are taking care of the details to remove them from your path.

Libra

: HEALTHFUL EATING - St. Raphael the Archangel

Quick message: The Archangel Raphael is the supreme healer within the angelic realm. In this capacity, he sees a need for you to alter your diet and eat more healthily. You've probably already heard this guidance through your repetitive thoughts or feelings.

Scorpio

: BELIEVE - St.Hildegard of Bingen

Quick message: To heal and improve this situation, it's important for you to believe. Have faith in miracles, the power of God's healing love, and the essential goodness within people. This is an important factor in determining the outcome of this situation.

Sagittarius

: LOOK DEEPER - Guardian Angel

Quick message: You need to look beyond the surface of this situation, as there is important information that you're not currently aware of (or haven't admitted to yourself). Your guardian angel will bring this to your attention; however, it requires you to be open-minded.

Capricorn

: LEARNING EXPERIENCE - Guardian Angel

Quick message: This situation is an opportunity for you to learn some important life lessons. Instead of looking at this experience as a problem, see it as something that will help you to learn and grow. Your guardian angel will help you see the current situation in a more positive light, as well as identify the lessons involved and heal away unwanted patterns. Simply ask your angel for help with these issues, and then pay attention to any loving thoughts or feelings that guide you to take action.

Aquarius

: STEADY PROGRESS - St. Therese of Lisieux

Quick message: You've been making steady progress, and it's important for you to recognise that this progress (not perfection) is what's important. This is a message for you to appreciate how much you've already achieved and how many people you've helped along the way.

Pisces

: EMOTIONS - St. Dymphna

Quick message: The answer to your question involves emotions - either yours or those of the person you're enquiring about. This is also a message for you to pay closer attention to your emotions. It's safe for you to admit your true feelings to yourself. This card is also a message for you to trust your feelings, especially as they guide you to make positive changes. Your feelings are the voice of Heaven speaking through you, and you have a right to them, even if others disagree with them. You can also release any upsetting emotions to God, St Dymphna and the angels for healing and guidance.

Please feel free to leave any comments here on Blogger, or on my Facebook Page
The Daily Divination
, or on
Twitter
Thank you!