Good morning!

The sun is streaming in the window and it looks lovely outside, however we are experiencing very bad air pollution and 'smog' over a lot of the UK at the moment, with poor air quality and Saharan dust everywhere...

Health warnings have been issued, with some people being advised to stay indoors. It's not pleasant for anyone, but especially for asthma sufferers!

You can read about it here

Luckily I am in a 'moderately' effected area - I pity those in the worst hit areas...


* * * * * * *
I am still experiencing frustrations with my computer, while backing up my files online. It will take several days for this initial upload (and slows down my computer) but afterwards future back-ups will be much quicker and at least I will have peace of mind that I wont lose everything when this pc eventually quits altogether!
Time to get on with the cards!
Please find your message and affirmation for Thursday below and whatever your star sign - have an enjoyable day :)
Brightest Blessings,
Kaz
www.blessingz.co.uk
www.cheekywitch.co.uk

This week I am using the
Angels of Light Cards
by Diana Cooper
Quoted from the pack: "Angels are high spiritual beings. They come from the heart of God as guides, protectors, helpers and healers. Angels are willing and able to help us in many ways throughout our lives, all we need to do is call on them and they will respond. Allow these cards to help you bring them into your life.
Diana Cooper, best selling author of 'A Little Light on Angels', 'A Little Light on Ascension' and 'A Little Light on the Spiritual Laws' has created this beautiful new set of cards. This pack contains 52 cards, a 48 page booklet and a velvet bag which will allow you to carry the cards wherever you go."
(These cards do not have different illustrations just the beautiful image below on the back and all text on the front.)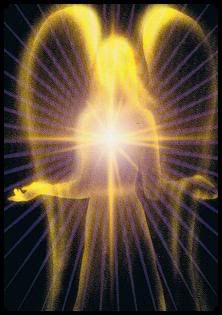 My personal card for today

: FLEXIBILITY

Life is full of changes and surprises. Your guidance is to move with the current, for it is resisting the flow which creates problems.

Ask your angel to help you open your mind and heart to new ideas and fresh options.

When you accept the possibility that there are other ways, previously unseen doorways will be opened to you and you will move easily through change.

There is a solution to every problem, so look at all things with eyes of love and expectation. Then life force will flow freely through you.

You will feel healthy and alive and can access the necessary resources and wisdom within yourself to help you through change.

Affirmation: I am free and flexible.

Today's cards for each of the star signs

:

Due to lack of time, etc. These are the 'quick reading' messages - for the full reading and meaning of the cards you will need to obtain these cards for yourself - or get someone else to buy them for you as a gift!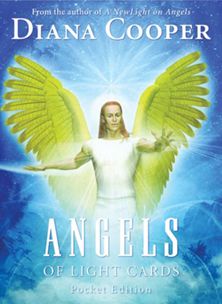 Here are your messages and insights for today. Try to sit quietly for a few moments, meditate on your card and think about how you can learn from, and act upon, its message...

Aries

: VULNERABILITY

Quick message: Only the brave and open hearted dare to allow themselves to be vulnerable, for it requires courage to take down all walls and expose your humanness. Your angel guidance is to become aware of your defence mechanisms, which keep you separate from others and the Divine. Ask your angels to help you dissolve your masks and barriers so that your fragile true self can emerge like a butterfly from its cocoon.

Affirmation: Vulnerability is my strength.

Taurus

: CURIOSITY

Quick message: See life through the curious eyes of a child and you will discover a never-ending source of happiness and excitement. Curiosity keeps you alive, interested and interesting. The angels are inviting you to be curious about yourself. Start exploring who you are and you will grow personally and spiritually. Be interested in people. Be curious about the wonderful Universe in which you live, about the angels and their role in the divine plan.

Affirmation: I explore the wonder of life.

Gemini

: COMMUNICATION

Quick message: The angels remind you that being spiritual is about being genuine and honest. When you speak from the heart, others feel the resonance of truth and trust you. Talk positively. Focus on the good in life and you will feel happier and healthier. Always keep channels of communication open. Be a bridge to others' hearts and minds. Ask your angel to step into your aura and communicate in a higher way through you.

Affirmation: I communicate clearly and honestly.

Cancer

: FUN

Quick message: Your guidance is to take time to enjoy yourself. Relax and find your sense of humour. Treat things lightly. Fun brings lightness of spirit, and the most difficult situation can be eased if you see the funny side of things. When you have fun the angels rejoice for there is nothing they love more than joy, play, humour and laughter.

Affirmation - I lighten up and make everything fun.

Leo

: ACCEPTANCE

Quick message: Acceptance means unconditional love. The angels remind you to accept everyone exactly as they are, without judging, blaming or wanting to change them. When you are totally accepting you bear no malice or enmity towards anyone or anything. You are also asked to accept yourself. When you truly do so, you feel centred and confident and your divine self is revealed.

Affirmation: I accept myself and others.

Virgo

: ABUNDANCE

Quick message: It is time for your life to flow with prosperity, love and success. You draw from the limitless universal pool according to your belief in how much you deserve. Angel wisdom is reminding you now to believe in yourself and trust that you deserve more. Then you will attract abundance and the true riches of life. Enhance your prosperity by receiving graciously, giving out willingly and saying thank-you for everything. Enjoy all you have and more will come to you.

Affirmation: I deserve love, prosperity and abundance.

Libra

: ARCHANGEL RAPHAEL

(2 days in a row!)

Quick message: You are blessed to attract this angel card, for Archangel Raphael brings health, healing and abundance. He will help you to develop your intuition and inner vision. Call on him if you need help in these areas now. If you are a healer or wish to become one, Archangel Raphael will direct pure divine energy through you. He works on the green ray of healing and balance, so visualise yourself surrounded by a clear green light and invoke his guidance.

Affirmation: I am happy, healthy and abundant.

Scorpio

: HONESTY

Quick message: Angel wisdom reminds you that your every thought, word, emotion and action is reflected in your aura. When you are honest, your aura is crystal clear. Everyone knows where they are with you and feels totally safe. When you are totally honest with yourself, you behave with integrity and dare to be open, for there is nothing to hide. people respect and trust you. As you radiate a resonance of honesty, people respond to you with openness and honesty in their turn.

Affirmation: I am honest in thought, word and deed.

Sagittarius

: ADVENTURE

Quick message: Life is an adventure. Be ready for the unexpected and make the most of all opportunities. The angel wisdom suggests you get out of any habits or ruts in which you are stuck. Do things which are different and face life with a sense of wonder. The angels are inspiring you to move forward with anticipation, expectancy and hope.

Affirmation: I face the adventure of life eagerly.

Capricorn

: GRATITUDE

Quick message: Your guidance is to count your blessings. When you say thank-you to the Universe for its gifts, it responds generously to you. Angel wisdom reminds you to say thank-you for all that you have, the intangible as well as the tangible. Whenever you say thank-you from your heart, more is bestowed on you, for gratitude is the key to opening the doors to universal abundance.

Affirmation: I am grateful for everything in my life.

Aquarius

: SELF-WORTH

Quick message: Self-worth bestows a sense of confidence, expectation of success and ability to love. When you value yourself, you become open and friendly, slow to take offence and quick to forgive. With true self-worth, you radiate a golden aura which enfolds others and makes them feel good too. Ask your angels to step into your aura and guide you.

Affirmation: I am confident and worthwhile.

Pisces

: ARCHANGEL MICHAEL

Quick message: When you are blessed with this angel card, you are guided to invoke Archangel Michael to help protect and strengthen you. He will increase your ability to deal with problems, so ask him to cut with his sword any emotional cords which bind you to people, stuck situations or past memories. Then ask him to fill you with strength and love. He will shield you from the destructive thoughts, emotions and actions of others.

Affirmation: I am strong and protected by Archangel Michael.

Please feel free to leave any comments here on Blogger, or on my Facebook Page
The Daily Divination
, or on
Twitter
Thank you!