Greetings!

Another very busy day for me - because it is Mother's Day here in the UK this coming Sunday and I have been inundated with last minute orders for Bagz of Blessingz!

Just taking a quick break for lunch and to fly in and do the cards for today, then I must get back to work!

Please find the message for Wednesday below and whatever your star sign - have a productive day :)

Brightest Blessings,
Kaz
www.blessingz.co.uk
www.cheekywitch.co.uk



This week we are addressing the 'inner child' because I am using the
Magical Unicorns Oracle Cards

by Doreen Virtue, Ph.D.
Quoted from the pack: "With the Magical Unicorns Oracle Cards deck, you can receive messages and guidance related to your present life, your future, and your spiritual path. Suitable for adults and children of all ages, each card features a beautiful unicorn painting and a life-affirming message. The enclosed easy-to-follow guide book, allows you instantly give accurate readings to yourself and others."
These cards are beautiful and the messages are simple, innocent and child-like. They can be used to help teach your child how to use and work with guidance cards, but also it is nice to address our own 'inner child' at times... so that's what we're doing this week!

My personal card for today

: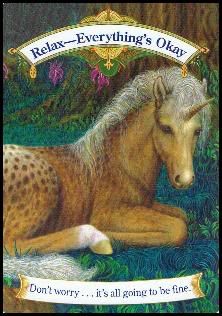 Relax - Everything's okay
Don't worry... it's all going to be fine.
Full meaning: No matter what your situation right now, this card asks you to relax and let go of worries. Everything will be okay.
Have you ever seen a movie in which everyone seems to be in danger or in trouble of some sort? As you watch the movie you wonder "How will they ever get out of this?" Yet at the end of the film, everything works out fine and everyone's happy.
In the same way, your movie will have a happy ending, too. So don't stress or worry. Instead, enjoy watching how your life story unfolds in an amazing way! Life works itself out in ways that we could never have thought of.
Your current situation will be over soon, and you'll be fine. You'll learn life lessons that will help you in the future. So use this current time to make yourself stronger. Breathe deeply, try your best to stay positive and happy, and remember to relax because everything's going to be okay.

Today's cards for each of the star signs

:

Due to lack of time, etc. These are the 'quick reading' messages - for the full reading and meaning of the cards you will need to obtain these cards for yourself - or get someone else to buy them for you as a gift!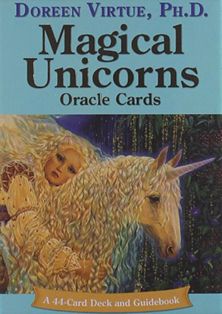 Here are your messages and insights for today. Try to sit quietly for a few moments, meditate on your card and think about how you can learn from, and act upon, its message...

Aries

: Change

Quick message: The changes that you're going through are positive.

At times, we're afraid of making changes because we don't know what will happen in the future. This card wants you to know that the changes you're going through are for the best. You're walking through a gate into a new life. Don't worry about your future, because it's all going to work out just fine.

Taurus

: Simplicity

Quick message: Put your energy into the basics, and let go of excess.

This card says that things have gotten too complex for you lately. It's time to pull back and focus on what you know for sure. For example, what do you really want? What do you know that you don't want? These are basics that will help you answer bigger questions later.

Gemini

: Definitely Yes

Quick message: The answer to your question is a strong "Yes!"

This cards asks you to set aside doubts or worries, and to feel secure that everything is positive. Your desires are going to happen, and probably in better-than-expected ways. Imagine that your has already come true, using your inner vision and your feelings as you do. You just need to stay filled with faith and hope, and take action when you're guided.

Cancer

: Light

Quick message: See the light within yourself and everyone else.

Everyone has a beautiful light within them, no matter what they look like or how they act. This light is pure. The more you focus on the light within others, the more you can help them be happy and healthy. As you focus on seeing and feeling light within yourself and everyone, you'll notice a positive change in your life. For example, people will treat you better, your family members will seem happier, and you'll sleep better at night.

Leo

: Family Culture

Quick message: Learn more about your family's stories and history.

The most important time in your life is right now, so don't spend too much time focused on your family's past. However, learning about it will definitely help you enjoy yourself more right now. So, take the time to ask your family and your inner mind some questions about your past, but put most of your energy into enjoying all the present moments.

Virgo

: Teamwork

Quick message: Work with others to make this situation come about.

The situation you've asked about will resolve itself with the help of other people. You need to be part of a team to make it happen in the best possible way. Teamwork means that everyone shares in the work and the fun. It also means thinking about other people's feelings, as well as the group's goal.

Libra

: Wish upon a star

Quick message: Make a wish and expect the very best.

Make your wish and then believe it will come true. Ask for your heart's desires - they'll come to you in the perfect time, in the perfect way. You don't need to know how your wishes will happen… all you need to do is make the wish. Then your inner voice may tell you to take action to make the wish come true. The inner voice always gives you positive words and feelings, and you must listen to it so that you can help yourself and others.

Scorpio

: Love from your parents

No matter what, your mother and father love you as much as they can.

This card is telling you that your mother and father both love you, even though you may not always be able to feel their love. Everyone shows love in different ways - for example, some people show that they care through actions, such as giving you things or trying to help you. Other people express through words that they say or write. If your mother and father show their love in ways you don't understand, you can talk to them about your feelings.

Sagittarius

: Finish what you started

Quick message: You've started something important, and now it's time to complete it.

It's actually easier to finish something than it is to deal with feelings related to the project being incomplete. The easiest way to finish is to spend daily time working on it a little bit. What can you do today to bring the project to completion? If you're unsure, ask your angels and unicorns for help. They can give you ideas, as well as the energy to work on finishing what you've started. You'll thank them and yourself after the task is done!

Capricorn

: Happy Surprise

Quick message: Something very good is about to happen.

You're in for a treat, as you'll soon have a very happy surprise. Don't try to guess what will happen… or it won't be a surprise! Instead, just feel excited and joyous. All surprises are gifts of love. The more you notice them and say "Thank you," the more gifts you'll continue to receive. Have faith, because the world really does love to give to you. The world loves it when you're happy.

Aquarius

: Curiosity

Quick message: Start a project related to something you're curious about.

This card asks you to start a special project that allows you to learn more about this topic. Make the time to read about the area related to your curiosity. Interview experts who are working in the field. Create an experiment or science project to help you learn more. In other words, use your curiosity as fuel to drive you forward toward a better understanding of yourself and your world.

Pisces

: Best friends

Quick message: True friends stick together, no matter what.

We all need friends, and spending time with them is the way that people become our best friends. So reach out to the people you like today. Talk about your feelings, play games, laugh, take a walk, eat lunch together, or just sit and watch the clouds go by. No matter what you do, it's better to do it with your best friend.

Please feel free to leave any comments here on Blogger, or on my Facebook Page
The Daily Divination
, or on
Twitter
Thank you!