Greetings!

Where has the morning gone?!

Can't believe it's lunchtime already - but I have been a busy bee this morning - considering I didn't get to bed until well past 1am, I think I've done very well!

(I'm not a morning person, definitely a nightbird and I often find myself working online until the early hours, without realising what the time is.)

Anyway, back to today...

What a glorious day it is - the sun is shining, the sky is blue - perfect for the first day of spring!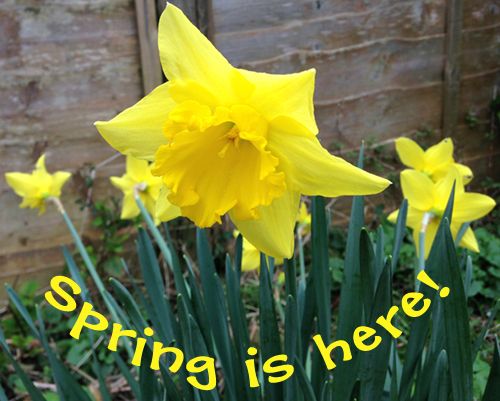 Shame we have to work...
Please find your message for Thursday below and whatever your star sign I'd like to wish you all a Happy Equinox, a Blessed Ostara and a beautiful day!
Brightest Blessings,
Kaz
www.blessingz.co.uk
www.cheekywitch.co.uk

This week I am using the
The Answer Is Simple Oracle Cards

by Sonia Choquette


Quoted from the pack: "These Oracle cards provide immediate access to your divine Spirit, where you receive specific guidance for any and all challenges facing you in life. Each card not only offers direction for particular proplems, it also reinforces the path to your Higher Self, freeing you from the turbulence and fear of the ego plane.
You can use this deck (and the accompanying guide book) for specific direction, meditation, and life and purpose readings and to offer guidance to others; as well as to connect to your Divine Self, where drama and stress give way to joy and inner peace.

My personal card for today

:
Accept Love
Full meaning:
The answer is simple: ACCEPT LOVE - As a Divine child of the Universe, your Creator fully loves your Holy Spirit. Moreover, your Spirit is pleasing to God and to those around you. Your ego doubts this truth. It whispers into your ear that you aren't good enough, smart enough, attractive enough, or accomplished enough to be genuinely loved. This is a lie, which you must fight.
You're infinite light in the learning curve of the human experience. Your Creator knows you only to be beautiful, Divine, infinite light and loves you without condition. Only your ego leads you to believe otherwise. Summon your light and cast it upon the shadow of your fears.
There's no need to seek love, for it's present for you now. There's only a need for you to relax your fears and accept the love that your Creator and life has for you at this moment.
Ask your Spirit to shed its brilliant illumination onto these dark and fearful thoughts. Breathe in and accept the light and love your Creator has for you. Let it chase away the shadows of self-doubt and judgement away.

Today's cards for each of the star signs

:

Due to lack of time, etc. These are the 'quick reading' messages - for the full reading and meaning of the cards you will need to obtain these cards for yourself - or get someone else to buy them for you as a gift!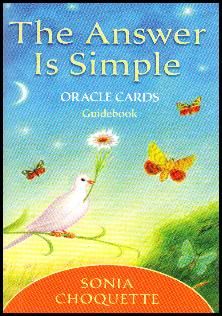 Here are your messages and insights for today. Try to sit quietly for a few moments, meditate on your card and think about how you can learn from, and act upon, its message...

Aries

: Listen to the Music

Quick message:

The answer is simple: LISTEN TO THE MUSIC - The bridge to heaven is music, and right now your Spirit is calling you to enjoy its benefits. Don't allow your ego to diminish its benefits. Don't allow your ego to diminish its importance to your Spirit or cut off from its fuel - music not only regenerates your body, it also raises your vibration and fills your heart with joy and enthusiasm. Turn on the music to gain access to your Higher Self and the Divine Plane of inspiration now. Music will calm the moment. As you listen to it, the heavenly forces will work on your behalf to bring about joyful resolution and a peaceful outcome.

Taurus

: Just Laugh

Quick message:

The answer is simple: JUST LAUGH - It's time to brighten your mood. No matter how sombre or intimidating life appears right now, don't allow your ego to get too serious. Step away from the present situation for a moment and see the humour in what's in front of you. Call upon the Divine forces of laughter, the great friends of your Holy Spirit, and ask them to help elevate your perspective with humour and mirth. Laughter is the voice of your Spirit.

Gemini

: Talk to God

Quick message:

The answer is simple: TALK TO GOD - Stop talking to your ego. It only confuses you and makes you fearful. Besides its advice is terrible and never brings the results it promises. Converse with God instead. Instruct your ego to be quiet, and allow your Spirit to have a heart-to-heart with your loving Creator. Ask the Divine for direction. Listen with your Spirit, in the very centre of your heart, and don't permit your ego to interrupt. There you will find the answers.

Cancer

: Invest in Your Spirit

Quick message:

The answer is simple: INVEST IN YOUR SPIRIT - The ego discourages time and energy spent on developing and strengthening your Spirit, calling it wasteful and impractical. Your Spirit, however, knows that anytime you invest in self-care, it will return to you a thousand fold or more in terms of happiness, peace of mind, and abundance in the outer world. Supply your Spirit with the time, energy, and support it needs in order to be strengthened and grow. There's no more worthwhile investment right now.

Leo

: Blow Off Some Steam

Quick message:

The answer is simple: BLOW OFF SOME STEAM - Whoa! Easy now. Your ego is feeling threatened, so it has moved into "fight or flight," filling your body with adrenaline, making you ready to come out boxing. When your body is flooded with this hormone, it's difficult to connect with your Spirit because you're filled with fear. In this state, you're likely to make rash decisions, say things you don't mean, draw conclusions that aren't accurate, and overreact. The best way to reconnect with your Spirit and find the correct course of action at this time is to blow off some steam. Go to the gym and punch a bag. Hop in the shower and scream at the top o your lungs. Visit the seashore and yell into the wind. Make no decisions while you are riled up. Stay off the phone. Refrain from sending emails - no text messages either. Wait until you have clarity before you act. As your fear subsides, your Spirit will emerge.

Virgo

: Call Your Spirit Home

Quick message:

The answer is simple: CALL YOUR SPIRIT HOME - Are you tired of the same dreary arrangement of self-denial, insecurity, and boredom that you come home to at the end of every hard day at work? You feel this lack of inspiration because your joyful Spirit has been living outside of your body and your home. Your ego has taken over and pushed it out the door. It's time to call your Spirit back. Your spirit is holy and requires a place of peace and serenity to dwell in. Invite it home by cleaning up your residence and airing out the old. If your home is cluttered, dusty, falling a part, and just plain ugly, it's not appealing to your Spirit. Clean up and clear out the debris to attract your Spirit once again. Make you space a place truly worthy of your Spirit and it will return. Light a candle, say a prayer, and call it home. You'll know that you've succeeded because you will feel inspired and happy to be home, in every sense of the word.

Libra

: Celebrate You

Quick message:

The answer is simple: CELEBRATE YOU - You're flowing in the grace of your Spirit, and it shows. There's light in your eyes and fire in your belly. You're a joy to be around and an inspiration to others. Stay present to your inner radiance and remain focused on your Spirit. Let it continue to lead day by day, and don't be afraid to tell others about your joy. You've been faithful to your Spirit, and the results are beginning to show. The more you openly celebrate your Spirit, the more your ego will relax and begin to trust it. When ego and Spirit become partners, you'll begin to live an unbelievably charmed life. You're on your way - keep it up.

Scorpio

: Open Your Heart

Quick message:

The answer is simple: OPEN YOUR HEART - To love yourself and experience all the blessings your Spirit offers, you must have an open heart. You can't fully experience love of any sort - that of self or otherwise - if it isn't open. As Divine beings, we're all born with a welcoming heart: the one that expects life to be a positive experience. It's especially important right now to open yourself up, because life is trying to deliver you the gift of love. Your Spirit and the Divine Source of all Life knows exactly what your core needs and is more than willing to supply that and so much more - but it can't succeed if you're not prepared to receive the blessings it wants to rain on you. Only a willing heart can receive your innermost desire. Take the risk: Feel the love coming in… open your heart and believe.

Sagittarius

: Look Forward

Quick message:

The answer is simple: LOOK FORWARD - The ego looks backward and wallows in regret; the spirit looks forward with excitement and wonder. The ego looks down and sees few options; the Spirit looks up and perceives endless possibilities. The ego looks for problems and views itself as a victim; the Spirit seeks out solutions and sees itself as a genius. There's nothing blocking you except the ego habit of limiting your own view. Glance up and you'll see doors opening to you. You're free from the past, so don't look back anymore. Peer ahead with the light heart of your Spirit. You'll be delighted by what you see.

Capricorn

: Turn Back

Quick message:

The answer is simple: TURN BACK - Your ego has lead you down a dead-end road. You're following lines of thought, choosing a path, aligning with others, or are otherwise involved in things that don't serve or reflect your Spirit in any way. Stop moving in this direction and turn back. Ask yourself,

Why am I abandoning me? What am I hoping to get out of ignoring my inner truth?

If you're honest with yourself, you'll admit that the path you're on will do you no possible good. Seek the support of your soul family, and pray for the courage to align with your Spirit once again. Be decisive and swift in your choice, and explain it to no one. To follow your Spirit is your Divine right and no one has the power to challenge or interfere with this. Remember your Spirit and turn back now, before you drift away any further.

Aquarius

: Thank God

Quick message:

The answer is simple: THANK GOD - The ego focuses on lack and therefore creates it. The Spirit concentrates on the endless stream of gifts God gives us and thus creates that. This is because the greatest blessing the Divine bestows on us is the ability to create what we focus on. Pay attention to all that God gives and you get more; focus on lack and you get less. Thank God throughout the day and you will be blessed with abundance. Offer gratitude for being alive, for the opportunities at hand, and for your challenges and ability to find solutions. Give thanks for your health, your life, your family, and your friends. Show appreciation for your blessings before they arrive. Your ego can discover how to attract flow and abundance if it joins with your Spirit in giving thanks to God for everything to day.

Pisces

: Give It to God

Quick message:

The answer is simple: GIVE IT TO GOD - Our greatest challenge is to rise above our fears and trust in God, our loving Creator, to guide and protect our lives. Your ego would have you believe that it alone is the source of power that guards you, and only it can be trusted. This isn't accurate and keeps you hostage to it. The Universe has a better plan for you. Although you may not know the plan or see how the Universe will protect you, trust that it will. Your worry is doing you no good, so stop it. Reconnect with your Spirit and trust in God. You can.

Please feel free to leave any comments here on Blogger, or on my Facebook Page
The Daily Divination
, or on
Twitter
Thank you!