Good morning!

It's Friday again already - this week has just flown by - hasn't it?

One of the first things I saw on Facebook this morning was this: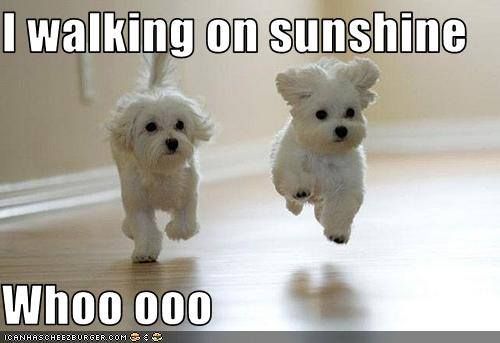 Such a cute photo and it really made me smile - so thought I would share it with you too!
(Are you singing or humming the song yet?!)
I'm in full on creative mode at the moment - so many ideas and don't know what to do first - but my card for today says to Focus, choose my priorities and eliminate all distractions.... so I had better do just that!
I hope you have found your cards and messages relevant and insightful this week?
Please find your message for the weekend below and whatever your star sign - have a good one :)
I'll be back on Monday with a different deck!
Brightest Blessings,
Kaz
www.blessingz.co.uk
www.cheekywitch.co.uk

This week I am using the

Power Animal Oracle Cards

by Steven D.Farmer, Ph.D.


Quoted from the pack: "Power Animals are spirit guides in animal form who provide protection, guidance and healing. This deck of 44 oracle cards by Steven Farmer will connect you with animal spirit guides who will advise you about any aspect of your life. Whether you're a beginner or an experienced reader, the enclosed easy-to-follow guidebook provides instructions to help you immediately give accurate readings to yourself and others."

My personal card for today

: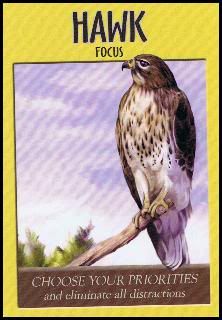 HAWK - FOCUS
CHOOSE YOUR PRIORITIES and eliminate all distractions
Divinatory meaning: Look at all the choices before you, and select one to which you're willing to give your passionate attention. Once you decide, the right action to take becomes apparent, and Life supports you and provides what you need. You can then arrange all your priorities around that which you've chosen. Set personal boundaries and practice self-care when and where needed. If you don't, you can easily get overwhelmed and fragmented, and your power will become scattered and diffused.
Let go of all those habitual diversions that you've made so important. It's time to go to work on the priority you chose and let it flow. The practice of staying focused is in itself a meditation, and this is how you can best express the gifts of service you have to offer to the world and to your Creator.
Additional Associations: Messenger; Perspective; Detachment; Swiftness

Today's cards for each of the star signs

:

Due to lack of time, etc. These are the 'quick reading' messages - for the full reading and meaning of the cards you will need to obtain these cards for yourself - or get someone else to buy them for you as a gift!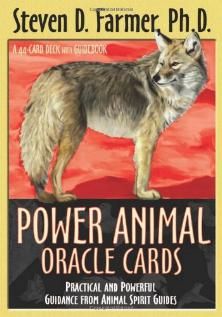 Here are your messages and insights for today. Try to sit quietly for a few moments, meditate on your card and think about how you can learn from, and act upon, its message...

Aries

: HORSE - FREEDOM

You always have a CHOICE

Additional Association: Integrity; Compromise; Speed; Agility

Taurus

: FROG - PURIFICATION

CLEAR OUT the clutter

Additional Associations: Singing; Rhythm; Rainmaker; Sensitivity

Gemini

: LIZARD - DREAMTIME

Pay attention to your DREAMS AND VISIONS

Additional Association: Primal; Ancient; Reflexive; Spontaneous

Cancer

: BLACK PANTHER - PASSION

Follow your PASSION

Additional Associations: Sensuality; strength; Clarity; Solitude

Leo

: DOLPHIN - PLAYFULNESS

Take time to PLAY

Additional Association: Communication; Breath; Community; Guidance

Virgo

: BEAR - BOUNDARIES

STAND your ground

Additional Association: Protection; Creativity; Solitude; Healing

Libra

: GIRAFFE - FORESIGHT

YOU ARE ABLE TO SEE what is in store for the future

Additional Associations: Prophecy; Divination; Risk-taking; Gentleness

Scorpio

: SWAN - GRACE

APPRECIATE THE BEAUTY inside and all around you

Additional Associations: Elegance; Purity; Innocence

Sagittarius

: BUFFALO - ABUNDANCE

YOU ARE PROVIDED FOR in all ways

Additional Associations: Generosity; Gratitude; Surrender; Sacrifice

Capricorn

: HUMMINGBIRD - JOY

LIGHTEN UP

Additional Association: Flexibility; Sensitivity; Vibration; Colour

Aquarius

: DRAGONFLY - ILLUSION

YOU KNOW who you really are

Additional Associations: Colourfulness; Mirage; Mystery; Deception

Pisces

: EAGLE - SPIRIT

TRUST in your higher self

Additional Association: Vision; Courage; University; Masculinity

Please feel free to leave any comments here on Blogger, or on my Facebook Page
The Daily Divination
, or on
Twitter
Thank you!