Thank Goddess it's Friday!

Not that it makes that much difference as I don't really get weekends off - being self-employed means you never stop working - however there's something about it being a Friday that makes you exhale and think:
"Yay, it's Friday!"
It's been a busy week, not sales-wise, as no one has much money to spend in January, however I have been working hard on my
website
,
Amazon
and
Zazzle
Stores - and trying to get to grips with
Google+
It's all Greek to me at the moment, but I do need to figure it out, if I am to keep up with 'social media' as it changes and evolves....
If any of you who use Google+, have any hints, tips or advice please do share!
BRRRRR! It is cold today - a definite drop in temperature in the UK - but nothing like across the pond! Thankfully!
I need to turn the heating up and have more coffee, but first the cards!
I hope you have found the
Saints & Angels'
messages helpful and relevant this week?
Please find your message below. I'll be back on Monday using a different deck :)
Whatever your star sign - have a magickal weekend :)
Brightest Blessings,
Kaz
www.blessingz.co.uk
www.cheekywitch.co.uk

This week I am using the


Saints and Angels Oracle Cards

by Doreen Virtue, Ph.D.



Quoted from the pack: "Now you can easily receive messages and guidance from beloved saints such as Mother Teresa, Bernadette, Joan of Arc, Hildegard, Padre Pio, Anthony, Francis, and Cecilia. Doreen Virtue has created a nondenominational deck of oracle cards that people from various spiritual and religious backgrounds are sure to appreciate and enjoy.

Forty-four cards with breathtaking artwork depicting God, the Holy Spirit, Jesus, saints, archangels, and guardian angels give you answers and gentle advice. A guidebook accompanying the cards thoroughly explains how to receive guidance about the present and future, how to give an accurate reading to another person, and the general meaning of the card's message."

My personal card for today

:
HIGHER EDUCATION - Guardian Angel
Divinatory meaning: Your angel is guiding you to gain further education, either by attending school or through independent study. Higher education refers to instruction with a spiritual basis, so this is a message for you to study topics that capture your true interests. For instance, if there's a spiritually based service career that you yearn for, now is the time to begin looking at furthering your knowledge in that area. This may mean attending formal classes, reading books on the topic, or working with a mentor.
Give any worries about having enough time, money, or skill to your angel. You're being pushed to learn more as a result of your prayers for increased fulfilment. Trust that this door is opening for you at the right time, and walk through it with full faith. Begin with simple steps, such as researching various classes on your chosen topic.
Even though you may feel that schooling will take time, remember that you'll be alive and doing something during that time anyway. You may as well use your days wisely by investing in something meaningful. By pursuing higher education, you'll gain newfound wisdom, higher self-esteem, new friends, and exciting opportunities.

Today's cards for each of the star signs

:

Due to lack of time, etc. These are the 'quick reading' messages - for the full reading and meaning of the cards you will need to obtain these cards for yourself - or get someone else to buy them for you as a gift!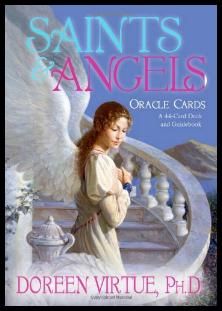 Here are your messages and insights for today. Try to sit quietly for a few moments, meditate on your card and think about how you can learn from, and act upon, its message...

Aries

: FAITH - Guardian Angel

Quick message: Think of all the miracles you've experienced in your life so far. This card asks you to have faith that Heaven will continue to help and support you along the way. Your faith is a key factor right now, and it's important that you keep it strong. Like the angel in this card's painting, you're about to take a leap of faith. The message is that it's safe for you to make this leap - you're finally following your heart's wisdom, and it will pay you unseen dividends.

Taurus

: PEACEFUL - Holy Spirit

Quick message: The Holy Spirit has descended upon you and the situation that you are enquiring about. Get in touch with this Divine energy by focusing upon the peace that's deep within your heart… This might require that you spend some quiet time alone in stillness. Rest assured that the Holy Spirit's peace is pervading this situation and opening the hearts of everyone involved. It brings about compassion so that everyone can see each other's point of view. This engenders forgiveness, which then opens and smoothes the path to peacefulness.

Gemini

: MIRACLE - Christ

Quick message: Christ is with you and engendering a miracle for you and the situation you're asking about. He shines God's light upon you and your loved ones, keeping you all safe and protected. You've asked for a miracle, and one is with you. Let go of how you think it should appear, as it comes directly from God's infinite wisdom, through Christ, and into your life.

Cancer

: BLESSINGS OF ABUNDANCE - Guardian Angel

Quick message: Your prayers have been heard and answered. Your daily bread and other needs are being provided for, now and in the future. Give your fears and worries over to God and the angels, and have faith that they're taking care of you and your loved ones. Let go of worrying about how your needs will be met, because God's infinite creative wisdom will take care of the details. Be open to receiving gifts and help from other people, as this is one way in which the Divine answers your prayers.

Leo

: PAUSE - Guardian Angel

Quick message: Your guardian angel asks you to pause for a moment before moving forward. During this break, take time to consider your true thoughts and feelings about this situation. You've been moving so fast lately that you may have confused other people's wishes with your own. Take time out and really be honest with yourself: What do YOU want? What do YOU think is the right thing to do.

Virgo

: HEALING - St. Padre Pio

Quick message: This is a powerful card, as it signifies the power of prayer. Your requests regarding health have been heard and answered. The situation is surrounded by God's rejuvenating love and is resolving itself in a miraculous way. This is also a message about your healing abilities and a call from Heaven for you to use those talents to help others in a more powerful way. If you elect to follow this calling, God will open the doors for your career. St Padre Pio, who both heals and helps those who follow this path, will inspire and protect you as you make any necessary life changes.

Libra

: YOU FOUND IT! St. Anthony of Padua

Quick message: This message is about finding something of great value, such as your life path or a lost item. St. Anthony asks you to have faith that you have found (or will soon find) what you're looking for. Both St. Anthony and the Archangel Chamuel can help you locate lost items. Call upon them both (either silently or aloud) and ask then to help you. Then pay attention to your inner guidance, such as gut feelings, visions or thoughts. Follow this wisdom, and you'll find the item. And if for some reason it doesn't immediately return, hold the faith that it will come back to you in Divine timing.

Scorpio

: LEARNING EXPERIENCE - Guardian Angel

Quick message: This situation is an opportunity for you to learn some important life lessons. Instead of looking at this experience as a problem, see it as something that will help you to learn and grow. Your guardian angel will help you see the current situation in a more positive light, as well as identify the lessons involved and heal away unwanted patterns. Simply ask your angel for help with these issues, and then pay attention to any loving thoughts or feelings that guide you to take action.

Sagittarius

: EMOTIONS - St. Dymphna

Quick message: The answer to your question involves emotions - either yours or those of the person you're enquiring about. This is also a message for you to pay closer attention to your emotions. It's safe for you to admit your true feelings to yourself. This card is also a message for you to trust your feelings, especially as they guide you to make positive changes. Your feelings are the voice of Heaven speaking through you, and you have a right to them, even if others disagree with them. You can also release any upsetting emotions to God, St Dymphna and the angels for healing and guidance.

Capricorn

: SLEEP - Guardian Angel

Quick message: Take a look at the topic of sleep in answer to your question. Most likely, this is a message for you to get more rest. Cut unnecessary activities from your schedule and get a good night's sleep. If emotional upsets are keeping you awake, give them to God and your angels. You can easily do this by mentally picturing your angel holding a bucket. Put any troubles into the bucket and watch the angel take them away to heaven, where everything is resolved.

Aquarius

: STEADY PROGRESS - St. Therese of Lisieux

Quick message: You've been making steady progress, and it's important for you to recognise that this progress (not perfection) is what's important. This is a message for you to appreciate how much you've already achieved and how many people you've helped along the way.

Pisces

: RETREAT - Guardian Angel

Quick message: This is a strong and clear message for you to go on a retreat as soon as possible. Your guardian angels want you to have some peace and quiet time, because you need to rest, rejuvenate and regroup. You'll gain new insights and the answers you seek, as well as develop a better understanding of the direction you need to go in and which step to take next.

Please feel free to leave any comments here on Blogger, or on my Facebook Page
The Daily Divination
, or on
Twitter
Thank you!