Greetings!

I'm sorry - I'm really sorry - but I just CANNOT do it!

My card for today says: "For one week, stay clear of caffeine"!

I just can't... Sorry PTB... I can't :(

"Throw out any unwanted items, especially those with any negative energy. Clear out your wardrobe."

I even though I am a terrible hoarder, that I

could

do - possibly - if I can find the time this weekend...

But give up Coffee?

NO WAY!!

Please find you card and message for Thursday below, and whatever your star sign - have a wonderful day ;)

Brightest Blessings,

Kaz

www.blessingz.co.uk www.cheekywitch.co.uk www.kazzazzle.com

This week I am using the


Cosmic Ordering Oracle wish Cards



by Stephen Richards and Karen Whitelaw Smith



Quoted from the pack: "This guidance booklet will give you the meaning of the 44 pocket sized Cosmic Ordering Oracle Wish Cards. Use them in many different ways and learn to work with the energy of that card.

Use the cards in your daily life to make a wish and watch it come true."

My personal card for today

:
DETOX
Wash away your worries
Full meaning: Have you been ignoring signs of overload in your body? Balance your physical body and clear your channel to the Cosmos. Begin today.
For one week, stay clear of caffeine, alcohol and sugar. Allow this cleansing to revitalise your liver and blood. Drink more water, to purify your system.
Throw out any unwanted items, especially those with any negative energy. Clear out your wardrobe - embrace the concept of enough. Now wait to receive the blessings you have made room for.

Today's cards for each of the star signs

:

Due to lack of time, etc. These are the 'quick reading' messages - for the full reading and meaning of the cards you will need to obtain these cards for yourself - or get someone else to buy them for you as a gift!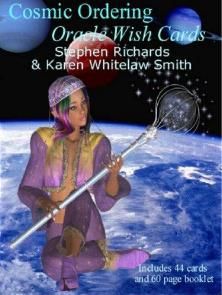 Here are your messages and insights for today. Try to sit quietly for a few moments, meditate on your card and think about how you can learn from, and act upon, its message...

Aries

: DREAM BIG

Live life to the full

You stand at the door of unlimited abundance. The bigger your dream, the further it will take you on your journey. There are no limitations but your imagination.

Taurus

: FAITH

Hold on to your faith

By having faith in a Infinite Power we in turn become empowered. No matter how bleak your current situation, hold on to that faith.

Gemini

: TRUST

When you trust in yourself then others will trust you

Trust that the Cosmic Order you make today will be delivered.

Cancer

: PEACE OF MIND

Be at peace with yourself

Are you still looking to the external world for peace of mind? Only when we truly accept ourselves for who we are, love others and give back to the Cosmos will we know inner peace.

Leo

: DESIRE

The desire to achieve success

Visualise yourself achieving your aims. Feel the success, then un-harness your belief. With the power of the cosmos anything is attainable.

Virgo

: COSMIC INDULGENCE

Look deeper

Ask the Cosmos for a special indulgence today, something wonderful, just for you. Remember too that the Cosmos will only reward you if you are giving back to the Universe.

Libra

: SELF-DISCIPLINE

To achieve you have to be self-disciplined

Self-discipline means aligning your actions with your desires, regardless of your emotional state. What will you do today to get closer to that dream?

Scorpio

: OCEAN

Spend time beside the water or relax in a warm bath

When we sit by the ocean our body relaxes, our spirit opens. Allow life's flotsam to float away and let yourself flow with the tide.

Sagittarius

: MUSIC

Listen to the music and feel the energy

Feel the music of Creation in your body. Use it to raise your vibrations, physical and mental.

Capricorn

: PLACE YOUR ORDER

What do you really desire

Itemise your desires, making your order very specific. Make it official; put it in writing. Announce it to the waiting Universe. Crystallise your order with faith.

Aquarius

: DREAMS

Dreams can come true

How is Spirit using your dreams to speak to you today? Do certain dreams repeat themselves? Harness their energy. Use them to strengthen and understand your Self.

Pisces

: STRESS

Learn to relax and let go

Our health depends on balance. Relax. Drawing this card means you need to take time out. Open yourself to the energy of the Universe. Practice living in the Now.

Please feel free to leave any comments here on Blogger, or on my Facebook Page
The Daily Divination
, or on
Twitter
Thank you!