Good morning/afternoon!

Just flying in quickly to do the cards for the weekend - as I've had a bit of a disaster today :(

Actually it's been rather a trying week!

I now need to come up with a plan 'D' having done plans A, B and C already.....

Here's hoping for a change of luck soon!

Whatever your star sign - enjoy your weekend :)

Brightest Blessings,
Kaz
www.blessingz.co.uk
www.cheekywitch.co.uk



This week I am using the
Goddess Guidance Oracle Cards
by Doreen Virtue, Ph.D.


Quoted from the pack: "The goddesses are angelic, powerful, loving beings who want to help you with every part of your life. In this set of oracle cards by Doreen Virtue, you'll learn who the different cross-cultural goddesses are and how they can help you. Each card gives a specific message about how you can improve your life, health, relationships, finances, career, and spiritual path. The gorgeous artwork on each card depicts Kuan Yin, Laksmi, Brigit, Isis and Athena; as well as goddesses Celtic, Mayan, Egyptian, Greek, Tibetan, Buddhist and other traditions.
The accompanying guide book helps you to give accurate readings for yourself, your loved ones, and your clients. Whether you're a beginner or seasoned pro, you'll find that working with the goddesses brings Divine magic into your life."

My personal card for the weekend

:
BRIGIT - Don't back down
"Stand up for what you believe is right."
Message from Brigit: "First, be quite clear about your intentions. If you're unclear, then confusion will lessen your power and force. Like a candle in the dark, be very clear and bright in what is acceptable to you in this situation. Make no mistake: I will guide and protect you. And yet, think of the unparalleled rise in your own viewpoint if you are to stand up for yourself, and speak up about your needs and your deepest truth!
Now is the time to touch your power, for its heat and flame will ignite your passion, which will propel you forward in countless ways. Even in the face of fear, you can still stand up for your ideals and your truth. Be unwavering, and make your stand today!"
Various meanings of this card: Be assertive * Don't worry about what others think * Trust that your actions will work out fine * Speak your truth * Stick to your options * Put your foot down.

Today's cards for each of the star signs

:

Due to lack of time, etc. These are the 'quick reading' messages - for the full reading and meaning of the cards you will need to obtain these cards for yourself - or get someone else to buy them for you as a gift!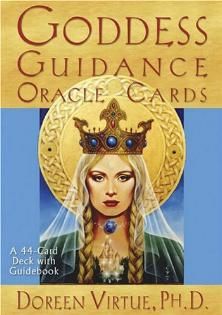 Here are your messages and insights for today. Try to sit quietly for a few moments, meditate on your card and think about how you can learn from, and act upon, its message...

Aries

: YEMANYA - Golden Opportunity

"Important doors are opening for you right now. Walk through them."

Various meanings for this card: Don't hesitate * This is the right thing to do * Your prayers are being answered * Get ready for a big and happy change * Celebrate your success * Know that you're qualified and ready for this new opportunity.

Taurus

: SIGE - Quiet Time

"Take some quiet time alone to rest, meditate and contemplate."

Various meanings of this card: Go on a retreat * Listen more and talk less * Avoid loud noise and sounds * Meditate * Surrender mind chatter to heaven * Know that you're more sensitive to noise now.

Gemini

: EIREEN - Peace

"There is no need to worry, as everything is working out beautifully."

Various meanings of this card: Give your cares and worried to Heaven * Pray * Meditate * Engage in peace-enhancing activities such as yoga, sea-salt baths, massage, naps, music, playfulness, and the like.

Cancer

: KUAN YIN - Compassion

"Release judgements about yourself and others, and focus on the love and light that is within everyone."

Various meanings of this card: Release guilt and shame to Heaven for healing and transmutation * Keep your thoughts about yourself and others positive * Avoid gossip or bad-mouthing of yourself or others * Forgive yourself or another * Don't be so hard on yourself or others * Release perfectionistic tendencies.

Leo

: PELE - Divine Passion

"Be honest with yourself: What is your heart's true desire?"

Various meanings of this card: Make sure your career matches your true interests * Take a class or start a hobby that really excites you * Change jobs * Go on a wonderful trip * Invest time and money in manifesting your dreams * Give yourself permission to go for it * Start a new business * Make an honest assessment of how you spend you time * List your priorities.

Virgo

: MARY MAGDALENE - Unconditional Love

"Love yourself, others and every situation - no matter what the outward appearances may be."

Various meanings of this card: Don't worry what others think or say * Heal this situation with love * Send love to those who have hurt or misjudged you * Forgive yourself for what you think you've done or not done * Release old unforgiveness toward others to help yourself heal and move on.

Libra

: DIANA - Focused Intention

"Keep your unwavering thoughts, feelings and actions focused on your target, and you will make your mark."

Various meanings of this card: Stay positive * Know what your priorities are and take action on them * Take control of your schedule * Avoid nay-sayers and skeptics.

Scorpio

: AINE - Leap of Faith

"Take a risk, and put your heart's true desire into action!"

Various meanings of this card: Your dreams will come true * Your chosen path is the right one for you * Heaven supports you fully on your mission * Your material needs will be taken care of * Take action steps toward the realization of your dream * Break your dream into achievable baby steps so that it's easier to start and keep going.

Sagittarius

: ISOLT - Undying Love

"The love you have shared is eternal, regardless of the situation."

Various meanings of this card: Love from your romantic partner is eternal, regardless of outward appearances * You're healing from a break-up * You're healing from some other type of loss * Let go of an old relationship to make room for a new one * The love that you send into the world is an important part of your Divine purpose * Your deceased loved one is happy and sends you love.

Capricorn

: MAAT - Fairness

"This situation will be handled in a fair and just manner."

Various meanings of this card: A lawsuit will be resolved * A dispute will end harmoniously * You'll be treated fairly * Keep everyone's needs in mind during negotiations * Release guilt and shame, as these emotions can attract a punishing attack.

Aquarius

: MAEVE - Cycles and Rhythms

"Honour the cycles of your body, energy levels and emotions."

Various meanings of this card: Female gynaecological changes (starting of menses or menopause, for example) are an issue for you * Make time to rest * Initiate steps to alleviate depression or lethargy * Take better care of your body * Seek support for dealing with emotional crises * Allow yourself to grieve or take time off * Know that this lull won't last forever * A doorway of opportunity has opened up, and you need to walk through it now.

Pisces

: ISHTAR - Boundaries

"Love yourself enough to say no to others' demands on your time and energy."

Various meanings of this card: You're giving too much * Become more assertive * Don't do things out of guilt or obligation.

Please feel free to leave any comments here on Blogger, or on my Facebook Page
The Daily Divination
, or on
Twitter
Thank you!