Good morning!

Another day has passed and still no stock delivery... it's very late (I was expecting it last week!) and I'm starting to get a bit stressed now :(

Yesterday I had to come up with a plan B - today I need a plan C!

Wish me luck - fingers crossed I will receive a delivery tomorrow...

In the meantime let's get on with the cards for Wednesday!

I've now had the same message to days in a row...

Please find your messages below and whatever your star sign - have a lovely day :)

Brightest Blessings,
Kaz
www.blessingz.co.uk
www.cheekywitch.co.uk



This week I am using the
Goddess Guidance Oracle Cards

by Doreen Virtue, Ph.D.


Quoted from the pack: "The goddesses are angelic, powerful, loving beings who want to help you with every part of your life. In this set of oracle cards by Doreen Virtue, you'll learn who the different cross-cultural goddesses are and how they can help you. Each card gives a specific message about how you can improve your life, health, relationships, finances, career, and spiritual path. The gorgeous artwork on each card depicts Kuan Yin, Laksmi, Brigit, Isis and Athena; as well as goddesses Celtic, Mayan, Egyptian, Greek, Tibetan, Buddhist and other traditions.
The accompanying guide book helps you to give accurate readings for yourself, your loved ones, and your clients. Whether you're a beginner or seasoned pro, you'll find that working with the goddesses brings Divine magic into your life."

My personal card for today

:
ISHTAR - Boundaries
(2 days in a row!)
"Love yourself enough to say no to others' demands on your time and energy."
Message from Ishtar: "A sincere desire to give of service is wonderful. However, there's a distinction between giving of yourself and giving up yourself. If you feel tired, guilty, or resentful while helping others, then you're not truly helping them, are you? You're injecting poisonous energies into the relationship, and then no one benefits. Step back and reassess the situation. As you respect your own boundaries, others will begin to recognize and respect them within you, and within themselves as well. Now that's a healthy behaviour to teach others!"
Various meanings of this card: You're giving too much * Become more assertive * Don't do things out of guilt or obligation.

Today's cards for each of the star signs

:

Due to lack of time, etc. These are the 'quick reading' messages - for the full reading and meaning of the cards you will need to obtain these cards for yourself - or get someone else to buy them for you as a gift!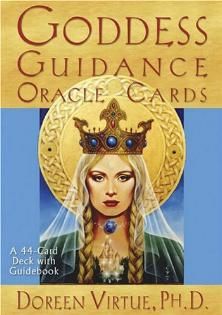 Here are your messages and insights for today. Try to sit quietly for a few moments, meditate on your card and think about how you can learn from, and act upon, its message...

Aries

: BRIGIT - Don't back down

"Stand up for what you believe is right."

Various meanings of this card: Be assertive * Don't worry about what others think * Trust that your actions will work out fine * Speak your truth * Stick to your opinions * Put your foot down.

Taurus

: SIGE - Quiet Time

"Take some quiet time alone to rest, meditate and contemplate."

Various meanings of this card: Go on a retreat * Listen more and talk less * Avoid loud noise and sounds * Meditate * Surrender mind chatter to heaven * Know that you're more sensitive to noise now.

Gemini

: RHIANNON - Sorceress

"You are a magical person who can manifest your clear intentions into reality."

Various meanings of this card: Have absolute faith that your dream is manifested * Make a clear decision * Put your energy into manifesting your dreams * Know that you deserve to receive good * When you win, others win too * Keep your thoughts focused on your desire and away from fear.

Cancer

: NEMETONA - Sacred Space

"Create an altar or visit a power place to connect with the Divine."

Various meanings of this card: Build an altar in your home * Take a spiritually oriented trip * You need a quiet place of refuge and retreat for yourself * Create a medicine circle or labyrinth * Walk the labyrinth * Clear the energy in your home with sage, prayer, toning, invoking Archangel Michael, or other space clearing methods.

Leo

: OONAGH - Easy Does It

"There is no need to hurry or force things to happen. Everything is occurring in perfect timing."

Various meanings of this card: Don't worry about your purpose or your goals * Make no sudden moves * Slow, steady progress is best right now * Ease into your new life instead of rushing into it * Do your new work as a part-time venture to begin with, while slowing exiting your old career.

Virgo

: GREEN TARA - Start Delegating

"Ask others (including me) to help you, instead of trying to do everything by yourself."

Various meanings of this card: Don't try to be a superwoman or superman * Give your children chores * Ask your partner for help * Accept assistance as it's offered to you * Release guilt or the belief that it's weak to ask for help * Be a team player.

Libra

:

ISIS - Past Life

"This situation involves your past-life memories."

Various meanings of this card: Get a past-life regression to gain insights and answers * Ancient fears from the past are surfacing right now * You've known the person you're enquiring about in a past life. * Your current situation relates to a childhood issue.

Scorpio

:

SEKHMET - Be Strong

"You are stronger than you think you are, and your strength assures a happy outcome."

Various meanings of this card: Don't underestimate yourself * Don't yield to pressure or temptation * Avoid complaining or indulging in negative thinking * Engage in weight training exercises to make your body stronger.

Sagittarius

:

KUAN YIN - Compassion

"Release judgements about yourself and others, and focus on the love and light that is within everyone."

Various meanings of this card: Release guilt and shame to Heaven for healing and transmutation * Keep your thoughts about yourself and others positive * Avoid gossip or bad-mouthing of yourself or others * Forgive yourself or another * Don't be so hard on yourself or others * Release perfectionistic tendencies.

Capricorn

: DAMARA - Guiding Children

"You are good at helping, counselling, and healing children. Use your skills to help children now.

Various meanings of this card: Spend time with, or have a heart-to-heart talk with your own children * Get into a career involved with helping kids * Volunteer with young people * Know that children will be coming into your life soon * You will be a parent * Take care of your own inner child through play and laughter.

Aquarius

: SARASVATI - The Arts

"Express yourself through creative activities."

Various meanings of this card: Play music, sing, dance, draw, paint, write, or do something creative * Study, or change to a career that gives you creative freedom * Take a creative class * Invest in an artistic hobby * Keep a journal of your creative ideas * Join a writing club or other creative support system.

Pisces

: EIREEN - Peace

"There is no need to worry, as everything is working out beautifully."

Various meanings of this card: Give your cares and worried to Heaven * Pray * Meditate * Engage in peace-enhancing activities such as yoga, sea-salt baths, massage, naps, music, playfulness, and the like.

Please feel free to leave any comments here on Blogger, or on my Facebook Page
The Daily Divination
, or on
Twitter
Thank you!