Good morning!

It's a lovely sunny warm day here - not that I really have the time to enjoy it...

Not complaining though - as I have at last received some stock deliveries (which were 2 weeks late) so I can relax and get on with my orders without worrying about running out of satin bags!

Lots of Christening and Naming Day Gifts to make - and I have received quite a few Christmas Gift orders this week too!

There are only 3 months until Christmas and the way the weeks have been flying by it will be here before we know it, so I have been busy working on my Krimbles Zazzle Store and designing Christmas gift wrap!



When I was much younger I used to dream of designing Christmas Cards and Christmas Paper and now, decades later, I am getting the opportunity to do just that!
I j
ust wish I had more time to spend more time designing... but in the meantime I need to earn my living, so I had better get on with these orders!
Please find your message for Tuesday below and whatever your star sign - have a great day :)
Brightest Blessings,
Kaz
www.blessingz.co.uk
www.cheekywitch.co.uk

This week I am using the

Atlantis Cards

by Diana Cooper


Quoted from the pack: "The myth of the magical world of Atlantis has fascinated people for centuries: the spiritually highly evolved inhabitants of the Golden Atlantis revered and honoured every aspect of the natural world, recognising that everyone and everything is a part of the Source. From this respectful position they lead lives full of grace, compassion and love for each other.
Diana Cooper has magnificently captured and put to use the positive vibrations of the Atlantean time in this new card set richly illustrated by Damian Keenan. They can provide insights and inspiration for our life path, highlighting our strengths and helping us to work with our weaknesses in the best possible way."

My personal card for today

: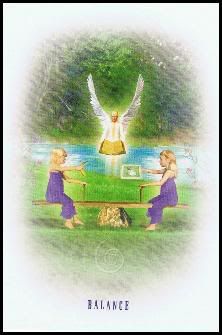 BALANCE
Full meaning: In the Golden Days of Atlantis, people never gave without gave without receiving or received without giving. This meant that no karma accrued and the balance-sheets of life were kept clear.
Everything was fair, so the citizens enjoyed a sense of justice and well-being. In the halcyon days, the healer priests were able to keep the inhabitants in optimum health and vitality simply by aligning people's chakras.
Keep your life in balance. Your guidance is to find equilibrium in every area of your life. Make sure you give and receive equally and keep your work and play in balance, breathe deeply into any part of your body that feels low in energy.
Balance every area of your life.

Today's cards for each of the star signs

:

Due to lack of time, etc. These are the 'quick reading' messages - for the full reading and meaning of the cards you will need to obtain these cards for yourself - or get someone else to buy them for you as a gift!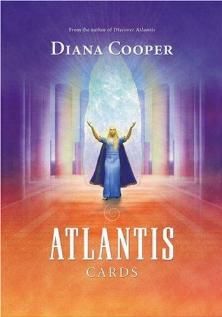 Here are your messages and insights for today. Try to sit quietly for a few moments, meditate on your card and think about how you can learn from, and act upon, its message...

Aries

: FUN

Quick message: Leisure. This card suggests that you build leisure time into your life. Plan to have fun and do things that enable you to relax and laugh. Socialise with people who are happy and interesting. At the same time, look at your challenges from a higher perspective and take delight in all the good in the world.

Lighten up and laugh today.

Taurus

: THE SILENCE

Quick message: Quiet contemplation. Receiving this card indicates that you are called on to spend some time in contemplation or meditation. Remember that you can more readily access your inner wisdom where it is silent.

Be still and access your inner wisdom.

Gemini

: THE ICE AGE

Quick message: Preparation time. If you chose this card, it indicates that a time of rest and relaxation is needed. Use this space to look within and purify your beliefs and thoughts. This is a time to contemplate or meditate on your life-purpose.

The seeds of new beginnings are germinating.

Cancer

: THE GREAT CRYSTAL

Quick message: Direct your power. This card suggests that you look at the source of your inner power. Every thought, word and action radiates an energy that affects others and draws situations and people to you. Make sure your aims are for the highest good.

Use your power for the highest good.

Leo

: CRYSTAL SKULLS

Quick message: The Unknown. Your guidance is that there is a mystery waiting to unfold for much is yet unknown. Perhaps new information is to come to you, or old memories or ancient wisdom may surface to help your conscious awareness. Be cautious about making a decision for you do not have the whole picture.

A mystery is waiting to unfold.

Virgo

: BIRTH CRYSTALS

Quick message: Roots. If you draw this card you are guided to strengthen your connection with 'home', which may mean meditating on your stellar origins. Alternatively, it may suggest that you explore your background and ancestral heritage. You may even need to put down more roots to enhance your feeling of belonging.

Deepen your roots to create a solid foundation.

Libra

: POSITIVITY

Quick message: Watch your thoughts. Watch your thoughts, words and beliefs today. Eliminate everything negative - including words of gossip doubt or fear. Decide on your personal goal and your vision for your community and the world.

Success awaits you.

Scorpio

: THE SPHINX

Quick message: Keep secrets. Your guidance is to maintain silence until it is appropriate for you to divulge information. The sphinx may indicate that you must keep your own, other people's secrets, to prove that others can trust you.

Keep your own counsel and the secrets of others.

Sagittarius

: RECORDING CRYSTALS

Quick messages: Check the records. If you draw this card you are expected to open your mind to the new. Unexpected information may be revealed which will help you to comprehend the jigsaw of your life. If a recording crystal comes to you, relax and put it to your third eye, so that you can absorb the sacred wisdom it holds.

Open your mind to new information.

Capricorn

: MATERIALISATION

Quick message: Manifest your vision. If you choose this card, your guidance is to become totally clear about what you want in your life. Be sure that you really want it! When you have clarity, focus on your vision without doubt or deviation and it must manifest.

Focus on your vision and make it happen.

Aquarius

: CO-OPERATION

Quick message: Togetherness. What can you share today? It may be your friendship, your time or something more tangible. Receiving this card guides you to give away anything you no longer need. It also suggests that you co-operate with others for the greater good. Be generous-hearted and your rewards from the Universe will be great.

Co-operate in a vision greater than yourself.

Pisces

: SOUND AND MUSIC

Quick message: Harmony. This is the card of harmony. Your guidance is to make sure that everything in your life is in balance and accord. It is a reminder that beautiful music and chanting can change your mood and lift your spirits.

Keep everything in harmony.

Please feel free to leave any comments here on Blogger, or on my Facebook Page
The Daily Divination
, or on
Twitter
Thank you!