Greetings!

Where has the morning gone?

It's one of those days where you start doing one thing, then in the middle you need to "just quickly" do something else - which then takes you off in a completely different direction...

Got to get myself back on track before the rest of the day runs away with me!

But first coffee...

I mean - but first THE CARDS!

Please find your message from Atlantis below and whatever your star sign - enjoy the rest of your day :)

Brightest Blessings,
Kaz
www.blessingz.co.uk
www.cheekywitch.co.uk



This week I am using the

Atlantis Cards

by Diana Cooper


Quoted from the pack: "The myth of the magical world of Atlantis has fascinated people for centuries: the spiritually highly evolved inhabitants of the Golden Atlantis revered and honoured every aspect of the natural world, recognising that everyone and everything is a part of the Source. From this respectful position they lead lives full of grace, compassion and love for each other.
Diana Cooper has magnificently captured and put to use the positive vibrations of the Atlantean time in this new card set richly illustrated by Damian Keenan. They can provide insights and inspiration for our life path, highlighting our strengths and helping us to work with our weaknesses in the best possible way."

My personal card for today

: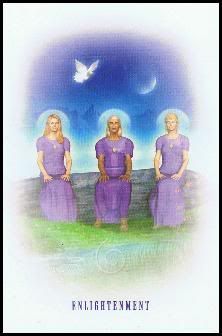 ENLIGHTENMENT
Full meaning: In Golden Atlantis, the people were all enlightened beings, who achieved this state of divine illumination by living serene, contemplative lives, honouring and respecting all people and the natural world. They maintained their high frequency by being in the moment, radiating love and appreciating all that they had. By holding positive attitudes and trusting the flow of life, they had a constant connection with the divine and knew they were part of the Oneness.
Being.
Your guidance is to stop doing and striving. Forget about tomorrow. Just still your mind, and be in the now. In this quiet time, contemplate the wonders of life and appreciate all that you do have, including the opportunity for life on earth.
Enlightenment is being in Oneness.

Today's cards for each of the star signs

:

Due to lack of time, etc. These are the 'quick reading' messages - for the full reading and meaning of the cards you will need to obtain these cards for yourself - or get someone else to buy them for you as a gift!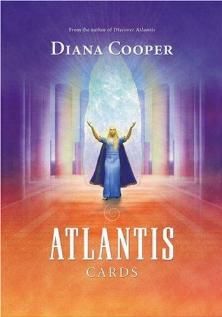 Here are your messages and insights for today. Try to sit quietly for a few moments, meditate on your card and think about how you can learn from, and act upon, its message...

Aries

: MARRIAGE

Quick message: Commitment. Your guidance is to commit yourself to something - a project, you home, family, work or relationship. Commitment is a powerful contract that will focus your energy to enable your intent to flourish.

Make a commitment.

Taurus

: HIGH PRIEST

Quick message: Leadership. If you pick this card, it suggests that you take command of your life and demonstrate who you really are. You are called upon to exercise your leadership qualities, to act with integrity, to take clear, wise decisions and to empower others for the highest good of all.

Lead with strength and wisdom.

Gemini

: POOLS OF ENERGY

Quick message: Cosmic help. Your guidance is to call on the Great Cosmic Pool of energy for it is now time to manifest your dreams. Only negative thoughts can hold you back, so call in the Violet Flame to dissolve them. Move forward now.

The Cosmos is ready to help you.

Cancer

: MATERIALISATION

Quick message: Manifest your vision. If you choose this card, your guidance is to become totally clear about what you want in your life. Be sure that you really want it! When you have clarity, focus on your vision without doubt or deviation and it must manifest.

Focus on your vision and make it happen.

Leo

: THE SPHINX

Quick message: Keep secrets. Your guidance is to maintain silence until it is appropriate for you to divulge information. The sphinx may indicate that you must keep your own, other people's secrets, to prove that others can trust you.

Keep your own counsel and the secrets of others.

Virgo

: DOLPHIN

Quick message: Wisdom and joy. This card suggests that you live lightly and wisely, bringing joy, fun and laughter into your life. You are also guided to develop your healing abilities, serving your fellow humans and the planet.

Serve with wisdom and joy.

Libra

: NATURE

Quick message: Uniqueness. This card reminds you to recognise and honour your uniqueness and that of everyone else. Consciously contribute to the well-being of the natural world and notice how people, animals and plants respond to you. Check your thoughts, words and deeds are harmless and well-intentioned.

It is time to harvest your abundance.

Scorpio

: CLAIRVOYANCE

Quick message: There are many ways of seeing with your inner vision. You may physically see pictures on your inner screen, you may sense you 'know'. It is time to develop your third eye and trust your intuition.

Trust your inner vision and knowing.

Sagittarius

: CO-OPERATION

Quick message: Togetherness. What can you share today? It may be your friendship, your time or something more tangible. Receiving this card guides you to give away anything you no longer need. It also suggests that you co-operate with others for the greater good. Be generous-hearted and your rewards from the Universe will be great.

Co-operate in a vision greater than yourself.

Capricorn

: SOUND AND MUSIC

Quick message: Harmony. This is the card of harmony. Your guidance is to make sure that everything in your life is in balance and accord. It is a reminder that beautiful music and chanting can change your mood and lift your spirits.

Keep everything in harmony.

Aquarius

: NOURISHMENT

Quick message: Your food. Your guidance is to watch what you eat for your physical body must be pure to enable you to carry more light for your pathway ahead. Simple, fresh, locally grown produce is the most effective in enhancing your cosmic energy.

Prepare your body for the work ahead.

Pisces

: THE SEVEN PILLARS OF WISDOM

Quick message: Order and consequences. This card reminds you that you live in an ordered Universe where there is consequence for all your thoughts, words and actions. Change your beliefs, understandings and patterns. Watch your thoughts and concentrate on wholesome ones to create the life you want.

Change your life by following the Spiritual laws.

Please feel free to leave any comments here on Blogger, or on my Facebook Page
The Daily Divination
, or on
Twitter
Thank you!