Good morning!

I'm feeling proper poorly today - I have a streaming cold and sore throat - and I would prefer to be tucked up in bed sleeping, however, there is work to be done...

So I will reach for yet another tissue, blow my nose for the hundredth time this morning and carry on...

When you are self-employed there is no time to be ill!

Your cards and messages for Thursday are below and whatever your star sign - enjoy your day :)

Brightest Blessings,
Kaz
www.blessingz.co.uk
www.cheekywitch.co.uk



This week I am using the
Saints and Angels Oracle Cards
by Doreen Virtue, Ph.D.


Quoted from the pack: "Now you can easily receive messages and guidance from beloved saints such as Mother Teresa, Bernadette, Joan of Arc, Hildegard, Padre Pio, Anthony, Francis, and Cecilia. Doreen Virtue has created a nondenominational deck of oracle cards that people from various spiritual and religious backgrounds are sure to appreciate and enjoy.
Forty-four cards with breathtaking artwork depicting God, the Holy Spirit, Jesus, saints, archangels, and guardian angels give you answers and gentle advice. A guidebook accompanying the cards thoroughly explains how to receive guidance about the present and future, how to give an accurate reading to another person, and the general meaning of the card's message."

My personal card for today

:
PAUSE - Guardian Angel
Divinatory meaning: Your guardian angel asks you to pause for a moment before moving forward. During this break, take time to consider your true thoughts and feelings about this situation. You've been moving so fast lately that you may have confused other people's wishes with your own. Take time out and really be honest with yourself: What do YOU want? What do YOU think is the right thing to do.
Pray to know God's will in this situation. You want to feel good before moving forward, so ask your questions and clear any issues before taking further action. You may decide to wait or cancel the entire project. If this is the case, you'll know why you did so after you take time to pause and consider your options.
This is a message to be true to yourself and God. Don't allow yourself to be swayed by others' judgements that run contrary to your own. Once you become clear about your true reasons an motivations, your actions will be fueled by truth, love and commitment. These winning ingredients spell sure success for any project!
Today's cards for each of the star signs

:

Due to lack of time, etc. These are the 'quick reading' messages - for the full reading and meaning of the cards you will need to obtain these cards for yourself - or get someone else to buy them for you as a gift!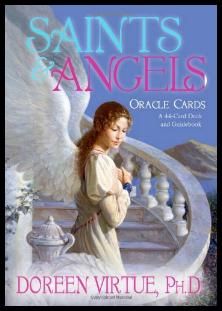 Here are your messages and insights for today. Try to sit quietly for a few moments, meditate on your card and think about how you can learn from, and act upon, its message...

Aries

: BE BRAVE - Guardian Angel

(Two days in a row!)

Quick message: Although it may feel as if you're unsafe or in the dark, your guardian angel assures you that you are completely safe, protected and guided. Don't be fooled by illusions of fear - instead, be courageous and shore up your personal strength. There's a blessing in this situation, and by focusing on finding that benefit, you're sure to discover it. Your role is to stay positive, speak your truth and be brave.

Taurus

: BLESSINGS OF ABUNDANCE - Guardian Angel

Quick message: Your prayers have been heard and answered. Your daily bread and other needs are being provided for, now and in the future. Give your fears and worries over to God and the angels, and have faith that they're taking care of you and your loved ones. Let go of worrying about how your needs will be met, because God's infinite creative wisdom will take care of the details. Be open to receiving gifts and help from other people, as this is one way in which the Divine answers your prayers.

Gemini

: CONFIDENCE - St. Michael the Archangel

Quick message: Archangel Michael is with you, shoring up your confidence so that you can fearlessly face (and enjoy) the tasks before you. This archangel is protecting you against negativity, helping you to remain optimistic and filled with faith, ensuring that only people and situations of high integrity come to you. You may worry whether you're prepared and qualified for what's ahead of you. Remember, though, that God won't bring you anything that you're unable to do.

Cancer

: BELIEVE - St.Hildegard of Bingen

Quick message: To heal and improve this situation, it's important for you to believe. Have faith in miracles, the power of God's healing love, and the essential goodness within people. This is an important factor in determining the outcome of this situation.

Leo

: HEALING - St. Padre Pio

Quick message: This is a powerful card, as it signifies the power of prayer. Your requests regarding health have been heard and answered. The situation is surrounded by God's rejuvenating love and is resolving itself in a miraculous way. This is also a message about your healing abilities and a call from Heaven for you to use those talents to help others in a more powerful way. If you elect to follow this calling, God will open the doors for your career. St Padre Pio, who both heals and helps those who follow this path, will inspire and protect you as you make any necessary life changes.

Virgo

: HEAVEN IS WATCHING OVER YOU - Guardian Angel

Quick message: Rest assured that God and your guardian angels are watching over you and your loved ones. You're very loved, and you're not alone in this situation… or ever. You have powerful helpers surrounding you at all times. This is a message for you to release any worries to Heaven. Worry never helped improve anyone one or anything. A better approach is to pray and ask for help and the allow Heaven to help you.
Libra

: EMOTIONS - St. Dymphna

Quick message: The answer to your question involves emotions - either yours or those of the person you're enquiring about. This is also a message for you to pay closer attention to your emotions. It's safe for you to admit your true feelings to yourself. This card is also a message for you to trust your feelings, especially as they guide you to make positive changes. Your feelings are the voice of Heaven speaking through you, and you have a right to them, even if others disagree with them. You can also release any upsetting emotions to God, St Dymphna and the angels for healing and guidance.

Scorpio

: FAITH - Guardian Angel

Quick message: Think of all the miracles you've experienced in your life so far. This card asks you to have faith that Heaven will continue to help and support you along the way. Your faith is a key factor right now, and it's important that you keep it strong. Like the angel in this card's painting, you're about to take a leap of faith. The message is that it's safe for you to make this leap - you're finally following your heart's wisdom, and it will pay you unseen dividends.

Sagittarius

: MIRACLE - Christ

Quick message: Christ is with you and engendering a miracle for you and the situation you're asking about. He shines God's light upon you and your loved ones, keeping you all safe and protected. You've asked for a miracle, and one is with you. Let go of how you think it should appear, as it comes directly from God's infinite wisdom, through Christ, and into your life.

Capricorn

: SAFE TRAVEL - St. Christopher

Quick message: This card signals a safe passage and lets you know that St. Christopher is by the side of the one who's traveling. This trip is blessed by angels, who will ensure that all the details are taken care of. This can also be a message that it's time for you to take a trip. Have you been hankering for a relaxing vacation? Is there a place that you're drawn to for research or business purposes? Is there a loved one whom you'd like to visit? If so, this card is a validation that it's time to set this plan in motion.

Aquarius

: DON'T COMPROMISE - St. Agnes of Rome

Quick message: You're asked to take a stand in favour of your truth and self-esteem. You don't need to compromise to get what you want, and you can live by the truth of your beliefs. St. Agnes is your guide and role model in this aspect. She shows that in love relationships - as well as career, home, health and other life areas - you mustn't compromise your values. As God's holy child, you deserve to be treated with love, respect and dignity. Accept nothing less.

Pisces

: PEACEFUL - Holy Spirit

Quick message: The Holy Spirit has descended upon you and the situation that you are enquiring about. Get in touch with this Divine energy by focusing upon the peace that's deep within your heart… This might require that you spend some quiet time alone in stillness. Rest assured that the Holy Spirit's peace is pervading this situation and opening the hearts of everyone involved. It brings about compassion so that everyone can see each other's point of view. This engenders forgiveness, which then opens and smoothes the path to peacefulness.

Please feel free to leave any comments here on Blogger, or on my Facebook Page
The Daily Divination
, or on
Twitter
Thank you!