Good morning/afternoon!

I had a very late night, as my Cheeky Witch Facebook page was very active last night with messages and enquiries. Most of the people who interact with me on there are in the USA and Canada and so the different time zones can cause a bit of a problem!

I got to bed about 1:30am and couldn't sleep, so did a quick 'past, present, future' card reading using the Michele Knight's Tarot app on my iphone.

I got 'The Tower' in the present position! As lots of changes are happening in my world, I thought "this could be interesting!"...

Eventually I got to sleep - only to wake with a start a few hours later - I looked at the time - and it was 5:55!

I know the 555 is a powerful number anyway, and always get excited when I see it, but I looked at the Angels Numbers 101 app on my iphone and it said:

"Huge changes are rumbling through your entire life! To keep these changes on the highest possible course, be sure to keep your thoughts positive, and stay centered in prayer and affirmations."

Needless to say, it took ages to get back to sleep again :)

This morning it has been nonstop messages and emails - and I have had a delivery of some new mugs for me to take to the Lammas Festival this weekend! I am expecting another delivery shortly, of some more bits and pieces for the festival too!

My Cheeky Witch Zazzle Store is really starting to get noticed and my Facebook page reached 3000 Likes yesterday!

I am also feeling the call back to my Lightworking and healing path... receiving private message and requests for help and advice.

It's all happening and although I am exhausted (through lack of sleep), and I have so much to do (Ebay and Amazon orders - and Lammas preparations) I am very excited about the changes! Bring it on!

Whatever your star sign - have a fabulous day :)

Brightest Blessings,
Kaz
www.blessingz.co.uk
www.cheekywitch.co.uk


This week I am using
by Sally Morningstar
Quoted from the pack: "The Wicca Pack, weaving magic into your life. Contains the Wicca Book and set of Divinatory cards. Wiccan Magic. learn the basics of working with high magic, the importance of sacred spaces, the timing of high days and holy days, and the correct use of magical crafts. Connect with the archetypes of the ancient Pagan deities, and use the beautifully illustrated cards to develop your latent intuitive skills and explore the world of natural magic through inner spiritual work."

My personal card for today

: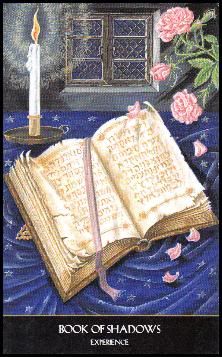 BOOK OF SHADOWS
High Note: Wisdom from experience is being integrated into your soul.
Low Note: Have no fear - you are returning to your true self.
Vibration: Crown Chakra
Keywords: Experience, discovery. Acceptance
Meaning: Gathering experiences is the tone of this card. Journeys of discovery in your inner and outer world will provide rich fabric with which to weave your life. The Book of Shadows writes each chapter of your life. Embrace and welcome these experiences, because they are the teachers and will show you the ways of the wise if you let them do so.
Explore yourself and explore possibilities. By doing so, you will make discoveries beyond your imagination. Be wise and understanding. Whenever you are deep in the dark, remember that life is changing. You are about to have worthwhile experiences.
Today's cards for each of the star signs

:

Due to lack of time, etc. These are the 'quick reading' messages - for the full reading and meaning of the cards you will need to obtain these cards for yourself - or get someone else to buy them for you as a gift!

Here are your messages and insights for today. Try to sit quietly for a few moments, meditate on your card and think about how you can learn from, and act upon, its message...

Aries

: SHEKINAH - Transcendence

High Note: Dreams can come true.

Low Note: You are not alone.

Vibration: Heaven on Earth.

Keywords: Transcendence, karmic purpose, faith.

Taurus

: NEMESIS - Lessons

High Note: The powers of truth will prevail.

Low Note: Embrace the lessons that life must bring if you are to grow.

Vibration: Soul

Keywords: Lessons, Karma, destiny.

Gemini

: CAVE - Retreat

High Note: Rebirth is on its way.

Low Note: Retreat and restore your energy.

Vibration: Sacral Chakra.

Keywords: Retreat, withdrawal, gestation.

Cancer

: WAND - Intention

High Note: Maintain focus.

Low Note: Challenge apathy.

Vibration: Formative Ethers

Keywords: intention, focus, action

Leo

: GAIA - Healing

High note: Unconditional love is the key to healing

Low note: Embrace what needs to be healed with love.

Vibration: Body and Soul

Keywords: Healing, lucid, dreaming, nourishment.

Virgo

: BAT - Rebirth in Consciouness

High Note: Consciousness awakens your flight to freedom.

Low Note: This too will pass.

Vibration: Third Eye Chakra

Keywords: Rebirth, change, spiritual awakening,

Libra

: RAVEN - Keeper of Secrets

High Note: Occult gifts are being activated.

Low Note: Shadows on the soul require attention.

Vibration: Soul.

Keywords: Occult knowledge, magic, mastery.

Scorpio

: CANDLE - Illumination

High Note: Your inner light guides your way.

Low Note: Energy management is required.

Vibration: Throat Chakra.

Keywords: Illumination, sacrifice, inner radiance.

Sagittarius

: CRYSTAL BALL - Insight

High Note: Clear vision now creates your future.

Low Note: Follow your own counsel.

Vibration: Third Eye Chakra

Keywords: Insight, divination, vision.

Capricorn

: BLACK CAT - Psychism

High Note: Visionary skills guide your way

Low Note: Psychic awareness is required.

Vibration: Third Eye Chakra

Keywords: Psychism, clairvoyance, psychic protection

Aquarius

: THE MOON - Timing

High Note: Heavenly light illuminates a hidden treasure.

Low Note: Don't be deceived. Learn to stand in your power.

Vibration: Sacral Chakra.

Keywords: Timing, revelation, knowing.

Pisces

: WIZARD - Spiritual Impeccability

High Note: Actions taken now wield powerful results.

Low Note: More ego, less spirit.

Vibration: Spirit.

Keywords: Impeccability, egotism, self-importance.

Please feel free to leave any comments here on Blogger, or on my Facebook Page
The Daily Divination
, or on
Twitter
Thank you!