Good morning!

What a miserable day - grey, windy and rain...

Luckily I was up early (ish) and I managed to walk Maisie and get back home before the rain started!

After the hectic week I had last week, with lots of very late nights, preparing for the Lammas Festival, and then the busy, but very enjoyable weekend - everything suddenly caught up with me yesterday and I 'hit the wall'.

About 4pm I just couldn't keep my eyes open and was falling asleep at the computer! I was like a zombie for the rest of the day and had an early night - but I am still feeling really tired today - and achy (lifting boxes of mugs and other stock has taken its toll on my back)!

However, I have a lot of work to do on the computer today, before getting back to 'proper' work tomorrow... but I can't stop yawning and I'm having trouble keeping my eyes open now - and it's only 10am!

I need some extra energy...and I've already had two mugs of coffee!

OK! Let's get to the cards and messages! Whatever your star sign - enjoy your day :)

Brightest Blessings,
Kaz
www.blessingz.co.uk
www.cheekywitch.co.uk



This week I am using the
The Answer Is Simple Oracle Cards



by Sonia Choquette



Quoted from the pack: "These Oracle cards provide immediate access to your divine Spirit, where you receive specific guidance for any and all challenges facing you in life. Each card not only offers direction for particular proplems, it also reinforces the path to your Higher Self, freeing you from the turbulence and fear of the ego plane.

You can use this deck (and the accompanying guide book) for specific direction, meditation, and life and purpose readings and to offer guidance to others; as well as to connect to your Divine Self, where drama and stress give way to joy and inner peace.

My personal card for today

: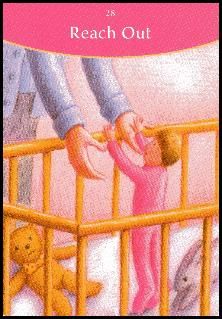 Reach Out
Full meaning:
The answer is simple: REACH OUT - It's time to open your heart and arms and touch others with your Spirit. Your ego is putting up a defensive shield, having you believe that there are enemy forces out there from which you must be protected and withdraw. Your Spirit, however, knows that there's no "them" to defend against - there are just "us" beautiful souls needing to be loved… and right now, needing
your
love.
Examine your body posture. Are your arms folded tightly against your chest? Do you turn your body and eyes from those around you? Are you holding yourself away from others, afraid to connect and be part of their lives? Are you not allowing others to become a part of yours?
Your Spirit wants you to connect with others now. Unfold your arms, turn toward those around you, and reach out. Your love and healing forces are needed . Trust yourself to make a difference, and connect.

Today's cards for each of the star signs

:

Due to lack of time, etc. These are the 'quick reading' messages - for the full reading and meaning of the cards you will need to obtain these cards for yourself - or get someone else to buy them for you as a gift!

Here are your messages and insights for today. Try to sit quietly for a few moments, meditate on your card and think about how you can learn from, and act upon, its message...

Aries

: Have Fun

Quick message:

The answer is simple: HAVE FUN - It's important to keep the inner light of your Spirit shining bright in order to remain uplifted in a dark, negative, ego-based world. The best way to do so is to intentionally surround yourself with things that delight the Spirit in every way. Fuel your inner light with some good old-fashioned fun. Connect with any sounds, scents, tastes, textures, flavours, and friends that amuse your inner child. Step away from drudgery, duty, mindless tasks, and responsibility for one hour - or a day - and do something spontaneous or frivolous. Break from convention and routine, and do something out of the box. The ego disdains frivolity, yet it's the most direct path to joy. Be frivolous. Lighten up. Have fun. Be silly. It will refuel your light.

Taurus

: Tell The Truth

Quick message:

The answer is simple: TELL THE TRUTH - Your ego doesn't feel safe, so it hides the truth, both from the world and you. This makes life extremely complicated and exhausting, as you know. You can't feel authentic unless you interrupt the ego and let your Spirit take over. Start by being honest with yourself. Ask the question

If I weren't afraid, I would———.

then fill in the blank. Do this several times and your truth will come tumbling forth. Really want the truth of your Spirit to come forward. With it will come the power and inspiration to

live

it.

Gemini

: You are Safe

Quick message:

The answer is simple: YOU ARE SAFE - The ego torments you with fears of danger and keeps your attention on patrolling the borders of your life, expecting an ambush at any moment. This is stressful and frightening and allows you no room to relax. The Spirit, on the other hand, surrounds you in a powerful and protective shield of light, alerting you to real danger far before it presents itself, and moving you gracefully away before it shows up; therefore you can relax your fears and allow your attention to rest. Breathe in deeply and recognize how much fear you carry. As you exhale, send the anxiety out of your body and replace it with a second inhalation of protective, loving light. You are safe. Your Spirit is formidable and can be counted on to protect you, so you needn't fear a thing. Don't allow your ego to steal away another moment's peace. You are safe.

Cancer

: Celebrate You

Quick message:

The answer is simple: CELEBRATE YOU - You're flowing in the grace of your Spirit, and it shows. There's light in your eyes and fire in your belly. You're a joy to be around and an inspiration to others. Stay present to your inner radiance and remain focused on your Spirit. Let it continue to lead day by day, and don't be afraid to tell others about your joy. You've been faithful to your Spirit, and the results are beginning to show. The more you openly celebrate your Spirit, the more your ego will relax and begin to trust it. When ego and Spirit become partners, you'll begin to live an unbelievably charmed life. You're on your way - keep it up.

Leo

: You are Not Afraid

Quick message:

The answer is simple: YOU ARE NOT AFRAID - The ego is always in fear, so it becomes a habit to be afraid in life even when you're not. As you face present conditions, ask yourself,

Am I really scared? And if so, then of what?

Listen to your Spirit for the answer. Don't be surprised to discover that you're not really afraid at all - you're just in the habit of believing that you should be. Get past the habit of fear and dive into your new adventure with confidence. Stop fearing and start enjoying the fact that you're not really afraid after all.

Virgo

: Don't Sweat the Small Stuff

Quick message:

The answer is simple: DON'T SWEAT THE SMALL STUFF - Someone makes a comment that troubles you. Another misinterprets your intentions. The plans you make don't go off as you wish. People aren't cooperating and it frustrates you. Time is running out… It's all so irritating that your ego can hardly stand it. Welcome to life. If it's not one thing it's another. The key is to remain detached and observe events as they unfold from the standpoint of your Spirit. Simply remain calm and don't try to control what happens, especially before it does. Take life as it comes and enjoy it.
Libra

: Invest in Your Spirit

Quick message:

The answer is simple: INVEST IN YOUR SPIRIT - The ego discourages time and energy spent on developing and strengthening your Spirit, calling it wasteful and impractical. Your Spirit, however, knows that anytime you invest in self-care, it will return to you a thousand fold or more in terms of happiness, peace of mind, and abundance in the outer world. Supply your Spirit with the time, energy, and support it needs in order to be strengthened and grow. There's no more worthwhile investment right now.

Scorpio

: Clear the Fog

Quick message:

The answer is simple: CLEAR THE FOG - Life looks a bit foggy now, and your ego is distorting the truth. It's time to summon the pure heart of your Spirit so that you're correctly informed. The first step to clearing away the confusion is to take nothing personally. Stay aware, and learn as much as you can. Listen closely, observe the details, and be on guard for a tendency to interpret things from an overly emotional point of view, especially when it comes from the behaviour of others. Allow your Spirit to speak for you, breathing calmly as you do and expecting the best. The fog will lift, and the pollution of the present will clear.

Sagittarius

: Call Your Spirit Home

Quick message:

The answer is simple: CALL YOUR SPIRIT HOME - Are you tired of the same dreary arrangement of self-denial, insecurity, and boredom that you come home to at the end of every hard day at work? You feel this lack of inspiration because your joyful Spirit has been living outside of your body and your home. Your ego has taken over and pushed it out the door. It's time to call your Spirit back. Your spirit is holy and requires a place of peace and serenity to dwell in. Invite it home by cleaning up your residence and airing out the old. If your home is cluttered, dusty, falling a part, and just plain ugly, it's not appealing to your Spirit. Clean up and clear out the debris to attract your Spirit once again. Make you space a place truly worthy of your Spirit and it will return. Light a candle, say a prayer, and call it home. You'll know that you've succeeded because you will feel inspired and happy to be home, in every sense of the word.

Capricorn

: Give It to God

Quick message:

The answer is simple: GIVE IT TO GOD - Our greatest challenge is to rise above our fears and trust in God, our loving Creator, to guide and protect our lives. Your ego would have you believe that it alone is the source of power that guards you, and only it can be trusted. This isn't accurate and keeps you hostage to it. The Universe has a better plan for you. Although you may not know the plan or see how the Universe will protect you, trust that it will. Your worry is doing you no good, so stop it. Reconnect with your Spirit and trust in God. You can.

Aquarius

: Just Sing

Quick message:

The answer is simple: JUST SING - It's time to raise your vibration and feel the joy of your Spirit. Today is a day to just sing. Now matter how it unfolds - no matter how things appear at the moment or how heavy your ego may feel - just sing. This activity invites your Spirit into your body and sounds it out to the world. The more you sing, the more your spirit can step forward and wield its magic. Pay no attention to whether or not you're on key. A singing heart is a happy heart - and a healing one. The world needs your song today. Don't be shy… just sing.

Pisces

: Look Forward

Quick message:

The answer is simple: LOOK FORWARD - The ego looks backward and wallows in regret; the spirit looks forward with excitement and wonder. The ego looks down and sees few options; the Spirit looks up and perceives endless possibilities. The ego looks for problems and views itself as a victim; the Spirit seeks out solutions and sees itself as a genius. There's nothing blocking you except the ego habit of limiting your own view. Glance up and you'll see doors opening to you. You're free from the past, so don't look back anymore. Peer ahead with the light heart of your Spirit. You'll be delighted by what you see.
Please feel free to leave any comments here on Blogger, or on my Facebook Page
The Daily Divination
, or on
Twitter
Thank you!