Good morning!

It's Friday! Woo-Hoo!

This week has flown by but it's been nonstop work, work, work - so I'm hoping for a little rest and relaxation at some point during the weekend ahead...

I am extremey grateful for all the orders coming in for my little Bagz of Blessingz, but I really need to recharge my batteries!

I hope you're looking forward to a relaxing weekend too?

In the meantime I must try to make at least 30 orders today, so I had better make a start - but first the messages.

A very strange thing has happened today - despite doing the cards in my usual way - which involves thoroughly shuffling the deck in between drawing each card - my personal card and several others are the same cards as yesterday!

This has never happened before!

Sometimes one, or even two, will have the same card two days in a row - but for the first 4 cards to be the same as the day before is VERY unusual.

I was going to re-do them, but then thought:

"Who am I to argue with the 'Powers that Be'?"

So I am giving you the messages exactly as decreed by the PTB!

Whatever your star sign - have a good weekend and I'll be back on Monday with a different deck...

Hmmm... which cards will I use next week? Decisions, decisions... ;)

Brightest Blessings,
Kaz
www.blessingz.co.uk
www.cheekywitch.co.uk


This week I am using the
Saints and Angels Oracle Cards


by Doreen Virtue, Ph.D.


Quoted from the pack: "Now you can easily receive messages and guidance from beloved saints such as Mother Teresa, Bernadette, Joan of Arc, Hildegard, Padre Pio, Anthony, Francis, and Cecilia. Doreen Virtue has created a nondenominational deck of oracle cards that people from various spiritual and religious backgrounds are sure to appreciate and enjoy.
Forty-four cards with breathtaking artwork depicting God, the Holy Spirit, Jesus, saints, archangels, and guardian angels give you answers and gentle advice. A guidebook accompanying the cards thoroughly explains how to receive guidance about the present and future, how to give an accurate reading to another person, and the general meaning of the card's message."

My personal card for today

: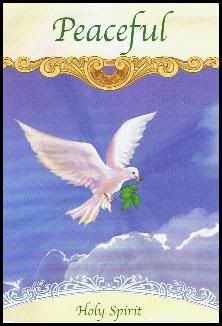 PEACEFUL - Holy Spirit
(Two days in a row!)
Divinatory meaning: The Holy Spirit has descended upon you and the situation that you are enquiring about. Get in touch with this Divine energy by focusing upon the peace that's deep within your heart. This serenity is like the gemstone at the core of a boulder, and you may have to dig deep within yourself to find it. This might require that you spend some quiet time alone in stillness.
Rest assured that the Holy Spirit's peace is pervading this situation and opening the hearts of everyone involved. It brings about compassion so that everyone can see each other's point of view. This engenders forgiveness, which then opens and smoothes the path to peacefulness.
Allow the Holy Spirit to melt away the ice of anger and fear by shining a warm beam of Divine love upon you and the situation. Trust that this can reach deep into everyone's being, evoking a positive change of heart for you and others. As gentle and pure as a dove, the Holy Spirit heals the situation in a harmonious way.
Today's cards for each of the star signs

:

Due to lack of time, etc. These are the 'quick reading' messages - for the full reading and meaning of the cards you will need to obtain these cards for yourself - or get someone else to buy them for you as a gift!

Here are your messages and insights for today. Try to sit quietly for a few moments, meditate on your card and think about how you can learn from, and act upon, its message...

Aries

: GENEROSITY - St. Nicholas of Myra

(Two days in a row!)

Quick message: You're asked to start or continue giving time, money, assistance or goods. This act helps you know how much you have, and leads to a feeling of abundance that automatically attracts greater prosperity into your life. The more you give, the more you'll receive. Contribute with joy and be totally detached from the outcome of your offering. St. Nicholas reminds you of the happiness that you receive when you give to others from the spirit of love. Allow yourself to be surprised at how the universe gives back to you.

Taurus

: MIRACLE - Christ

(Two days in a row!)

Quick message: Christ is with you and engendering a miracle for you and the situation you're asking about. He shines God's light upon you and your loved ones, keeping you all safe and protected. You've asked for a miracle, and one is with you. Let go of how you think it should appear, as it comes directly from God's infinite wisdom, through Christ, and into your life.

Gemini

: TRIUMPHANT! - Guardian Angel

(Two days in a row!)

Quick message: You'll be triumphant, and your desires will manifest. Don't worry about the appearance of challenges, because they're just an illusion that will soon disappear. Worrying about these issues will only fuel them with power and energy. See them instead as wispy clouds that can't really block you. Any obstacles that you've been experiencing are temporary. Your guardian angels are taking care of the details to remove them from your path.

Cancer

: SWEETNESS - Guardian Angel

Quick message: Your guardian angel is asking you to notice and enjoy the nectar of life. "You are sweet," your guardian angel says of you, "and I can help you feel that happiness and joy." If you've felt toughened by life's experiences, your angel can help you lower your defences… and still be safe, protected and respected.

Leo

: HEALING - St. Padre Pio

Quick message: This is a powerful card, as it signifies the power of prayer. Your requests regarding health have been heard and answered. The situation is surrounded by God's rejuvenating love and is resolving itself in a miraculous way. This is also a message about your healing abilities and a call from Heaven for you to use those talents to help others in a more powerful way. If you elect to follow this calling, God will open the doors for your career. St Padre Pio, who both heals and helps those who follow this path, will inspire and protect you as you make any necessary life changes.

Virgo

: BLESSINGS OF ABUNDANCE - Guardian Angel

Quick message: Your prayers have been heard and answered. Your daily bread and other needs are being provided for, now and in the future. Give your fears and worries over to God and the angels, and have faith that they're taking care of you and your loved ones. Let go of worrying about how your needs will be met, because God's infinite creative wisdom will take care of the details. Be open to receiving gifts and help from other people, as this is one way in which the Divine answers your prayers.

Libra

: YOU'RE A LEADER - St. Joan of Arc

Quick message: You're called upon to use your leadership skills to help an important cause. You probably know or suspect the nature of this endeavour already. You have natural qualities that will inspire others to help. Even if you don't think of yourself in this way, trust that this card comes to you as a clear message of your selection for this position. A leader best serves by being a living example and role model, so live in such a way that others admire your integrity and strength of character.

Scorpio

: COMMITMENT - Guardian Angel

Quick message: Although you may have experienced difficulties or fear, this card is a message from your guardian angel to stay committed. Honor your promises to your loved ones, and keep your word to yourself and others. If you're feeling conflicted about having enough time for your responsibilities, then call upon the angels to help. This card reminds you to follow through on your dreams, goals and intentions. Stay committed to your priorities, and give them the daily attention they deserve.

Sagittarius

: EMOTIONS - St. Dymphna

Quick message: The answer to your question involves emotions - either yours or those of the person you're enquiring about. This is also a message for you to pay closer attention to your emotions. It's safe for you to admit your true feelings to yourself. This card is also a message for you to trust your feelings, especially as they guide you to make positive changes. Your feelings are the voice of Heaven speaking through you, and you have a right to them, even if others disagree with them. You can also release any upsetting emotions to God, St Dymphna and the angels for healing and guidance.

Capricorn

: BE BRAVE - Guardian Angel

Quick message: Although it may feel as if you're unsafe or in the dark, your guardian angel assures you that you are completely safe, protected and guided. Don't be fooled by illusions of fear - instead, be courageous and shore up your personal strength. There's a blessing in this situation, and by focusing on finding that benefit, you're sure to discover it. Your role is to stay positive, speak your truth and be brave.

Aquarius

: HIGHER EDUCATION - Guardian Angel

Quick message: our angel is guiding you to gain further education, either by attending school or through independent study. Higher education refers to instruction with a spiritual basis, so this is a message for you to study topics that capture your true interests. For instance, if there's a spiritually based service career that you yearn for, now is the time to begin looking at furthering your knowledge in that area. Give any worries about having enough time, money, or skill to your angel. You're being pushed to learn more as a result of your prayers for increased fulfilment. Trust that this door is opening for you at the right time, and walk through it with full faith.

Pisces

: CONFIDENCE - St. Michael the Archangel

Quick message: Archangel Michael is with you, shoring up your confidence so that you can fearlessly face (and enjoy) the tasks before you. This archangel is protecting you against negativity, helping you to remain optimistic and filled with faith, ensuring that only people and situations of high integrity come to you. You may worry whether you're prepared and qualified for what's ahead of you. Remember, though, that God won't bring you anything that you're unable to do.

Please feel free to leave any comments here on Blogger, or on my Facebook Page
The Daily Divination
, or on
Twitter
Thank you!